One commentator blames toxic online commentary on Thai women marrying foreigners for an apalling tragedy that unfolded in Ubon Ratchathani
Living a life of luxury in sunny Thailand, with a stunningly beautiful Thai woman, is something most middle aged western men can only dream about. However it turned into an absolute nightmare for UK man Kevin Smitham in Ubon Ratchathani province in Thailand last month and it's is not going end anytime soon.
One minute he was relaxing with his beautiful wife, the mother of their three children, eating and drinking beer, the next he was placing a blanket over her dead body before returning to his bed and trying to pretend what was happening was simply a drink fueled nightmare. It was not. Early the next morning police located Mr Smitham at the back of the house. In the warm light of a sunny day in Thailand, it became apparent to everyone that he had killed the woman of his dreams and mother of his children.
Thailand does something to foreigners and expats
The sun, exotic lifestyle and Thai women seems to go to heads of some foreigner expats. It is the reason why so many are opting to settle in Thailand. Unfortunately, the warm and sunny weather and the welcoming nature of Thai people towards foreigners can lead many of them into a false sense of security or even entitlement. The difference in culture between the Thailand and western countries is often the trigger point for misunderstanding or misjudgments which can lead on to tragedy. It is also the case that the expat culture and the status surrounding western foreigners can attract the wrong types of people from western countries particularly those attracted to the large number of beautiful women in Thailand and the sex industry. Two UK men in the last few months have been involved in killing two Thai women in separate incidents. They were two UK men from very different backgrounds but unfortunately they have damaged the image of foreigners in the country.
Bizarre and violent behavior reinforces a negative stereotype
The profile of foreigners, particularly westerners, is being damaged in Thailand with regular reports of foreigners falling foul of the law in the Kingdom of Smiles. While most Thai people think of foreign westerners as generous and good humoured people who bring investment to the country as expats and revenue as tourists, there is also a  negative perception of foreigners as violent, aggressive and likely to transgress Thai Laws. This is also a perception among many Thai people that foreigners can be unpredictable and aggressive. 'It's a culture thing, Thai people value calmness and the control of emotions at least as an aspiration, to many western foreigners there is merit in being direct and even sometimes abrasive. As a rule, this does not work in Thailand and is at the root of all trouble for foreigners in the country,' says James Morris. 'Unfortunately, we see many horror stories involving western foreigners in Thailand.'
Kanda like some Thai women found a foreign husband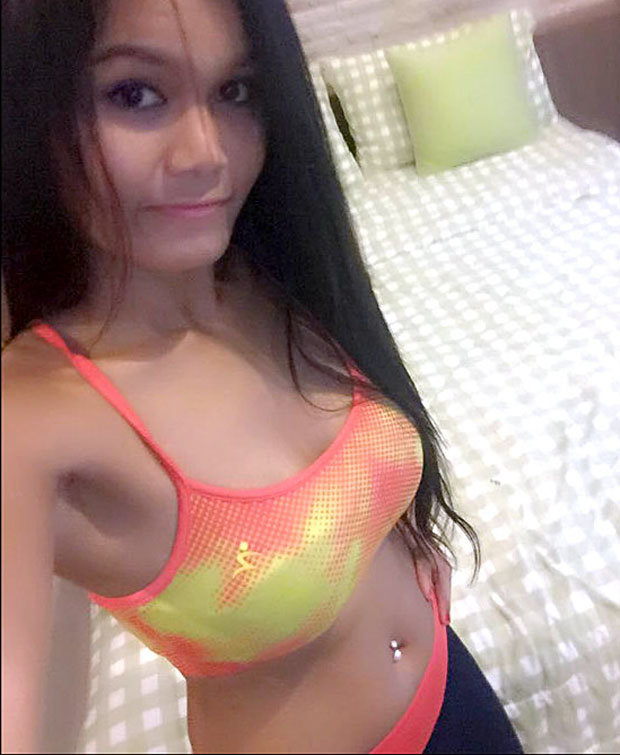 To many Thai women in the last decade, finding a foreign husband has become an acceptable and even desirable path. Some Thai women who are divorced, older or rejected by the pool of available Thai men, seek foreign husbands while others make it conscious choice. This was the story of Kanda Smitham. Up until the middle of April 2018, she was a stunningly beautiful Thai woman living in a beautiful villa style home in Pattaya with her well off British husband and three children. The farang lifestyle enabled the enterprising young woman to launch her own Facebook page offering slimming advice, health and exercise coaching to other Thai women online.  I'm Fit Mom had over 28,000 likes. It all came to an end on Sunday April 15th when her 51 year old foreigner husband brutally beat her to death over a row about sex. Her husband, Kevin Smithmam, accused her of being unfaithful and seems to have flown into a violent fit of jealousy. The Thai women appears to have been a wonderful wife, mother and enterprising young woman, whose fitness and health page was being very positively received.
Songkran festival or New Years party in Thailand can be dangerous
The couple had been visiting Kanda's parents for the popular Thai festival of Songkran. It is a holiday in Thailand to celebrate the Thai New Year and there is a holiday atmosphere with businesses closing for fun and frolics on the streets. The world-renowned Songkran festival has been recently linked to drunken behaviors such as fighting, reckless driving or illegal motorbike racing. At this time, every year, the Thai government traditionally runs public awareness campaigns urging the Thai public against excessive consumption of alcohol.
Couple had been relaxing together when the fateful argument occurred
The foreigner Thai couple were staying at Kanda' parents house for the festival having travelled from Pattaya. They had been entertaining Kanda's family during the day before they were left alone. They continued to eat and drink beer together. Local Thai media reported that Kanda's husband was in an intoxicated state and became aroused. His wife resisted his advances and an argument flared up. During the exchange, Kevin Smitham formed a view that his Thai wife was being unfaithful to him and involved with other men. He hit her and she fell to the ground. He later told Thai police that he began to kick her and even strangled her. The unfortunate women ran from the house, already injured, but slumped down outside on the ground. Bizarrely, her husband followed her and laid a blanket over her body before retiring to sleep.
Thai women's relatives called Thai police to the scene
Thai police reported to local media that they were called to the home by relatives of the woman after they discovered her body the next morning. Police arrived to the scene at 6.30am and discovered Kanda's almost naked body except for underwear on the ground. Thai media have published lurid photographs showing the beautiful 29 year old covered with a rough blanket, her ruffled hair viabe at the top with one hand folder over her torso. It is common in Thailand to show pictures from crime scenes.
Reaction to the killing from Thai people online was surprising
Surprisingly the reaction in the Thai media was not one of general outrage or anger towards Mr. Smitham or foreigners but one which tries to understand what happened. Many Thai online commentators,  quite amazingly, took pity on the foreigner.  It is reported that he was intoxicated and allowances have been made for this as well as his apparent fit of jealousy. One local newspaper warned its readers to never resort to violence in any situation. One woman commenting seeked to understand why the woman was killed. Thailand is a country of contradictions where violence, although quite repvalent with soaring domestic abuse figures, is seen as a sign of weakness.
Domestic abuse in Thailand is common but this was a foreigner
Rates of domestic abuse in Thailand have shown a dramatic increase in recent years as have levels of divorce in Thai families. A 2013 report by Mahidol University pointed towards socio economic factors with a 2012 figure showing nearly 31% of families had witnessed abuse. It has also been suggested that in Thailand, many Thai women, who are victims of abuse are often themselves blamed if an incident occurs. Thailand's macho society means many Thai men assume the right to beat their wives. Such behavior is of course, less acceptable in modern or middle class families and marriages involving foreigners.  It is one of the reasons why some Thai women seek a foreign partner.
UK man  appears to have been driven insecurity and jealousy
In the case of Kevin Smitham, it appears to have been driven by insecurity and jealousy as the family were apparently well off and quite successful. The Thai wife seemed to be leading the idealised lifestyle, that some Thai women only aspire to, with a foreigner. There have been other reported incidents of foreigners harming Thai women. On April 3rd 2017, a Belgian real estate developer in Hua Hin Thailand used a food stick or 'luuk chin' stick to stab a Thai woman who was handling his financial affairs, killing her. The row was over the woman's refusal to hand the man back his passport after a financial dispute developed. The Belgian subsequently jumped off a seven story building after Thai police failed to talk him down. In 2016, an Italian man killed his estranged Thai wife in Chiang Mai with a gun in a row over the custody of their child before killing himself. Earlier this year, another foreigner admitted to killing his Thai wife after strangling her. He told police at the scene that he hadn't realised his actions would lead to the death of his wife. 'Thai women are physically cute, petite and can be hurt quite easily compared to women in western countries. This is why they are so beautiful. Violence is always wrong but in Thailand any foreigner resorting to it is exposing his partner and in himself to real danger,' says Morris.
UK man charged with manslaughter and is in a Thai prison
The UK man has now been transferred by Thai authorities to the Provincial Prison in Ubon Ratchathani after police pressed charges of manslaughter against him. He had earlier been taken into custody by investigating Thai police. Thai Police Inspector General Watcharapol Pimwong, who is in charge of the enquiry, told the press that Kevin Smitham claimed not to have intended to kill his wife. The UK man admitted attacking her however. 'Smitham said he kicked her in her face, then kicked her body several times,' he said. 'She ran away outside and fell down. He then put the blanket on her.' Inspector General Pimpong recalled the scene when he was called to the home after emergency services and the woman's family had alertred the police. He said Mr. Smitham was found waiting behind the house where the couple had been staying. He said that when he arrived, he saw the nearly naked body in front of the property.  'There were many bruises on the face and body. She had been dead for several hours,' he recalled. Mr. Smitham is reported to be receiving assistance and support from the UK's Foreign Office.
UK man who killed Thai wife was from Nottingham
Media in the UK report that Kevin Smith is originally from Nottingham. He had previously worked in the German automotive industry before settling in Thailand. There were a multitude of happy family photos on Kanda's Facebook page showing Mr. Smitham, his stunningly gorgeous Thai wife and three children enjoying a wonderful lifestyle at an upmarket property in Pattaya. Pattaya is a coastal resort town in Thailand that is home to may foreigners with bars, restaurants and sports clubs catering for a growing and wealthy expat community. 'It's not just sin city, Pattaya is very much cleaning up its act,' says James Morris. 'It's a wonderful place to live, if you have pension and some spare cash.' A recent survey by Thailand's popular internet news forum Thai Visa showed that over 70% of expats in Thailand were very happy living in the country with significant numbers describing their lifestyle as 'bliss'.
Negative online commentary about Thai women can raise suspicions
One contributing factor to the tragedy, according to one commentator, is  a tendency by some disgruntled UK expats to comment negatively about life in Thailand and particularly Thai women online. 'There are some expats living in Thailand who, unfortunately, do not see the lifestyle here as bliss, there is a constant stream of negative and jaundiced opinion centred on Thai women married to foreigners here. Some of it is misogynistic in the extreme. But there are also a lot of myths. On the other hand, sad to say, not quite all of it is fake news. There are many Thai women married to middle aged foreign men with younger Thai boyfriends,' explains Morris. 'In recent weeks in Thailand, a man from Wales committed suicide, apparently having lost all his cash on a young women in Thailand who went off with a younger Thai man. What I'm saying is there's a very toxic online atmosphere out there and many expats in Thailand spend a lot of their time online.' Morris believes that Smitham's wife seemed a proud and committed mum and wife from her Facebook posts. 'The greater majority of Thai women married to foreigners here are committed to their relationships. The police must investigate this but it appears to me to be a tragedy brought about by a fit of misplaced jealousy.'
Another UK man arrested over death of naked Thai woman in January
In January, Reece Vella, a 25-year-old British man from Worcester, was arrested in connection with the death of Wannipa Chanhuaton, a 26-year-old Thai woman. It appears that the Thai woman was working as a prostitute. According to police reports, Vella paid Chanhuaton £35, equivalent of about 1500 baht, for sex.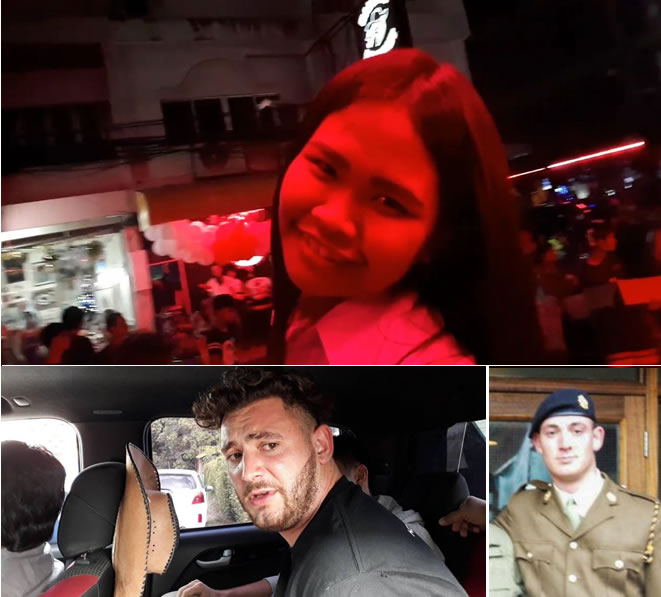 Vella and Wannipa returned to an apartment building where they engaged in sexual activity on the balcony. Vella told Thai police that in the middle of the couple's love tryst, however, the woman fell out onto the ground. The woman was reported to have been found naked on the ground. She was rushed to the hospital but later died from severe head injuries and multiple fractures. Vella, who Thai police revealed had outstayed his tourist visa, fled from the scene after the incident but he was soon captured.
UK man Reese Vella wanted in the UK for drug dealing
Wannipa's phone was found with the UK man when arrested. Thai Police later discovered the Mr. Vella was on the run from British authorities. In October 2017, Vella failed to turn up at Worcester Crown Court where he was facing charges of being involved in the supply of heroin and crack cocaine. Reece Vella is also a former member of British Armed Forces. He also has a long criminal record in the UK. In 2012, he was sentenced to four years and nine months in prison on charges of rape and assault. It is unclear whether he will be extradited to UK or not. 'They were having very strange, extravagant sex on the balcony until she fell down below and died. Mr Vella was in shock and, knowing he had overstayed his visa, ran away,'  a senior Thai police officer and Deputy Head of Investigations in Pattaya told The Times newspaper in the UK. Thai police confirmed that he would be charged with overstaying his visa in Thailand, theft of a phone and death through negligence.