Hero taxi driver shows true colours of most hard working Bangkok taxi drivers
A Bangkok taxi driver has restored confidence in a service that has suffered a lot of criticism in recent years from being accused of fare refusals to ripping off tourists. One honest Bangkok taxi driver made headline news in Thailand this month when he went out of his way to return 270,000 ($8,500) found in his taxi as he filled his car in the midst of a long day's work.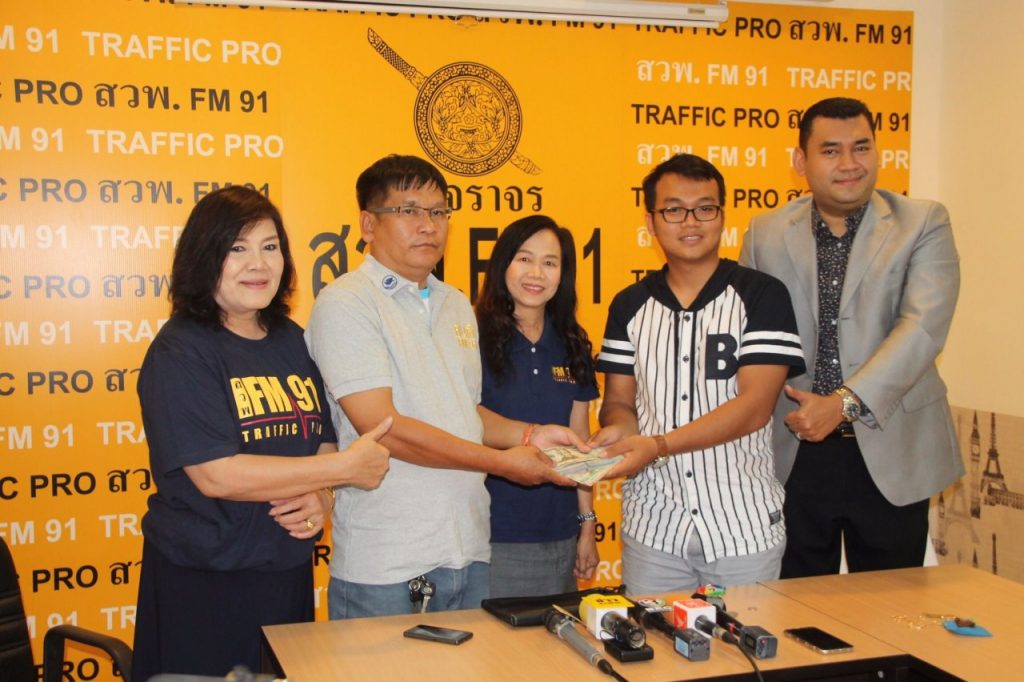 After having delivered several passengers on a Sunday night, Rawee Thongbor, a 42-year-old taxi driver, stopped over to refill his gas tank. He was preparing to drive on when he suddenly spotted a nondescript bag left in his car that contained no ID card nor any other identification document. All it contained was baht banknotes, Cambodian riel and US dollar bills totaling about 270,000 baht.
Cambodian rewards honest Bangkok taxi driver with 40,000 baht tip
Mr. Thongbor frankly admitted that his hands had trembled at the sight of so much money and admitted he was tempted to keep it, but was brought back to reality when his wife reminded him that he would get into trouble if he was to keep the money as it would be a dishonest act. So he contacted the widely usef police radio district service FM 91 to look for the owner. Thanks to his virtuous and considerate act, Mr.  Op Simony Odum, the Cambodian 24-year-old owner of the bag and the money, was overjoyed to receive the lost money back. He revealed that the funds were to be used to cover the expenses of his aunt's plastic surgery on her nose which is why she had travelled to Bangkok from Cambodia. But Mr. Odum didn't let Mr. Thongbor goodwill go unnoticed. He rewarded him with a 40,000 baht tip in gratitude.
Bangkok Taxis – an invaluable, economic service with a bad reputation
The actions of the Bangkok taxi driver are all the more remarkable considering the difficult job that taxi drivers in Bangkok face. The popular traffic police FM 91 radio station gives updates to drivers in bangkok on road and traffic conditions on  a daily basis and it is a tough station for those on the raods. Bangkok is ranked as the 12th most congested city for traffic in the world with an average city driver spending 64 hours a year sitting in traffic. The reason for the problem in Bangkok is that rapid increase in the size of the city in the 1980s. While the city has a number of expressways and modern infrastructure built in the 1990s, the road surface area in Bangkok is only 8% compared with norms of between 20 to 30%. The pressure of working on the city's roads can be understood from the fact that the Royal Thai Police Traffic Corps has a special unit in Bangkok trained in midwifery for delivering babies who arrive while their mams are stuck in Bangkok's notorious traffic jams. Mr Tongbor is one of nearly 110,000 taxis on the road in Bangkok competing for fares from local people and millions of foreign visitors at set rate controlled by Thai authorities. Taxis in Bangkok have come in for a lot of criticism in recent years for not complying with government regulations. One of the main criticisms is the refusal of fares which is prohibited and driven by financial pressures on taxi drivers and operators to earn enough money to make a living in congested roues and trying conditions. A 2012 government report on taxis in Bangkok estimated that as many as 40,000 taxis on the road may not be fully compliant with all appropriate regulations. Many are cars that are privately owned or run by co-ops but quite few card are rented by taxi drivers from owners. The recent arrival of taxi hailing apps has also increased the competition with a survey of taxi users in Bangkok this year revealing that at least 20% had now begun to use the new technology regularly. Yet for many foreigners living in Bangkok taxis represent a very reliable and inexpensive service and as Mr. Thongbor has shown, the overwhelming number of drivers are hardworking and sincere service providers.
Thai police uncover a taxi and tuk tuk scam preying on foreign visitors to Bangkok
Mr. Thongbor's action was also a timely as Thai Police have just revealed an investigation into an ongoing scam involving tuk tuk operators in a Bangkok precinct. A number of corrupt Bangkok tuk-tuk drivers have been accused of ripping off tourists. This is part of a campaign by police in Thailand and particularly in Bangkok to crack down on those exploiting foreign visitors and damaging Thailand's image abroad.
Online social media reported alerted police to the problem

There had been some online social media reports made by foreigners complaining about unscrupulous drivers who forced them to buy expensive and low quality products from street vendors on exchange for a 15-20 percent commission on every items that was bought. This prompted the Royal Thai Police to take action and so far, two tuk-tuk drivers and a Thai tour guide have been arrested and obliged to apologize publicly for the crime, but the police say that they will expand their investigation into suit-tailoring shops, jewelry shops and other shops that employ the deplorable practice. That has caused some shops to close for fear of being targeted. Meanwhile, Thailand's The Department of Land Transport says that they will monitor the movements of taxis and tuk-tuks to avoid them from engaging in illegal activities.