The Chinese tourist boom poses a challenge to Thai travel and tourist interests as well as the Thai public
Thailand has become an irresistible magnet for Chinese tourists who are travelling to the kingdom in a spiral of increasing numbers. But the influx of tourists from the most populous country on earth brings with it challenges. Some Chinese tourists are driving the renowned patience of Thai people to its limits and in some instances beyond it, towards outright vexation.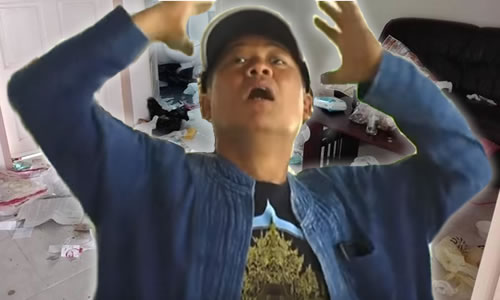 It's a normal day for the guesthouse in Phuket, but a scene is about to unfold like something from a 1950s horror movie flick. A maid comes to clean a room that had just been occupied by a Chinese tourist couple. She opens the door and the next moment, the building is shaken by her ear-splitting scream.
Thai guesthouse owner had never seen anything like it in 10 years
Does she discover a grisly murder scene? No, but the shock is kind of similar. Before the maid's eyes is an insanel mess of a room in complete disarray. Litter and trash cover all the visible surfaces. It takes the poor maid a whole day to tidy it up and two days for the fresh air to subdue the rotten, malodorous smell. The stunned landlord is angry and posts the photos on the Facebook page of his guesthouse. He rents out his rooms for 800 baht per day and in 10 years operating in business, he had never encountered something like this. He had rented to room to the Chinese couple some days previously. He recalled that the Chinese women never emerged from the room while the Chinese man incessantly badgered him about places to buy fruit and seafood. But the landlord is careful not to blame the Chinese in general pointing out that many Chinese who had stayed with him and were perfectly well behaved.
Chinese tourists stun local Thai people with aggressive and manic behaviour
However this is not a once off incident. Since the boom in Chinese tourists arrivals in Thailand began, there has been a stream of reports from all over the kingdom. One highly viewed YouTube video shows Chinese tourists at an 'all you can eat' buffet style restaurant in Thailand aggressively pushing everyone to grab food and carrying three or four plates of food each to a table. Not realising that it is impossible to eat so much food, they leave behind a disgusting mess for restaurant staff to clan up. One Chinese woman caused outrage at Thailand's Don Muang Airport by appearing topless in the toilet areas while changing her clothes. Other have been seen to spit, wash their feet in sinks and behave obnoxiously on airplanes. There are even reports of some ill behaved Chinese tourists defecating in the precincts of Thai temples. Another popular YouTube video shows an conscientious Chinese tourists upbraid one of her compatriots who insisted, despite warnings from Thai officials, that she should be able to take wood from a world renowned Thai beach as a souvenir. The Chinese woman said she had been around the world and visited over 20 different countries and it was her right to bring a souvenir like this home.
Thai temple banned Chinese tourists while it built special toilet facilities
In 2015 it was reported that a famous Thai temple in Chiang Rai had been forced to ban all Chinese tourists while it built special toilet facilities for them. This happened after Chinese tourists left the toilet facilities within the precincts of the temple in such a state that they became unusable for other visitors. An anonymous spokesperson for the Wat Rong Khun or White temple in Chiang Mai told the Strait Times newspaper that Chinese visitors defecated on the floor of the toilets facilities and urinated on walls around the temple precincts. Temple staff also found used sanitary pads left on a wall on a regular basis. In a TV interview on Thai television, the owner and designer of the temple said that the situation became impossible and the regular visitors to the famous tourist attraction could not use the toilets before the intervention. 'It's getting out of control,' says a clearly exasperated Mr Chalermchai Kositpipat who was visibly animated in the Thai TV tourist report. There have been incidents in temples across northern Thailand particularly in Chiang Mai and Chiang Rai which are very popular with Thai visitors. One anonymous video posted on the web shows a Chinese tourist using his foot to kick a sacred bell at the Wat Phra That Doi Suthep temple in Chiang Mai. This caused outrage among many Thais as the bells are considered sacred and the foot in Thailand is considered very impure. Any gesture with the foot causes extreme offence to Thai people.
Chinese tourists cause mayhem for Thai airlines and airports
A visibly upset Thai woman screams into her mobile phone with eyes wide open and full of anger. It is not how Thai people normally behave but this Thai woman along with with her boyfriend have been provoken and triggered while waiting at an airport. A flash mob of Chinese tourists has turned up and stormed the VAT refund area making noise, gesturing violently and demanding instant repayment of VAT. The VAT refund facility in Thailand is something that some discerning and financially aware tourists avail of but may do not. It is normally a quiet area and claims are submitted and processed in an orderly manner. The relaxed nature of the facility is highlighted by the fact that it has to advertise the service to remind tourists to avail of the opportunity. The atmosphere when the determined Chinese tourists arrive universally seeking a tax refund is aggressive and hostile so much so that the Thai woman and her boyfriend are so offended that they make a video on the spot. It is highly unusually to see a Thai person so vexed.
Chinese woman dries her underwear on airport seating in Bangkok
The behaviour of Chinese tourists within the cramped and confined areas of airports and airplanes has increased the stress levels associated with inward Chinese tourism to Thailand to critical levels. Pictures have emerged online of a Chinese lady drying her just washed underwear including black knickers and pink bra on the seats of the waiting area of an international Thai airport. They provoked shock and revulsion in Thailand and worldwide when they emerged on an internet video. This later turned to despair when other and numerous videos emerged of Chinese women engaged in similar practices. There have been incidents of Chinese tourists getting physically violent at ticket desks when they experience booking complications including the man handling of support staff. A Chinese visitor to Thailand insists on opening the door of an airplane while a flight is still on the runway in Bangkok creating chaos. Admittedly this took second place to another, more famous video of a Chinese man seeking to open an airplane door in mid flight. An online video appears to show the aftermath of scene sparked by a young Chinese women throwing hot noodles over an air hostess on an Air Asia flight from Bangkok. A scene of chaos and violence ensues which provokes her boyfriend to threaten to blow up the airplane. The actions of Chinese tourists in Thai airplanes and airport facilities have become legendary. The Chinese have stretched resources and patience to the limit. The situation has gotten so out of hand that authorities in China have had to take action and have launched a campaign to rectify the situation.
Reaction in China to abominable tourists in Thailand has been an anxious one
There are reports from China that authorities are taking steps to educate Chinese tourists on cultural sensitivity when traveling abroad and a recent TV report from China shows that Chinese people on the streets are very much aware of the issue and want to see something done about it. 'Before the government didn't really pay attention to educating people about this,' says one middle age Chinese woman interviewed in Beijing. 'People are becoming more aware of the problem now.' A Chinese man tells a UK Channel 4 TV crew that Chinese people traveling abroad must follow the rules and regulations in Thailand. 'You have to respect their laws, you have to respect their hygiene, you can't just be throwing things around.'
China to name and shame and ban ill behaved tourists in Thailand
There are reported also to be moves in China to publicly shame and punish tourists who behave badly abroad while also imposing travel bans on offending parties. The Chinese government has placed advertisements on newspapers advising Chinese tourists how to behave appropriately while abroad. One advertisement points out that clicking your fingers for service is like communicating with a dog while pointing out that cutting the cue is not acceptable or cool. However there has also been some defensive commentary. The People's Daily newspaper has produced a range of photos and instances showing foreign travellers to China behaving inappropriately including posing in the nude and urinating in public. The popular Chinese daily points out that not all of us are perfect and this is, of course, true. There are many reported cases in Thailand also every year of young western women wearing inappropriate clothing at sacred Thai temples or in another instance, in Chiang Mai, where a western woman was caught on video swimming naked in public.
Thai tourism minister urges calm and patience
The problems has antagonised many Thais but most people in Thailand are very much aware of the value of tourism to the country and try to be understanding as is the Thai way. Thai officials in Pattaya have recently taken positive action by producing posters aimed at Chinese tourists advising them on Thai culture and what are acceptable or unacceptable habits. Despite the consistent patterns of negative reports, one must bear in mind that more than one million Chinese tourists arrived as tourists to Thailand every month so far this year. The Thai tourism minister has publicly called for calm and understanding from her fellow Thai citizens on the issue. 'Maybe the first time you go out of the country you might be doing without intention,' she told Channel 4 TV news in the UK when asked about the problems with Chinese tourists. The rapid expansion of the Chinese economy has meant many Chinese tourists are experiencing wealth for the first time including many who are flying and traveling abroad also for the first time.
Next Chinese new Year may see up to 1 million Chinese in the city
2018 has seen record growth of Thailand's tourism industry, which accounts for nearly a fifth of its GDP, both in terms of visitor number and income.  By April, the former was estimated to increase 13.9 % and the latter 17.55 % over the same period of 2017, reaching 13.7 million arrivals and an income of 730.7 billion baht respectively. Visitor arrivals from China have exploded with a spectacular increase of 30%. The latest figures highlight the fact that China is now the main driver behind the success of tourism in Thailand. Of the 38 million international tourists that Thailand hopes to attract this year, more than one quarter of them will come from China. Chinese tourists are also predicted to be the source of nearly one third of estimated tourism income. The tourist boom from China could see upwards of 1 million Chinese tourists in the Thai capital of Bangkok for the next Chinese Nee Year.
Thai business has learned to work with powerful Chinese firms to foster tourist boom
The relationship between Chinese tourists and Thailand, however, has not been always harmonious. The number of Chinese travelers to the kingdom has in the past plummeted because of the military government's rigorous crackdown on operators bringing in large groups from China on cheap holiday packages. History isn't liable to repeat itself, though, as The Tourism Authority of Thailand (TAT) has begun to go into a partnership with Alibaba. The giant Chinese online retailer has presented itself as a formidable foe for Thailand's banking system and hospitality businesses as AliPay, its payment platform, is the preferred choice of Chinese tourists abroad, meaning that they don't have to use Thai services. But TAT has decided to cooperate with Alibaba to produce an online promotional forum targeting Chinese audience. Other marketing channels of Alibaba will also work closely with TAT to achieve the maximum result.
Concern among some Thai travel companies at Chinese power
To no one's surprise, China's increasing interest in Thailand as a destination has ruffled a few feathers. Many Thai tourist operators fear that Fliggy, the Alibaba's travel subsidiary that is important to TAT's promotional effort, will squeeze small local travel agencies. Besides the atrocious behavior of a small segment of Chinese tourists, such as the messy Chinese couple in Phuket, the extensive flow of Chinese tourists may also be negatively impacting Thailand's environment and infrastructure according to some observers and activists. Earlier this year, the Thai government closed temporarily closed the popular beach Maya Bay as part of an environmental restoration campaign after the paradise-like beach showed signs of damage and wear caused by excessive tourism.