British man found himself detained this year after recovering from a coma following an accident on his way to the airport to leave Thailand
This week in Thailand the Deputy Chief of the Tourism Police called at a 2am press conference to announce that 56 foreigners had been arrested a swoop by Thai police across the Kingdom that targeted 74 different locations. One of those arrested was a German man who had overstayed his visa by nine years.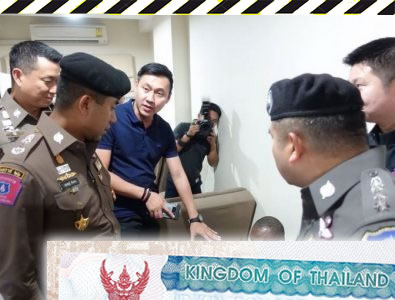 Police Major General Surachet Hakpal revealed that the operations involved a range of Thai state agencies and had specifically targeted English language schools in Thailand. He said that many foreigners, who were living illegally in Thailand, liked to disguise themselves as teachers. In this series of raids, 11 foreigners were arrested for having overstayed their visas while 41 were found to have entered Thailand illegally. The Thai police officer said that he had personally carried out 31 similar operations so far with raids on a staggering 3,947 locations in resulting in the arrest of over 1,700 foreigners.
Foreigners must be aware of heightened immigration enforcement in Thailand
The announcement underscores a ramping of operations to clamp down on immigration abuses. In recent months other Thai police departments have called for a tightening of immigration security as more and more criminal activity involving undesirable foreigners comes to light. The new heightened climate immigration enforcement in Thailand is something that well intentioned and law abiding foreigners, living or visiting Thailand, must make themselves aware of. Since the Thai military government came to power in 2014, one of its primary missions has been to tighten the security of Thailand's borders and immigration enforcement. Foreign tourists should be careful not to overstay their visas or they can find themselves be targeted by immigration police and find themselves subject to law enforcement normally reserved for the criminal class.
Immigration abuses critical to fraud gangs in Thailand
The number of foreign criminals in Thailand is soaring together with record tourist numbers. Indeed recent police swoops on scammers and other foreigners involved with criminality have shown that nearly all have no valid visa to stay or remain in Thailand. Many even have false passports often supplied by a clandestine forgery industry that has grown up in Thailand in connection with criminal rackets. The presence of these visitors to Thailand is being felt from sexual predators to murderers and drug dealers.
Many Thai citizens suffer at the hands of scammers
Many Thai citizens are victims including pensioners ripped off by fraud gangs, women lured by online romance scammers or Thai women targeting as drug mules. The scam gangs lurk online across all internet sites, taking advantage and preying on trusting Thais. The foreign gangs have merged into Thailand's underworld spawning one criminal enterprise after another. Foreigners to Thailand must understand the necessity for Thailand's authorities to control immigration and be able to track all foreigners entering and leaving the country. Most western expats living in Thailand understand and support this as do foreign visitors. Problems arise when foreigners are stranded in Thailand and lack the resources to resettle back to their home countries. This week Thai police isn swoop which resulted in the arrest of 55 foreigners on visa overstay issues nabbed a German man who had been living in Thailand nine years after his visa has expired.
Ban for foreigners who overstay visas
The Thai immigration authorities as part of their immigration crackdown have highlighted their blacklist system. According to some news reports, overstaying in Thailand could mean a five – year ban from returning to the country. However foreign residents and visitors should note that re-entry denial is only reserved for overstays for more than 90 days. There have been some reports to contrary but this is the normal practice.
Visitors to Thailand should carry their passport of a copy at all times
Foreign tourists in Thailand should be aware that they are required to carry their passport or at a photocopy of it at all times. Under the military rule, Thai police have been more active in immigration operations to detect and arrest foreigners overstaying their visas. If stopped by Thai police foreigners must be able to show a valid passport with a visa that allows for their stay in Thailand. Other forms of photo ID that verify your identity and visa status such as Thai driver's license and work permit can also help you pass police checkpoints.Failure to bring any of those documents can give the Thai immigration police valid grounds to arrest you. A trip or stay in a Thai police station is not a recommended experience although any foreigners who co-operates and is honest has nothing to fear except where thai law is infringed.
Foreigners who overstay their visa for a period under 90 days must pay a daily fine of 500 baht
Thailand's regulations and enforcement are very stringent where it comes to foreigners staying longer than allowed by their visa or entry stamp. For foreign tourists who overstay less than 90 days, however, the rules are a bit more relaxed. Therefore, there is no need to worry if they have experience a flight delay or a schedule change that forces them to exceed their allowed stay. The only penalty that they are subject to is a fine of 500 baht per day.  All they need to do is to explain their situation to the immigration office at the airport and pay the fine. There will be no additional consequences. However be advised that failure to pay will lead to your arrest and detention by Thai immigration police so it is not something to be considered lightly
Overstaying a visa in Thailand beyond 90 days is a serious offence
However, overstay visa for more than 90 days is considered to be a serious offense, and the perpetrator will be deported from Thailand and banned from re-entering the country for a period of time. The ban may last from 1 to 10 years, depending on how long they have overstayed. But if they turn themselves in to the police, they have a chance to appear in court and face a less weightier charge. Then they will be deported back to their home country with aa blacklist stamp in your passport. However, foreigners with a long overstay who are caught by the immigration police can face hefty fines, potential prison sentence and a multi-year ban on re-entering Thailand. That can be accompanied by a 'undesirable alien stamp in their passport which could make them more likely to be denied entry to other countries.
UK man's accident going to the airport lead him to a Thai jail cell
A UK man was departing from Thailand in September last year when he had an accident on his way to the airport. Rueben Donald ended up in a coma for two and half months. His second trip to a Thai airport was just as dramatic, he was detained by Thai Immigration police and told that he had to pay $3,000 according to his distraught US girlfriend who contacted a website forum for help. He had just recovered from his accident and faced an ordeal getting a replacement plane ticket home. When he handed his passport to the Immigration officer at the airport he was presented with a bill which he could not pay. He was  subsequently detained by Thai police at a detention centre at the airport. Failure to pay visa penalties like this can lead to foreigners being transferred to a Thai prison and even facing charges. A group of young holiday makers from Cork in Ireland faced a similar situation at a Thai airport in 2016 but were lucky to reach family back home who arranged for the money to be withdrawn via credit cards.
Foreigners visiting Thailand and living in Thailand musts be aware that Thailand is a country with its own laws that are often strictly enforced. A visa to stay in Thailand must be treated with respect including the duties and obligations it imposes on the bearer.