The figures are clear, shark populations in Thailand are actually in decline and they are mostly non-threatening species but high visitor numbers and aberrations have raised the issue
Fatal shark attacks are quite rare in Thailand as aggressive and vicious kinds of shark, such as white sharks, are seldom found near Thailand's idyllic beaches. However, local sharks, that are usually harmless to tourists, sometimes mistake swimmers for food, and this has led to incidents. There has been one recorded fatality in 2000 off the Thai island of Koh Pha Ngan near Koh Samui when a German died from what was believed to be a shark attack. Two incidents occurred earlier this year at a beach near Hua Hin. Both attacks were non-fatal with one foreigner even walking off without hospital treatment.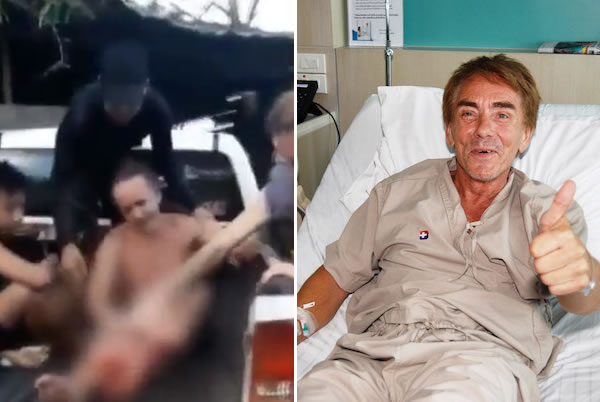 The dangers of a shark attack in Thailand are remote. However visitors to Thailand should always exercise caution and pay close attention to official notices and guidance issued by authorities. Thai authorities respond decisively quickly to any report of a shark attack or injury. The chances of a shark attack in Thailand are far lower than many areas of the United States with Thai shark populations actually in decline. Many Australians in living and visiting Thailand are often bemused by the fear of sharks expressed by fellow visitors as the level of shark activity is nowhere near as dangerous as that seen at popular beaches in Australia. However many European tourists, particularly those who are middle-aged and who remember the movie 'Jaws', are concerned about reports of sharks. Recent attacks in Florida, Egypt and in islands off the Indian ocean have made an issue for tourists. In the end of the day, this is a matter of personal judgment. Statistically, the chances of a shark attack in Thailand are so low as to be negligible but there are recorded incidents with the bull shark species over the years.
Local fisherman near Hua Hin expressed concern at bull shark activity
The two reported incidents on a beach near Hua Hin in Thailand this year have sparked concern although it is thought that these were due to local conditions. There is some suggestion that conservation programmes linked to the shark populations may be resulting in overpopulation in small pockets or areas. Local fisherman in the area suggested that they were not surprised as they had seen increased shark activity near the beach and one fisherman told a Thai media outlet that he had caught two bull sharks in his net on one occasion. Phichet Wongkai said he had caught the sharks a year before the incident. He expressed concern that the sharks have become more active near the shore. His comments were later echoed by the Abbot of a Buddhist temple in the area who met with officials following the attack on the Norwegian man which through a spotlight in shark activity in the area.
Norwegian attacked and bitten by a shark at a beach in Hua Hin made a speedy recovery

In April, a 54-year old Norwegian tourist named Werner Daniels was attacked and bitten by a shark while swimming along one of Hua Hin's most famous and well-liked beaches. He received a bloody wound in his left leg and was rushed to Bangkok Hospital Hua Hin, according to local media. Further reports said that he suffered from tendon damage but the injury was not life-threatening. Later Thai officials confirmed that the injury was the result of a shark attack and took immediate action to protect the public including a cordon of the beach.
Mr Daniels was photographed in a stable condition shortly afterwards after having 19 stitches in his leg. It appeared that the Norwegian patient received special care and attention from the hospital and local authorities.
He received a visit from a delegation of high-ranking officials headed by Chotenarin Kerdsom, Deputy governor of Prachuap Khiri Khan province who presented him with roses and wished him a speedy recovery.
Mr Daniels seemed to be in a very positive mood after his ordeal. 'When I recover I'll be back in the sea. No shark is going to stop me!', he was reported as saying.
Thai wife slammed the government for not covering her husband's medical and hospital fees
However, what did set back Mr Daniels somewhat was the bill for his medical treatment. It merged that he was not covered by travel insurance while the cost of medical care for him ran up to 300,000 baht. Amornrat Phaengnga, his Thai wife, expressed displeasure at the authorities for what she described as insufficient effort to help her injured husband.
Emerging consensus that foreigners in Thailand need medical insurance
Reactions from the Thai online expat community were not quite sympathetic. Some pointed out that it was Mr Daniels's fault not to take out travel insurance. His plight generated a heated debate on social media with some voicing support for the position he found himself in. However, there is an emerging consensus that foreigners living in Thailand or visitors should have medical coverage.
The sheer numbers of foreigners living and visiting Thailand have brought the issue to a head as the incidents pile up. It is another example of Thailand huge success as a world tourist destination raising challenge and issues. While Thailand offers some of the world's best medical facilities and hospitals, it is not a state health care system as in many European countries. In recent years many visitors who suffer injuries or require treatment in Thailand have been left with quite large medical bills.
Many resort to crowdfunding but the onus is really on visitors to have travel insurance and to also to make sure that all their activities in Thailand are covered by that insurance.
Local authorities took prevention and safety measures at Thai beach after confirmed shark attack
It is thought that Mr Werner had a run-in with the bull shark. This prompted the local authorities to take measures to prevent similar attacks from happening on the beach. Those steps included erecting warning signs in several languages, assigning more police to keep a watch on the beaches and installing a floating safety net to prevent swimmers from wandering to the dangerous waters. The last measure was challenged and debated for fear that it would disturb the fish population. The attack appeared to deter tourists in the area as the number of guests to the beaches remained almost the same.
South Korean staying near the same beach also reportedly attacked by a shark
Concerns about shark activity in proximity to Sai Noi beach resurfaced two weeks later when a South Korean tourist was attacked by another bull shark as he swam in the waters off the beach. The Korean had ignored and disobeyed warning signs clearly situated at the beach. He was staying in a condo nearby and although he was bitten, he did not require hospital treatment. It also emerged that authorities had installed buoys instead of nets for fear of harming the fish population.
Bull shark species blamed for both attacks near Hua Hin as Abbot posted a Facebook video

A bull shark was also found to be responsible for Mr Daniels' attack and was also thought to be responsible of the incident involving the Korean man. Local fishermen revealed that they occasionally caught bull sharks weighing as many as 30 or 40 kilograms. An abbot from the temple, near to where the South Korean tourist was attacked, claimed that sharks were coming closer to the shore. He had captured a video showing that sharks were circling as if looking for prey. The video as posted on Facebook. Thai officials, including the Deputy Governor of the Prachuap Khiri Khan, later met the abbot to discuss his concerns.
Thai officials give guidance regarding shark attacks
Thai officials, while taking action to warn visitors to the beach and prohibit swimming, pointed out that sharks in Thai waters are not known to attack human beings without reason or provocation.
They attributed the attack on the Norwegian Werner Daniels in all probability, to a bull shark mistaking his foot for food in murky waters. The authorities also warned tourists and beach visitors personally to take precautions.
These included not wearing orange or red clothing which sharks associate with food, swimming alone as groups are safer, not venturing into deep waters and not swimming at night.
Statistics show Thai waters and beaches are very safe
Statistics demonstrate that there have been only a handful of reported shark attacks in Thai waters in the last forty years. Even where bitten, the victims nearly always walk away with nothing more serious than a few stitches.
The only recorded case of death is when a German swimmer was killed in January 2000 swimming 160 metres offshore on the island of Koh Pha-ngan in Surat Thani province.
35-year-old German Stephan Kahl suffered severe blood loss from a massive and traumatic shark bite on the rear calf of his leg and on his right-hand palm. Friends saw him emerge from underwater where he was diving covered in blood.
Doctors at a local hospital confirmed the cause of death was a shark bite from the 'shape of teeth marks'. 'I believe it was a shark,' a hospital official said although local fisherman suggested it was a different species, a large bass fish that is usually found in underwater caves.
Thailand's shark population in decline
In fact, the shark population in Thailand has decreased due to overfishing. According to marine experts, 14 types of sharks are often found in Thai waters, and the notorious white shark is not among them. Across travel forums and blogs, some tourists, who go scuba diving in Thailand, bemoan that they encounter only a sparing number of disappointingly small sharks that are no longer than 3 feet and not very interested in humans during the time they spend underwater. So if you are afraid of 'Jaws' scenario, Thai beaches are much safer for you than the white shark-infested waters off the coast of South Africa or Florida.
Further reading:
German man bitten by a bull shark while taking early morning swim near the seashore in Phuket
Thai beaches are relatively safe from shark attacks when compared with other coastal regions such as Florida
Wife and mother from Northern Ireland flies to Thailand after tragic death of her husband
Phuket breakthrough on foreign tourism walked back on Friday by government spokeswoman
;