Thai PM orders tough new road traffic penalties, which could have caused undue hardship for working Thais, to be held off.
Thailand's Prime Minister has come out against drastic proposals to tackle the country's road carnage by increasing fines and penalties for breaches of the law relating to driving licences. It comes at a time when Thailand is experiencing over 20,000 deaths a year on the country's roads caused by an increasing volume of motor vehicles, speeding, apathy towards the law, alcohol abuse and the particular danger of motorbikes.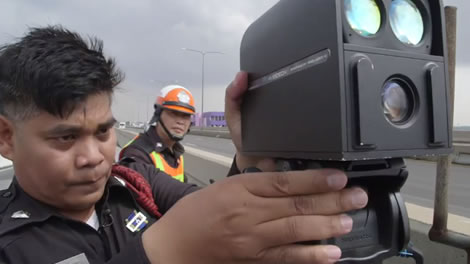 Following a cabinet meeting where the proposals were reviewed by ministers, some of whom had expressed support for the clampdown, the Prime Minister decisively voiced his opposition. 'I disagree with the plan,' he was reported as saying. 'Let me tell you, you can't blame everything on driving licence violations,' he added later.
Prime Minister asked to intervene by rights groups on the grounds of hardship
Earlier the Thai Federation for the Protection of People's Rights had called upon him to oppose the draft new laws, drawn up by Thailand's land Transport Department, which called for amendments to Thailand's land Traffic Act of  1979 and the Automobile Act of 1979. They pointed out that many low-income earners in Thailand would face substantial hardship under the proposed new regime.
The penalties proposed would have represented nearly three months salary for many people living in Thailand and come at a time when many would find themselves in breach of statutory licence requirements because of a more casual attitude in the past towards the legal requirement to have and produce driving licences fo inspection.
It's a fact: Thailand has the world's most dangerous roads with an alarming death rate

Thailand is now recognised as the World's most dangerous for road safety. Officially, it is the 2nd most dangerous after Libya, which is currently a failed state suffering a splintered civil war.
This is calculated on the basis of the death rate measures against 100,000 people. The figures, compiled by WHO (World Health Organisation), give Thailand a rate of 36.2.
That approximates to over 25,000 people killed annually.
It's a mind-numbing figure. To improve its road traffic enforcement, Thailand's Land Transport Department had proposed several tough new measures including enormous fine increases. It is a real dilemma for the Thai government.
Thai police road traffic cop says Thai people must learn to respect the law
Thailand is a country where people value their freedom in everyday life and the personal sphere. In a report for BBC TV in 2017, Senior Sgt Major Kantachat Nua-on explained one facet of the problem. 'The police can help but it's up to people to follow the law,' he said. As he set up a speed check camera he explained. 'If we strictly follow what the law says and issue a ticket a ticket for people driving over the speed limit then we will end up booking everyone,' He explained that most Thai motorists simply do not respect the law
Stiff road traffic penalties brought forward by Thailand transport ministry
The first step proposed was a huge increase in fines and jail terms for drivers without licenses.
That proposal included a 50,000 baht fine and perhaps a three-month jail term for careless drivers, a dramatic change from the previous penalty of being fined 1,000 baht and possibly jailed for one month. Other violations of traffic regulations could also have cost drivers dearly.
For example, failure to produce a valid license when requested was to incur a fine of 10,000 baht, ten times what a driver would be penalised for the same offence as of now.
The proposals also include a compulsory 50,000 baht fine for situations warranting the confiscation of the motorist's drivers license.
Right now this is a relatively insignificant 2,000 baht ($63). There have been already been some changes introduced to driving regulations in Thailand which have seen some errant drivers subject to fines as high as 4,500 baht for minor offences. The new move, aimed at the driver's pock, was intended to encourage better changes in driving behaviour and thus reduce road accidents. It is an issue that claims over 20,000 lives every year in Thailand.
New ticketing system aims to make road traffic penalties widespread
Prior to the hefty fine proposals, Thai police had already introduced a new traffic ticket system last year to make it more convenient for traffic violators to pay fines.
While the first two types – handwritten and mail tickets – can be seen as old-fashioned, e-ticket, the newest kind of ticket, is hoped to be a game-changer. It is very foreigner-friendly as part of its content is written in English, and it can be paid through bank accounts.
The new system also comes with the option of fine appeal as drivers can challenge the ticket within 15 days of receiving it if they think there is not enough ground for their offence. Also, consequences of failing to pay fines became more serious, such as service denial at the Land Transport Department.
Thailand has emerged as clearly the most dangerous country in the world to drive
According to a WHO report, most of the countries in the list of the world's top ten deadliest roads are extremely poor, barely out of an armed conflict or in the middle of one. However, the number two listed country stands out from the rest of the list. It is a much more developed and peaceful country – Thailand.
Though many reasons are to blame for why the kingdom ranks just behind war-torn Libya in terms of road fatalities per 100,000 people, it is certain that the reckless and irresponsible attitude from both Thais and indeed foreigners on the country's roads is a critical factor in the problem.
Sheer demand for motor vehicles in Thailand driving the problem
The Thai government is fully aware of this, and now it is determined to deal with it. A debate has started on how best to tackle the issue at a time when many Thai people are still taking to the roads and staking their claim to the middle-class dream which to many Thai people is epitomized by a private car or motorbike.
This in itself is a significant driver of the problem. In the five years up to 2017, the number of motor vehicles increased by 30% to a staggering 37 million registered vehicles.
Experts meet to discuss road traffic deaths and are highly critical of Thai roads, motorists and approaches to dealing with the issue
At the recent conference in Bangkok held earlier in the summer there were calls for the establishment of a road safety institute in Thailand to explore and investigate how to deal with the problem.
Dr Thanpong Jinvong who is the manager of the Academic Centre for Road Safety said such an agency was necessary to explore the root causes of the huge problem in Thailand.
He envisaged such an agency putting forward legislative proposals to improve road safety and running road safety information campaigns.
Dr Thanapong pointed out that such agencies have been established in the United Kingdom, Japan, Vietnam and Malaysia, all of which have made progress in tackling the problem. He pointed out that the cause of the high level of road traffic accidents and deaths in Thailand is not easy to pin down although most people point to abuse of drugs and alcohol.
Expert points to non-compliance with Thailand's existing road traffic laws
Meanwhile, Dr Wittiay Chadbunchachai, a road safety expert and an adviser to the World Health Organisation,  was of the opinion that failures in proper road safety management in Thailand were contributing to deaths and injuries on Thailand's roads. He was sceptical of new legal initiatives which may subsequently not be applied in Thailand. He cited a 1996 law requiring motorbike users and passengers to wear safety helmets pointing that only 50% of Thai people wear helmets with riding motorbikes. Indeed motorbikes are also a key problem area. 73% of road fatalities in Thailand are motorcyclists.
PR campaigns don't impress participants at a conference on Thai road safety
He was also sceptical of annual campaigns at New Years and Songkran run by the public and private sector which had failed to have an impact on the appalling death rate on Thailand's roads. He confirmed that Thailand is the most dangerous country in the world to driving a motor vehicle and went further describing the road conditions as the most dangerous in the world while Thai motorists were the worst behaved.
At the conference Thaejing Siripant, the Secretary-General of the Don't Drive Drunk Foundation pointed out that 20,000 people are killed on Thailand's roads each year and that many of the deaths can be prevented. He was also critical of short terms campaigns to promote road safety for key holiday periods and called for a wider focus on the issue. The seminar planned to submit a report to the Prime Minister.
Further reading:
5 people die including 4 young men hurled from a pickup truck in early morning road tragedies on Monday
World Bank report warns Thailand of huge potential economic loss caused by road carnage
Another fatal crash as express train smashes car off the tracks in Phetchaburi – woman killed
GPS policing to be studied for all cars and motorbikes in Thailand to curb road accidents, deaths and carnage
Tourists to Thailand will be required to have a valid licence to ride a motorbike under new order
Drunk soldier who overturned pickup guns down a diligent policeman trying to rescue him in a stupor
18 dead in bus rail crash in Chachoengsao province early on Sunday morning with over 40 injured
Friday evening horror smash in southern Thailand wipes out family riding pillion on a motorbike
Italian couple die in Chumphon in another horrific motorcycle accident on Thailand's deadly roads
Thailand's road accident rate still a red light – many factors driving the carnage with no easy fix