The death last year of 17-year-old Anthony Ryan from the UK, the eldest of five sons from Bradford, stands out but scarcely a week goes by without a westerner dying on Thailand's roads in a motorbike accident usually accompanied by appalling trauma and tragedy for loved ones at home. The same suffering is brought to bear on Thai households with 50 people losing their lives every week on motorbikes. It represents 73% of Thailand's road deaths and the scale of the problem can be gauged from a Bloomberg and World Bank study that warns the Thai government that 22% of future GDP will be lost if the problem is not tackled head-on. The current Thai Transport Minister is just the man to do it.
Thailand's dynamic Transport Minister Saksayam Chidchob has taken on the challenge of tackling the county's huge problem with motorbike deaths on the roads. One overdue decision that is being reported is a new requirement that all tourists visiting the kingdom must provide a valid motorbike driving licence before hiring a motorbike to drive on the roads. The new requirement may be in place for the start of the high tourist season in the next 30 days or so.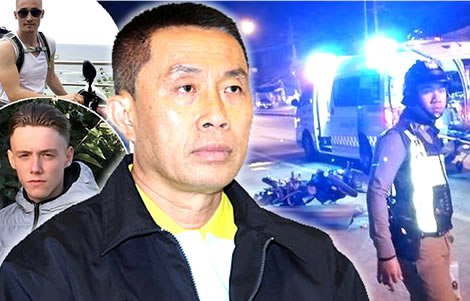 Tourists coming to Thailand seeking to ride motorbikes will be required to produce a proper and valid driving licence before renting a bike under new proposals put forward this week for consideration by the Transport Minister Saksayam Chidchob.
Measure may be in place for coming tourist high season which begins in the next 30 days or so
It is being reported that the proposal to require tourists to have a valid licence may be put in place for the upcoming high tourist season over the next 30 days. Up to now, all tourists had to do was produce a passport and pay for the motorbike as well as insurance cover in order to drive off. Many foreigners while in Thailand, the same as many locals, do not even bother to wear helmets as required by Thai law.
Minister with a reputation for tackling intractable problems and not afraid of unpopular decisions
Thailand's transport minister has developed a reputation for tackling issues head-on and the growing death rate on Thailand's roads is an urgent priority. It is an intractable problem, the sort of issue that has become, even since his appointment in July, a speciality of the minister who has the capacity to make decisions, even unpopular ones. 
The issue of valid motorbike driving licences being required from tourists has come to the fore due to growing incidence of death on Thailand's roads caused by tourist motorbike drivers both unfamiliar with Thailand's unique road culture and who in many cases, lack the skills to ride motorbikes safely in such a demanding environment.
Death of 17-year-old Anthony Ryan is one of many but a tragedy that stands out this year
The list of deaths of foreigners riding motorbikes in Thailand is a long and growing one but one that stands out is the death of Anthony Ryan who was killed in Kamala, Phuket this January while riding a motorbike on his first holiday away from home with his employer.
The young man was the eldest of five sons and his death left his family in Bradford traumatised. He was killed after simply losing control of his motorbike which fell in the way of oncoming traffic on the road near the Nakalay Resort in Phuket. Video footage of the accident showed that his motorbike fell on its side while manoeuvring with his employer from Cornwall in rainy conditions.
The two Honda Zoomer motorbikes were hired by Mr Ryan's middle-aged employer from a small motorbike hire company in Phuket. He simply produced the required passports, paid and the two men drove off, one later to his death.
Italian couple killed in Chumphon in March
It was a similar tragedy in March when Italian couple 42-year-old Giuliano De Santis and 37-year-old Ilario Rizzo lost their lives in Chumphon province when an oil tanker made an unexpected turn on the road. Both were killed instantly when the tanker overturned and landed on the motorbike they were riding.
There are 50 people killed every day on Thailand's roads as a result of motorbikes. It is unusual for a week to go by without news of a foreigner expat or tourist losing his or her life and in most weeks it is a case of multiple fatalities.
Minister is looking at the bigger picture – curbing deaths on Thailand's roads from motorbikes
The Thai Transport Minister, however, is interested in the bigger picture and curbing overall motorbike deaths on Thailand's roads. A Bloomberg study in association with the World Bank recently suggested that the ongoing failure by the Thai government to deal with road deaths will cost it 22% of future GDP growth. Thailand was the country in the world most impacted in the study which measured the economic effects of the loss of working-age adults and the costs of injuries and associated healthcare of the many more people who are left seriously injured.
73% of Thailand's road deaths are due to motorbikes and if they were excluded from the equation, Thailand's roads would be as safe as Switzerland or the United Kingdom.
Subcommittees and hearings to reach a consensus on what has to be done to fix the problem
This Tuesday, the Transport Minister Mr Saksiam and his Deputy Minister Jirut Wisanjit established a range of sub-committees to look into all aspects of the problem which will lead on to open hearings involving all relevant agencies. Law enforcement, transport and infrastructural issues will be key areas to be looked at.
Big bikes are another key target for action
Already there are a number of key proposals. One is introducing more stringent regulation on so-called 'big bikes' which are especially dangerous on Thailand's roads causing more deaths and injuries. Separate licencing for such bikes may be introduced and a ban altogether on their use by certain groups of people.
Manufacturing specifications for motorbikes
The Transport Minister is also looking at the manufacturing specifications of motorbikes sold in Thailand and the kind of braking systems being used. The goal according to ministerial sources must be that Thailand should match the highest international standards. This may lead to higher-priced motorbikes depending on the findings.
Commercial advertisements that glorify speed
The initiative will also look at driving behaviour and road skills as well as commercial advertisements for motorbikes which frequently glorify speed and thrill. The ministerial enquiries will also explore medical response procedures to motorbike accidents and speed limits in different areas.
World Health Organisation – wear helmets
At a seminar last year organised in association with the World Health Organisation the use of motorbike helmets was identified as a key issue in saving lives. An ongoing government campaign including a new law and regular police crackdowns has seen some improvement on the issue with some surveys showing over 50% of Thai motorbike drivers wearing a helmet.
Public attitude resists state interference
However, there is some doubt about these figures as there is still widespread reluctance in Thailand both to buy and wear protective headgear for riding motorbikes. Thailand is still very much a society with a population that resists state intrusions into personal matters.
It is a point of view often ruefully acknowledged by chastened traffic police officers tasked with implementing Thailand's road traffic laws while at the same time attending horrific road traffic accident scenes more often than not involving motorbikes.
Further reading:
Canadian and Thai girlfriend die instantly as high powered motorbike jettisons them into a bollard
World Bank report warns Thailand of huge potential economic loss caused by road carnage
Italian couple die in Chumphon in another horrific motorcycle accident on Thailand's deadly roads
Battlefield friends help UK man and wife escape medical bill of £12k in Thailand. Now safely home
UK lad was riding his motorbike illegally when killed in January – bike shop fined by Thai police for offence
Dane killed in Phuket bike smash had a Thai wife, son and was a respected online anti vaccine campaigner