The extraordinary story of former Thai monk who exploited the goodwill Thai people for a luxury lifestyle.
A former Thai monk was jailed last month for whopping 114 years. Wiraphon Sukphon, also now known in Thailand by devout Thais as the 'bad monk' Nen Kham, famous for being photographed on a private jet leading a luxury lifestyle and blatantly disregarding Thai legal efforts to bring him to justice.  This ultimately led to a serious criminal conviction and jaw-dropping jail sentence before a Thai court in August after he was extradited back from California in the United States. The former monk is due in court again in October on sexual charges over his relationship underage Thai girl some time ago. The case and a few others controversies have led to anxious questioning of the state of Buddhism in Thailand which is fundamental to the country's identity.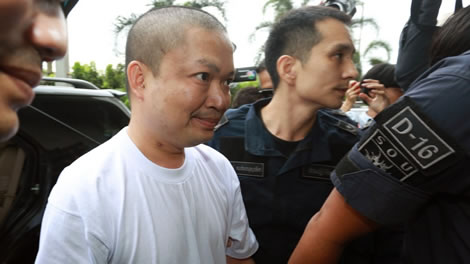 The story of the wayward monk, one of a number of controversies that have arisen in recent years involving wayward Buddhist monks, has deeply disturbed some right-minded Thais about the nature and practice of Buddhism in Thailand.
There is no doubt that Buddhist teaching and its values are deeply integrated into Thai life at all levels, in a spiritual and even practical way. The concern is that such scandals may herald a weakening of a tradition that is seen as so vital to the country.
In Thailand, Buddhist monks are revered figures. They enjoy many social privileges and uplift many Thai people by their presence and the practice of their faith.
But unfortunately, this power and influence can lead to abuse and corruption. In the case of and the notorious jet setting monk, it appears to be a brazen case of abuse but there are a number of other controversies that have stirred some Thais to anxiety.
Thai monks dream of a deity lead to large financial donations
On a night in 2009, a Buddhist monk named Nen Kham had dream in which Indra, a Hindu deity, commanded him to build the world's largest emerald Buddha statue. Or at least, that was what he told his disciples.
Despite his strange relationship with the gods, many people believed him and donated money as well as gold to him for the next four years. Based on his recollection of Indra's instructions, Nen Kham ordered that the emerald used for the statue had to be imported from Italy and that 199 pillars, costing 300,000 baht apiece, should be constructed to cover the statue.
Private jet video shocked Thailand 
After the completion of the statue, the monk said, there would be more projects to fulfill the divine commands, and of course, more money was needed. Then on an unholy day of 2013, Nen Kham was filmed boarding on a private jet.
The monk was seen counting a large wad of American dollars on the jet and it was reported that he boasted of having supernatural powers.
The whole episode shocked Thai social media tremendously and caused him to be known as 'jet-set' monk. The monk had been a respected figure being the abbot of Khantitham forest monastery. He was known as Luang Pu Nen Kham before being defrocked when serious charges merged against him including financial impropriety, money laundering and sexual allegations involving a 15-year-old girl.
Jailed monk led a charmed life before his downfall caused by his use and exposure to social media
But unbeknown to anyone, no emerald statue was ever built. Wirapol had kept the donations for himself and began to spend the money on luxury goods. 2009 was the year he started his shopping spree.It lasted three years. During this time he purchased 22 Mercedes Benz cars worth 95 million baht, a display of wealth that many privileged Thai families, among the richest in the world, cannot afford. He could possibly have ranked among Thailand's richest monks. His wealth, at one point, was estimated to be roughly one billion baht or $31 million.
Wirapol was exposed by the now infamous 2013 YouTube video.
He was filmed wearing designer Italian sunglasses, with a Louis Vuitton bag aboard the private jet. The video was a huge sensation on Thai social media and caused him to be known as 'jet-set' monk.
To make matters worse, accusations emerged that he had sexual relations with several Thai women, a major breach of trust for a Buddhist monk.
Finally rumours that he had fathered a child surfaced, fanning an already ferocious media fury at him. There were allegations he raped a 15-year-old girl who was placed in his custody but these claims are to be resolved next month before another court hearing.
Thai monk sentenced to 114 years and facing 20 more still manages to stay upbeat as faces a grim future
After the YouTube video incident, Wirapol fled to the USA to escape fallout but was arrested in 2016. He was extradited back to Thailand to face charges of fraud and money laundering.
Despite the stunning century-long sentence, the disgraced monk will probably serve no longer than 20 years for these charges due to provisions of Thailand's legal code.
Nevertheless, he is still facing rape charges and it is expected that Ratchada Criminal Court will deliver the final verdict on October 17th.
If convicted, the jet-setting monk could be facing a further 20 years behind bars. Rather amazingly, the monk was not downbeat about his prospects after the trial. 'Prison is comfortable, there are people always buying you food and there's plenty of space,' Wirapol said after his recent appearance, 'Anyone want to join me?'.
Money laundering charges involving 40 million baht in assets linked to the high flying monk
The monk was also found to have many bank accounts along with a collection of luxury cars when Thai police investigated his affairs. This raises difficult questions about his source of wealth.
When his followers figured out that he hadn't spent their donations on building the emerald statue and he fled to the United States, he was extradited back to Thailand the charge of raping a minor and having a child with her a decade ago.
On his return back to Thailand, Thai authorities moved to seize his assets including his bank accounts. This was reported to involve a sum of 40 million baht including financial balances and real estate held in Thailand.
The last chapter the monks colourful life may have commenced when the Thai court handed down the stiff prison on August 9th after convicted him on charges of fraud, money laundering and violations of the Computer Crime Act related to illegal online funds. He was also required to return 28.6 million baht to 29 victims.
Still, Thailand's Criminal Procedures Code dictates that the maximum time he may spend behind bars for the crimes will not be longer than 20 years.
Nevertheless, he has been separately tried for rape. If he is convicted, he could be jailed for up to another 20 years. This pertains to his taking into his custody in 2000 the 15-year-old girl with whom he is alleged to have fathered a child.
Shock and outrage felt by some Thai people in direction proportion to the high esteem in which Buddhism tradition and teaching is held by Thai people
As Thailand is a predominantly Buddhist country, monks wield tremendous moral power and influence over daily life.
While the majority live up to this high standard, a number of cases have emerged depicting some hitherto revered figures who sought to exploit their religious power for financial gain and personal desires.
The outrage and shock felt by some Thais is in direct proportion to the high esteem that the Buddhist sangha (religious community and enlightened believers) is held among the Thai people.
The series of scandals linked with extortion, sex and drugs had led to a robust response from Thai authorities and a respectful Buddhist population, many of whom find the stories difficult to grapple with.
Thai government actively curbing abuse and excesses
Since taking power in 2014, the Thai junta has taken harsh measures against corrupt monks. One of the core policies of the junta or military council, which has overseen Thailand since then, is to preserve Thai traditional values.
It is thought that by rooting out corruption that confidence will be restored.
The good news is that there is little evidence that such stories have undermined the inherent faith that most Thai people uphold but some in the higher echelons of Thai society are concerned.
Their is popular support for the actions of the government in preserving the reputation of traditional institutions.
Famous Thai temple siege lasted 23 days
The most famous case is perhaps the siege of Dhammakaya temple. This was a 23 day police and military operation in which the authorities put the enormously wealthy temple on lockdown.
The temple was declared a 'special control zone' as an enquiry by Thailand's Department of Special Investigation sought to capture the abbot of the temple to interview him about money laundering accusations.
The siege was televised nightly on Thai TV and left many people in Thailand bewildered.
Concern that scandals and corruption could begin to undermine faith in Thailand's Buddhist tradition
The spate of scandals in recent years surrounding Thai Buddhist monks and certain temples has caused some concern particularly among those in leadership positions in Thai society The importance of Buddhism to the country's identity and makeup of society cannot be overestimated.
The barrage of news reports have disturbed many conscientious Thai people who care deeply about Thai tradition and culture. Salacious newspaper coverage of financial and sexual impropriety has resulted less in outrage but more a jolt to the consciousness of those who care deeply about Thai values.
While Buddhism is intrinsically part of Thai life and most people in Thailand understand that not all monks can be perfect, others fear that scandalous behaviour and ongoing affairs may start to undermine confidence.
The rise of consumerism and western culture has seen religion in western society become somewhat irrelevant in many quarters of society.
While there is no question of that in Thailand, those concerned for Thailand's traditional values want to act now. This is why the current Thai government has taken such a robust stance to the issue.
Respected Thai monk offers guidance on state of Buddhism in Thailand
At the end of July one highly respected Thai monk provided an interesting insight into the current state of Thailand valuable Buddhist tradition. Phra Paisal Visalo, the abbot of Wat Pa Sukato in Chaiyaphum province in northeastern Thailand, gave an extensive interview to the Bangkok Post.
A monk for 35 years, who has written books on Buddhism as well as teaching philosophy and meditation, Phra Paisal is well known for teaching non-violence. Before entering the monkhood Phra Paisal was a student activist at Thammasat University and involved in the student unrest that occurred there in 1976.
The monk explained that those who are familiar with the monasteries are well aware that there are good and bad monks. The current spate of scandals will not damage their faith, he believes. He is concerned for those who have had special faith in certain monks who later are found to be subject to human frailty.
He emphasised that there are good monks and laypeople who have archived spiritual enlightenment through Buddhism while there are monks in name only whom he referred to as 'sommuti song'
Thai monks must meditate more to withstand temptations of the modern world
Phra Paisal drew attention to teaching and education within Thai monasteries which he described as 'outdated'. He pointed out that the last time that monastic education had been looked at in Thailand was under the reign of King Rama VI.
The abbot said that in today's world there needs to be more of an emphasis on meditation as opposed to learning and reading. He was conscious of the dangers of modern society such as consumerism and temptations offered by new ways of living.
He felt the monks must be trained to withstand such motivations. 'They must be able to understand this modern world and know how to wisely deal with new technology; they should know how to properly associate with phones and also money,' he said. He explained that many senior monks do not agree with him and consider the status quo 'wonderful' because they 'don't see the importance of mediation'.
Revered Thai monk warns against religious extremism
Phra Paisal also warned about religious extremism which is sweeping the world. He feared that some people might seek to use extremism to protect the status of Buddhism in Thailand. 'One of them is a sense of insecurity of some monks, who are afraid of losing their own status if the people turn their back on Buddhism,' he explained.
'Instead of looking back to see where they've gone wrong to cause all the problems, they simply put the blame on other religions for being behind tis fallout. Thirty years ago, Christianity was branded the culprit, but now they point the finger at Islam.'
He also referenced the role of nationalism and the treatment of the Rohingya Muslim minority population in Myanmar.
Real danger to Buddhism in Thailand comes from consumerism
The abbot pointed that Buddhism in Thailand is intertwined with nationalism in many people's minds. He warned against a perception that to be Thai one had to be Buddhist or that if a person was Christian or Muslim that they are not  regarded as 'real Thai'. He warned about the danger of this thinking. 'Extreme nationalism will make us hate other nationalities, and too much attachment to our religion will make us hate other religions.'
The monk explained that the real threat to Buddhism in Thailand stems for consumerism which is causing some Thai monks to tune their back on meditation and simple living. 'People of any faith are our human fellows. Their beliefs are just different from ours and they have their own way of training their souls. But, finally, they might be doing good deeds and refraining from bad deeds just like our Lord Buddha thought us.'
Further reading:
Illegal Chinese fraudsters use fake banking app to steal millions of baht from gulled online SCB users
Star defrocked as a monk and arrested in ฿13 million credit card fraud linked to Udon Thani hotel
Owner of Udon Thani hotel and Manager arrested in connection with ฿13 million credit card fraud