There are many dangers in Thailand but record tourist numbers show that many westerners love 'free' and independent minded Thailand in spite of everything and maybe because of it
Recent news reports from Thailand of a mysterious femme fatale drugging wealthy businessmen in their hotel bedrooms have been confirmed by Thai police. The incidents is a timely reminder to foreigners to exercise basic caution when visiting or living in Thailand.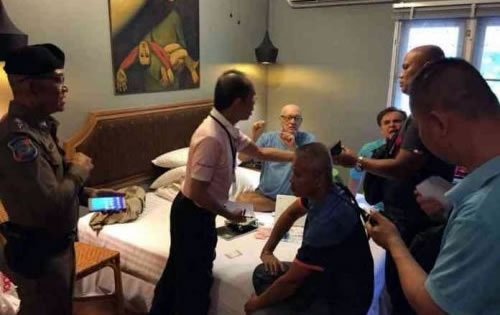 Many Westerners who flock to Thailand wonder at the reality of so many online claims as to the dangers lurking in the country. For the most part, Thailand is very welcoming country and its people, including the often maligned Thai bar girls, are very decent people with an uncommon warmth and friendliness.
Indian American found dead on his hotel bed after receiving visitor in his room
The latest scare occurred in August. Two American tourists were drugged and robbed separately by the same woman in Thailand's northern Chiang Mai province, prompting the police to launch a widespread hunt for the alleged perpetrator. On August 20th, a 56-year-old Indian-American tourist named Tariq Ahmad Bhat 56 was found dead on a hotel bed in downtown Chiang Mai. Some of his possessions were also lost. A cup of coffee was found near his bed. The pretty, plump, short-haired Thai woman who was with him when he had checked in, was nowhere to be found.
Thai police ramp search after taking evidence from American victim who survived being drugged

The ruthless con woman appeared to strike again the next day when another incident was reported. This time it was a 69 year-old American tourist named Gene Ber Ulfgang. This happened on the following evening but this American was luckier. He did not to suffer the same tragic fate. Though his credit card and cash was stolen, he was unconscious when found by hotel staff. Gene was treated in a private hospital for two days before recovering to recount what had happened to investigating Thai police. He said he met a woman in a beer bar and took her back to his hotel room. He passed out after drinking a cup of coffee she had ordered. His description of the woman confirmed that she was the one responsible for the death of Tariq Ahmad Bhat. It was later found out that she tried to buy a diamond ring by his credit card failed to clear the bank approval.
Femme fatale reports recall the 2012 tragedy of  5 Bangladeshi rotarians, 3 of whom died

In years past there have been infrequent reports, particularly from Pattaya, of independent sex workers drugging unsuspecting punters and leaving them for dead. A notorious story from 2012 involved a Thai woman and known prostitute who picked up 5 Bangladeshi men and brought them back to their room. After leaving unexpectedly to go to the laundry, the Thai prostitute left the room having already robbed the 5 men and drugged them. Their unfortunate plight was only discovered the next day when all five were discovered unconscious in their room. Three were already dead. Thai police later arrested the women who claimed she acted in self defence after finding more than one man in the room. She was found with stolen goods belonging to the men and at the hotel reception had give the ID of a younger Thai girl which was not her own.
It emerged that the 5 men had been middle aged rotarians attending a conference in Bangkok. They had arranged to travel to Pattaya for two nights as an excursion when the tragedy occured.
Thai police recover lost 500,000 baht for Vietnamese American visitor after maid confessed

However, even tourists who have nothing to do with bar girls are not immune to theft. A Vietnamese American tourist Tracy Nguyen filed a complaint with Pattaya police also in August after her passport, bank cards, jewels and other valuable items with the total worth of 500,000 baht had been stolen from her room at the Vogue Hotel. After a speedy investigation, police arrested Pimsiri Boonchu, a chambermaid at the hotel. The Thai woman promptly confessed that she had stolen Nguyen's possessions. She had quit her job after the theft and sold the stolen items to buy a car. The police later invited Nguyen to come back to Thailand to received her lost possessions as well as warned hotel owners to manage their staff more carefully.
Thai police advise foreigners not to take strangers to hotel bedrooms – safety cannot be guaranteed

There have been incidents of concern in the past where foreigners have been robbed or imjured in their hotel bedrooms. It is statistically relatively dangerous country for foreigners but the danger stems from the level of freedom people experience in Thailand which creates a less regulated environment for danger. Thai police and authorities are working hard to make the country an even safer place. There is a crackdown on crime in the country including the sex industry and better screening of foreigners entering Thailand who often pose a risk to Thai people and genuine visitors. Thai police have always and repeatedly warned foreign tourists to Thailand about the inherent dangers of taking strangers they have met back to their hotel rooms. They warn foreigners that such an act  'carries significant risks which can lead to the loss of valuables or in extreme cases, loss of life'.
Foreigners should secure cash and valuables in their hotel rooms – many hotels have safes

The relatively large amounts of cash and valuable carried by many wealthier tourists is a magnet for some Thai people at the margins of Thai society. This includes Thai people in chronic debt or with a drug addiction problem but it can also extend to poorer Thai people who have never had access to  wealth. A story this week of an Irish man whose room was robbed while he was sleeping in Jomtien hotel room in Pattaya highlights the issue. 70 year old William Joseph had electronic devices and 100,000 baht robbed from his room while sleeping. The Irish man made the mistake of not putting his valuables in a safe and not locking his door.  A 36 year old Thai man who Thai police identified as 36 year old Mr. Yothin had checked into the hotel and tried each room in turn until he found Mr. Joseph's room open. Mr Joseph awoke to find his room ransacked and valuable missing. Mr Yothin was arrested later in Pattaya's Walking Street but he had already dispersed the money on drugs. Mr Yothin had previous convictions for theft and drugs and had already been in prison. Many hotels in Thailand have safe devices in their rooms and it is a key requirement for any foreigner visiting Thailand.
Caution pays dividends for foreign visitors to Thailand – it's simply common sense

Though Thailand in general and popular tourism cities like Bangkok, Pattaya and Koh Samui in particular are pretty safe for tourists, it is best that they exercise care and keep in mind a few things while visiting this wonderful country. Those tips include choosing a hotel with high security that won't let strangers in and avoiding the consumption of too much alcohol, especially with people who seems suspiciously friendly. Most important of all, foreigners are advised to remember that it is always risky and ill-advised to have sexual encounters with random women of ill repute who appear eager to visit your hotel room. Prostitution is illegal in Thailand in spite of the prevalence of sex tourism which the Thai governmnet is working hard to root out.
Avoid the foreigner hotspots for a safer life in Thailand – they are more dangerous

Figures compiled by the United State Department on the deaths of American citizens in Thailand provide a fascinating  glimpse into the safety of key cities and provinces to live if you're American. But it is quite likely the same patterns applies to most western foreigners to Thailand. Working with the data provided by the US State Department in 2016 one intrepid journalists prepared a chart of Thailand's most dangerous regions. He found that it was possible to identify the areas in Thailand where foreigners are safer and those where they are more prone to danger.
Thailand is the 2nd most dangerous place in the world for Americans but Bangkok is relatively safe

Amongst the data is a fascinating comparison between the death rate for Americans in Thailand's capital city, Bangkok and some notable hot spots where western foreigners and Americans are likely to visit. Thailand is a substantial country with seventy six different provinces in addition to special administrative areas in Bangkok and Pattaya. The country has a large population of over 70 million people in addition to migrants and foreigners living within its borders.
State Department data on American deaths a good guide for dangers posed to foreigners in Thailand
The American writer for the foreigner news magazine website What's On Sukhumvit did the sums in 2016. His figure and mode of calculation, while not perfectly accurate, is likely to provide good guidance. U.S. State Department data gives the location and cause of death of each American citizen and the numbers from November 2012 when figures began show 270 deaths in that period up to March 2016. The figures to June 2018 show 324 deaths. The sample of 270 Americans killed is below the 400 required for statistical accuracy but it is a good indicator. Significantly the latest data from data.world only shows 11 Americans killed out of 343,500 travelers to the country in 2016. However this statistic ranks Thailand as the 2nd most dangerous per capita after Pakistan. Thailand had a figure of 3.2 killed per 100,000 which was just below  3.54 for Pakistan with 226,200 American visitors
Pattaya emerges as the most dangerous place in Thailand for Americans with suicide a key issue

The journalist found that Americans living in Pattaya were staggering 36 times more likely to die when living in Thailand than their counterparts living in Bangkok. The writer used 49 geographical areas from the U.S. State Department data to reach his conclusions. Bangkok emerged 29th on his list making it a safer than average part of Thailand for foreigners. The leading causes of death for foreigners in Pattaya were motorbike accidents and suicide.
Chiang Mai also more dangerous than Bangkok – foreigners should be wary of motorbikes
Surprisingly, the beautiful city of Chiang Mai in northern Thailand, often seen as a more genteel and cultural retirement choice for foreigners, emerges as the 4th most dangerous from the list prepared from U.S. State Department data. The data suggests that an American resident in Chiang Mai is 21.5 times more likely to die there than an American in Bangkok. It's another startling figure. It appears that here again motorbikes top the list for dangers. These pages reported last week that the death rate from road traffic accidents in Thailand has topped 25,000 people per year and that 73% of the fatalities on Thailand's roads involve motorcyclists. Hence some good advice for foreigners living in Chiang Mai, think about not riding motorbikes. Indeed a look at news stories involving foreigners in Thailand and accidents do show a lot of motorbike accidents in any cursory review over a few weeks.
Even beautiful Koh Chang on the eastern seaboard appears on the danger list for foreigners
Number two on the list of danger spots for Americans in Thailand was the much loved Koh Chang island. Recent reports from the island by some western bloggers bemoan the huge influx of Chinese tourists but there is also something else to moan about. The favourite island emerged as number 2 on the list of danger spots for Americans in the survey based on figures from 2012 to 2016. The calculations for the small island suggest it is 29.3 times more dangerous than Bangkok. Foreigners should note the importance of population numbers in this analysis with Koh Chang likely to a far higher population of foreigner to the local population at any one time. The survey factors in population density into the figures.  But the survey has merit as it suggest that Thailand may be more dangerous for foreigners that it is for locals and gives some guidance on the places which are more dangerous than others.
On a positive note the province of Roiet province emerged as one of he safest places for Americans to live or foreign residents in Thailand. Foreigners living in Roiet province are only 6% as likely to die in Thailand as foreigners living in Bangkok. This is very good news for the many foreigners with Thai wives who enjoy the Thai village lifestyle in Roiet according to international Thai dating site ThaiLoveLines.
Website that tracks deaths of foreigners in Thailand is a hit and continues to record reports of balcony falls
A cursory examination of Thai media reports will see daily spectacles of foreigners found dead from suicide. A macabre but highly successful website with the deadpan title of Farang Death has become a huge success on the internet in Thailand and among foreigner fans of Thailand. The patterns of foreigners killing themselves in rooms, involved in violent encounters with Thai girlfriends or falling off balconies is uncannily repetitive. The fact that many are older or middle aged, that many are alone and living far from home combined with a culture clash and lack of understanding of Thailand accounts for much of the tragedy. There should be no doubt however that danger lurks in Thailand for foreigners who do not exercise caution. The sunshine, beautiful Thai women and the politeness and welcoming nature of Thai people means many do not and abandon their normal sensibilities to the wind with sometimes fatal consequences.
Thailand is still a hugely popular destination for western visitors even among younger adults

Thailand has become hugely popular among western men seeking early retirement and retired men moving from colder climates to the exotic warmth of Thailand's shores. The popularity of Thailand as a destination for western tourists seeking sexual escapades may be on the decline with an determined Thai government campaign that actually warns off visitors seeking cheap thrills in the land of smiles but they undoubtedly are still arriving. The  surprising popularity of Thailand among younger and female western world travelers is rather surprising. Recent figures from the Thai Tourist authority, while they show continued record breaking number of tourists arrivals to Thailand, do not highlight a significant change. The latest huge increases in tourist numbers are from form Asian countries dominated by China.
Westerners including young westerners continue to flock to Thailand to the 'free' and independent lifestyles that Thai people cherish
It would be a mistake to say western visitor numbers to Thailand are in decline. There have been suggestions that growth from some western countries had gone soft but the numbers keep defying expectations. Thailand remains a huge favourite with western visitors and many younger and middle aged westerners are making Thailand a second home. To many westerners, the incessant reporting on Thailand in western media demonstrates that it is a country that fascinates the world. In fact, many of the dangers that such reports mention are, in fact, the result from the wide ranging freedom and independent thought that Thai people enjoy in everyday life. Thailand means the land of the free and Thai people certainly do have a very independent spirit. It is that spirit that brings westerners to Thailand.