Pheu Thai and Thaksin Shinawatra are also actively preparing for the 2019 election with plans to energise its electoral base with a popular policy platform that could sway voters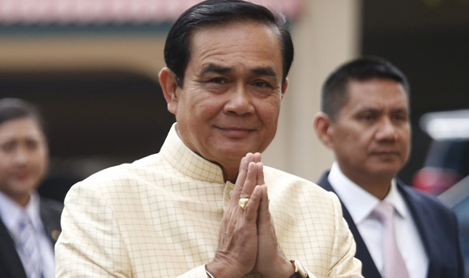 Thailand's current Prime Minister and ex army leader has made a statement indicating that he may be open to participating in politics. Speaking to reporters at Government House in Bangkok, the Thai leader who had said in 2014 that he was not interested in politics, has now confirmed a new status. He has confirmed that he is interested in  taking up a political position in the future. It is widely speculated in Thailand that the current Prime Minister may be elected Prime Minister in the aftermath of a proposed election set for February next year. A recent opinion poll in Thailand suggest he is already the favorite candidate for the office.

In January, the man who was formerly the chief of the Thai army and the leader of the 2014 coup indicated that his status had changed. 'I am a politician who used to be a soldier,' he is reported a saying at the time. The Prime Minister had previously flagged that he was going to clarify his position in September. 'I can say right now that I am interested in political positions,' he said. 'I am interested in politics because I love my country probably like every other Thai in the country.' Prayuth didn't elaborate on his future intentions or confirm specifically that he would be a candidate for the position of prime minister in his statement but there is already overt party political support for such an outcome. 'What I'll decide, who I support, I'll need more time to decide,' he told reporters.
Thailand quietly gearing up for a 2019 election
As the ban on political activities is partially lifted, Thai parties are quietly preparing for the general election that could take place on February 24th 2019. An opinion poll in Thailand puts the current Prime Minister and ex army boss firmly in the spotlight as the most popular choice for the position, after the vote, according to a NIDA opinion poll.
New Thai political landscape after the election with opinion poll giving a clearer picture
The speculation now is on the fate of the various Thai political parties and the political setup of the new lower chamber. Also the date when the election is to take place. The February 24th date seems to be solidifying and is now the official date for the election.
The recent opinion poll showed the formerly dominant Pheu Thai party with 28.8% of the vote, still on target to be the biggest political party. A conservative party, that is most associated at this stage with the military and political future of General Prayuth, is polling a respectable second with 20.6% of the vote but there are a number of other parties, across the spectrum, who are open to supporting any proposed candidacy by the current government leader for the post of prime minister when the time comes. The Democrat Party is supported by 19.6% of those polled while the more radical Future Forward party has 15.5% of the vote. Representatives of that party have recently been charged by Thai police with infringements under Thai law for inflammatory and uncompromising language against the current government.
The poll was carried out by NIDA (National Institute of Development Administration) in mid September with a sample of over 1,200 participants. Significantly it found that 53% of respondents still expected that the election date may be postponed while 45% thought it would be held on February 24th 2019 as is it scheduled now.
Prayuth leads the field as choice for Prime Minister after Thailand's general election
On people's personal choice for Prime Minister among those polled in the NIDA poll, General Prayuth led the field with 29.7% support while the probable future leader of the Pheu Thai party Khunying Sudarat Keyuraphan, came in second at 17.5%. Khunying Sudarat Keyuraphan is an accomplished Thai politician who has served in many ministerial roles in various governments. She co founded the now dissolved Thai Rak Thai party with Thaksin Shinawatra in 1998. Third in the poll is Thanathorn Juangroongruangkit of the Future Forward party with 13.8%. This may be a source of concern for General Prayuth as that party's stance appears to be quite combative towards the current political direction in Thailand.
Deputy PM sets February 24th as the election date
After the military government announced to all Thai political parties that they could start preparing for the upcoming election after the June meeting, Thailand's political landscape has since stepped up a gear with the new political landscape slowly emerging. While public gatherings of more than five people and political campaigning are still prohibited, Thai parties have been allowed to undertake administrative tasks like setting up party regulations, recruiting party members and determining party candidates. On September 5th, Deputy Prime Minister Wissanu Krea-ngam declared that parties would have more than 60 days for political campaigning, and indicated that it was likely that the ban on political activity would be completely lifted by December this year as the election was expected to be held on February 24 2019. The junta has said previously that the election could be held on various dates from Feb 24 to May 5.
PM's popularity has been growing not least due to robust economic growth
The general election will be followed by local elections which will be held 90 days after. Prime Minister Prayuth Chan-o-cha has now given a clear indication that he plans a future in Thai politics. The prime minister's international status was bolstered by his successful European trip in June this year. The trip also helped to consolidate his position among some Thai voters who despite living in a country comfortable with its own unique culture and traditions, like to see Thailand respected abroad. Thailand's current strong economic performance in the last year has also boosted his popularity as has his unique, offhand style. Thailand's current government leader is barred from contesting the general election himself by Thai law, along with other senior government officials. HoweverThaland's new constitution specifically provides for the election of a prime  minister from outside the elected legislature.
In an interview in June, Prayut Chan-o-cha have an indication of his plans when he suggested the possibility joining a political party to ensure the continuity of his policies under any new Thai government. He said at the time that he would make his decision known later.
Pheu Thai party floats idea to abolish military conscription in Thailand if elected
There is a suggestion in political circles that the Pheu Thai Party, with the exiled premier Thaksin Shinawatra as its de facto leader, is proposing a radical election platform for the upcoming general election.
According to a source close to the Pheu Thai Party, its senior members are proposing that the compulsory military conscription that the majority of young Thai men are subject to, will be abolished by voluntary military service if the party wins next year's election, now that the country is at peace. Some political reports and sources in Thailand including the Bangkok Post newspaper suggest that this proposal has gone down well with Pheu Thai supporters and has already won back some defectors from the party who are known to be effective influencers in key regions. These individuals had previously indicated that they would move over to supporting the current Prime Minister either directly or indirectly.
Pheu Thai to make issue our of Chinese submarines
News that Pheu Thai is planning a winning platform of policies to put before the Thai electorate also emerged after an overseas meeting between Pheu Thai party activists and Thaksin Shinawatra who is living abroad. It has been reported that should Pheu Thai Party return to power, the three Chinese made submarines that were purchased after the 2014 coup, will be sold away and the money will be spent on building more hospitals. The three submarines are reported to be worth 13.5 billion baht.
Pheu Thai leaders have predicted a majority in the lower house if electoral base can be energised

Thaksin Shinawatra is reported to have predicted to his followers that his party will secure a majority in the House of Representatives in the next election, citing the results of some survey polls that indicate strong support for the Pheu Thai Party. He is said to be encouraging Pheu Thai candidates to visit and keep in touch with their electoral bases. The Pheu Thai party strategy appears to be to energise their former grassroots base.
Thaksin received personal fillip with dismissal of some charges against him
Thaksin has also recently received a minor personal fillip recently when Thailand's Supreme Court, with a majority vote, acquitted him of malfeasance charges in the scandalous 2003 rehabilitation of Thai Petrochemical Industry (TPI). The court found that he had no vested interested nor personal gain when he allowed the Finance Ministry to supervise the TPI rehabilitation plan, and attributed TPI's troubles to other officials. To some extent this is irrelevant to the current political equation as the former prime minister is still forced to live in exile in order avoid serving a jail sentence that has already been imposed by the Thai courts.
Pheu Thai did not attend June meeting between government and political parties
The latest reports that Pheu Thai Party is preparing its game for the election will certainly add more heat to a political race that, despite everything, cannot be predicted. Pheu Thai was one of the very few parties that didn't attend the June meeting to discuss the proposed elections in 2019 while Thai government was placing a restriction on political activity in the name of preserving stability.
Current military government has improved its standing since 2014 at home and abroad

The current military government is now relatively well thought of abroad, the more so after Prayuth Chan-ocha's successful to trip to Europe. After Prayuth returned from meeting his counterparts in France and the United Kingdom in June he indirectly challenged Thaksin to come back to Thailand to face justice.
New election will be decided under a new constitution and political climate than the last official election

Pheu Thai won the last officially recognised Tha election held in 2011 in a landslide that allowed it to form a single party government. The party still commands a certain amount of support particularly in the north of the country despite the disastrous rice pledging scheme under Yingluck Shinawatra's administration and the huge street protests that followed.
However there is a mood in Thailand now wishing for a less fractious future and Prayuth Chan-ocha has earned popular support among former Pheu Thai supporters or even among Thaksin diehards a grudging respect. The former army leader has a sometimes abrupt and colourful style which appeals to many working class Thai people in what is still a very conservative country The new Thai Constitution which was overwhelmingly supported by Thai people gives the Thai military also a strong say in electing the next Thai PM in addition to measures designed to act as curb a to overly populist policies.
However if the last few decades have thought observers of Thai affairs anything it is not to underestimate the Shinawatra family when it comes to politics. However the recent opinion polls does suggest that there is now in reality a new political landscape and in the last five years we have also learned not to underestimate the military government and the current Thai Prime Minister. For most Thai people the best result would be the restoration of democracy with a government and political process that operates in a spirit harmony and mutual respect.