Thailand, like much of Asia is looking East with shared tastes in new popular music and TV soaps. The Thai PM recently drew attention to the phenomenon which he hosted a popular JPop band at Government House in Bangkok
Thailand's Prime minister has recently indicated his interest in a future in politics but he has also showed a keen interest recently in popular culture. Earlier this year he was seen promoted a popular Thai TV soap which popularised old fashioned Thai costume and dress in Thailand. The trend has stuck and today more Thais are looking for a more traditional look even when wearing modern clothes. Now it has been revealed that the iconic Thai leader is partial J-pop which has become huge in Thailand among the country's younger population.
Anime, manga, J-music have all the hit the spot among young people in Thailand who, as well as embracing western culture, also have shown a enthusiastic passion for all the things Asian and in particular Japanese.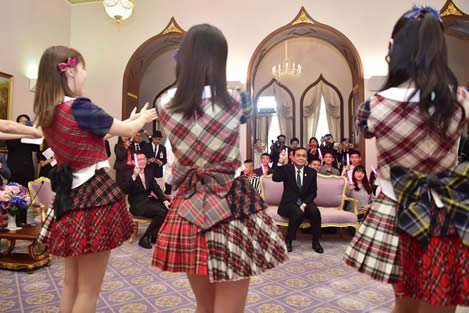 Japanese artists of all kinds have left an indelible mark on pop culture all over the world with a large following in Thailand. The Japanese influence gives rise to the popularity of the word ota, meaning 'a big fan' in Japanese. Thailand's growing ranks of ota has just had a new addition according to reports on Thai media: Prayuth Chan-ocha. The prime minister has been reported as being an ardent fan of the Japanese all female idol group AKB48 who in September visited Bangkok to promote their year end concert in the Thai capital.
Japanese pop band performs for Thai Prime Minister
In honor of the prime minister, the band put on a special performance for him on September 13th at Government House that was broadcast live on the government's Facebook page. In the video, Prayuth Chan-ocha can be seen cheering enthusiastically as the singers were filmed performing their signature song 'Koi Suru Fortune Cookies'. After the show, the PM took a selfie with the group and wowed the girls with the promise that he would follow them on social media.
Pop music and Thai culture are key to Prayuth's growing popularity with many Thai voters
Many political hacks and some who are perhaps too cynical, see a new political strategy behind Prayuth Chan-ocha's newfound taste for J-pop. They suggest that the PM's appreciation for pop culture is part of a PR play to win hearts and minds and expand his popularity ahead of next year's election by appealing to young, urban teenagers. If so, it is a good strategy.
Many young Thais will be voting for the first time in next year's general election. Many do not have existing political affiliations. Some commentators suggest that many, not influenced by existing family voting preferences, may cast their votes according to their own particular preferences or plump for the parties or groups that captures their imagination. There are reports that the former army leader and current Prime Minister is admired by many young Thai who are impressed by his love of country, duty and original style.
Thailand's strongman, PM and tipped for elected office shows a light touch with PR coup

The Prime Minister has been associated with many media phenomena which appear to promote Thailand's unique heritage. Many young voters in Thailand are loyal fans of pop icons. The enthusiasm and excitement at pop concerts for bands such as AKB48 and BNK48 are remarkable and are very much family events for Thai followers. The association shows Prayuth Chan-ocha is positively connecting with a younger audience in Thailand. The campaign, now associated with the Thai prime minister, which rallies the country by invoking Thailand's rich history and unique style has had considerable success this year.
A recent opinion poll shows the Thai army leader as most popular among the public, crossing party lines, to be elected Prime Minister in the aftermath of the next general election. The election, scheduled for next February 2019, promises to be hard fought and their are many who oppose him as PM.  However the result of the poll, after an extended period of strict military rule in Thailand, is quite unprecedented.
Thai sister group BNK48 is the key to pop music success in Thailand as Jpop craze stirs audiences

AKB48 is influential enough to make this strategy work. Up to June 2018, the group has sold over 56 million records, including over 6 million albums. But it is their Thai sister group, BNK48, that has the kind of reputation and fan base that every Thai politician dreams of. Though attracting initial criticism for having too many members – it now has 52 members – the diverse age range of its singers has made it possible for many types of audience to identify with the band, which in turn improves the popularity of the band. For example, the Thai version of 'Koi Suru Fortune Cookies', BNK 48's biggest hit, has scored more than 148 million views on internet channel YouTube. By comparison, the current population of Thailand is only around 70 million people.
AKB48 have sold 60 million singles with sales 1.4 million in one week alone and new hit due

In September the Jpop band announced that the had sold 1.45 million copies in one week alone with their latest single 'Sentimental Train'. This brought the bands reported total sales to  a new record in the burgeoning Asian pop industry. The band's management announced the lineup of three singers to front the 54th single 'No Way Man' due for release at the end of November.
J Pop shows Thailand's youth is looking East
The popularity of K-Pop (Korean pop) and now J-Pop (Japanese pop) shows a new trend among younger Thai people and Thailand at large. There is a new interest in Asian culture and even in Asian heritage sweeping Asian countries. TV soaps featuring historical dramas and costumes from China and Korea are equally popular with Thai audiences while a Thai TV soap of the same genre was recently a huge success among Chinese TV audiences. ABK 48 has sister bands in both China (SNH48) and also Indonesia (JKT48)  as well as Thailand.
A new Asian pop industry with a sound like catchy western pop of the 1970s with fan mania

These bands, while being essentially singing and creating old fashioned popular music with a western 1970s sound are quite different. The sound is fun, light weight with memorable lyrics. Firstly, these girl bands have a large membership with particular singers or performers chosen for to perform at each event or on each new single. The bands are marketed like a corporate brand and have a very different business model. These bands are essentially about an idolised image which all the members support.
Bangkok BNK48 group on the way up
In an interview with the Bangkok Post in February this year, the Chief Executive of Bangkok group BNK48, the Thai sister act of AKB48, explained that revenue from the group was very much on sales of merchandise including T Shirts, CDs, souvenirs and a range of accessories. Concerts for the groups are as much about the band's image and accessories as the music itself. Launched in 2017 the Thai band had grown its fan base to 100,000 with 12 months.