Thailand's is one of the very few significant economies to keep its obligations under the Paris Accord so far. It has new and exciting plans to keep its commitments beyond 2020, including a partnership with Australia to measure greenhouse gas emissions. But what do Thai people really think about climate change? We explore the effect on Thai farming, singled out as the most vulnerable sector to the threat and still a key driver of the Thai economy and Thai society.
As the world watched riots in France, sparked by climate policies, Thailand's minister was proudly showcasing the country's real achievements in tackling the issue. But what does climate change really mean to Thailand? It has been said that Thai farmers are among the most vulnerable to the threat, so what is the threat and what do Thai farmers think about it? There is a certain mystery attached to climate change, with models that keep changing and which become more and more complex. There are a lot of buzz words. It is an issue that also changes, has even changed its name over the years. It has also become more widespread in its scope and possible consequences as media reports link it to all extraordinary weather events. Certainly it is today more accepted as the prevailing orthodoxy, supported by the United Nations and even the Pope. It is now fashioned as nothing less than a threat of the end of civilisation as we know it. Well, is this true? Or at least, is it true for Thailand?
As world leaders on climate change were meeting in Poland over the weekend, riots were raging in Paris and in nearly every French city. The spark for the riots was a fuel tax introduced by French President Macron as part of new energy policy to combat climate change. The International Energy Agency presented a warning to government and civic leader at the climate change summit titled Cop 24. It pointed out that there had been a 0.5% increase in global CO2 emissions for this year compared previous years. In recent years up to 2017, there was some suggestion that emissions may have been decreasing but climate change figures and statistics are often hard to tie down.
Climate change summit attended by Thai delegation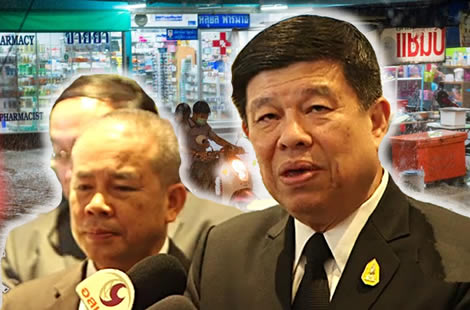 The climate change conference held in the former Polish mining town of Katowice is being attended by a Thai delegation led by Surasak Karnjanarat, who is Thailand's Minister of Natural Resources and the Environment. However the rioting in France was, it has to be said, is an ever starker warning than the IEA report to those involved with climate change and world leaders that the policies being developed and implemented have a real impact on working class people. And, what seems to have come as a shock to President Macron and many in positions of world leadership, those people want and are insisting that their voice is heard. It is also something to be borne in mind by Thailand's leadership in relation to the the issue, although the current Thai leadership has shown particular sensitivity for measures, across a range of issues, which directly increase financial hardship in the less well off. This is in direct contrast in a current trend in western Europe.
Thailand meets its climate change promises
The Thai delegation had a spring in their step at the conference. Thailand is on target to meet its pledges under the Paris accord signed in 2015 at the Climate Change Conference signed in Paris (COP21). The commitments, known as appropriate mitigation actions, saw Thailand commit to reducing its greenhouse gas emissions from anywhere between 7% to 20% by 2020 and an even bigger reduction of 20% to 25% by 2030. Thailand, to its credit, is among the very few nations with significant economies, to be on track with major powers and even smaller developed economies, falling way behind the commitments made in 2015. The USA has pulled out altogether and openly decries both the plan and the agenda. The Paris Accord aims to reduce what was then called 'global warming' to 1.5 degrees by 2100.
Widening definition of the 'Global Warming' issue to 'Climate Change' is media driven and ideological
A page from the organisation that seems to drive the climate change agenda and all its statistical models, the IPCC or Intergovernmental Panel on Climate Change, attributes this target as being necessary to fight 'global poverty'. The initial target being discussed at the Paris Climate change conference in 2015 was to keep the rise in temperature under 2 degrees by the end of this century. Since that conference, the term 'climate change' is now being more often used as the media associates the issue with world weather events which may show an aberration, including hurricanes, heavy rainfall, forest fires, flooding and rising sea levels. It has even been linked with increased snow and colder conditions in central Europe and in America. This is media driven and it has to be said, whether by accident or intention, the issue has become an ideological one between the left, right divide in the western world. This is unfortunate and unhelpful to the cause. This is not the case in Thailand.
IPCC has called for 'far-reaching' measures to avoid higher temperatures in October report 
In October, the IPCC or the Intergovernmental Panel on Climate Change, the body that drives the climate change agenda, came out with another warning in anticipation of the summit in Poland, contained in its latest report. It stated that the plan and commitments drawn up in Paris in 2015 would be no longer sufficient to limit 'global warming' to a 1.5 degrees increase by 2100. It warned that what was now needed was 'deep' cuts in emissions and called for major changes throughout society everywhere in the world but most importantly, in the western world. It said such change should be 'unprecedented' and 'far-reaching'.
IEA says oil use is up – Thailand and the world needs to focus more in energy efficiency
The International Energy Agency or  IEA report, released this week during the summit, points the finger at America, Canada, Europe and economies in the Asia Pacific region. It particularly pointed to increased use of oil. It is clear that the uptick detected, fits in with a pattern of economic recovery in place since Donald Trump became U.S. President corresponding to a rise in consumer confidence in America and Asian economies including Thailand, which has seen marked improvements in GDP and more pointedly, consumption. The Executive Director of the International Energy Agency, Fatih Birol ,called for increased efforts towards more energy efficiency.
Thailand has already achieved its 2020 'mitigation' goal even with recent rising emissions
This is something the Thai government has been working on. Raweewon Bhuridej is Thailand's Secretary-General of the Office of Natural Resources and Environmental Policy Planning, was quoted in the Bangkok Post this week as saying that even though Thailand has resumed a track of increased emissions, as the economy develops, it will not affect its commitments under the Paris Climate Change Accord. She pointed out that, as Thailand is still an emerging economy, it does not have to cut its net emissions every year. She pointed to Thailand's progress in cutting emissions to 2016 and said that it already had achieved its 2020 goal or appropriate mitigation action.
Thailand weighs up climate change actions by authorities against required economic growth
She did however point to ambitious plans by the Thai government to encourage more Thai people to use public transportation and wean Thai people off their love affair with motoring, including cars and motorbikes. Thailand's growing middle class is enthusiastic about living the dream, off the fruits of successful economic development and have shown so far, a marked reluctance to let go. However, the country does have a successful track record in developing popular mass transit solutions. Ms. Bhuridej pointed to this as a way of transforming Thailand into 'low carbon society'. She said that the Thai government was investing in more mass transportation projects. 'But we're aware that this is not enough,' she added. The Secretary General feels that Thailand must be even more ambitious. She did underline the practical necessity to make sure that any government moves were weighed up against the Thai government's ability to generate economic growth.'
Thai Minister highlights Thailand's progress on fighting climate change at Polish summit
Thailand's Minister will address the conference and bring the international community up to date with Thailand's climate change programme and plan. It is an occasion when he may come under pressure from the international community, seeking to up the ante and re engineer targets and commitments. The Thai minister will point to an impressive 12% reduction in emissions from 2013 to 2016. This was achieved through such moves as the introduction of more expensive but energy efficient, light bulbs all over Thailand, more energy efficient electrical products, an expansion of Thailand's public transportation network and range of government initiatives. All Thai government offices have explored the use of solar panels and renewable energy, while the government is pushing more alternative energy measures across the economy.
Thailand may even go further than Paris Accord commitments in reducing emissions if possible
Thailand's Office of Natural Resources and Environmental Planning confirms the progress with impressive statistics. ONEP is the agency in Thailand to which climate change policy has been delegated and advises the minister. 'Thailand is moving in a good direction as we can achieve the minimum target of emissions reduction,' says Raweewon Bhuridej. She has said that Thailand is committed to reducing emissions, even ahead of any commitments given, if possible.
Thailand to partner with Australia as national committee prepares 2020 to 2030 action plan
Thailand now has a national committee on climate change. It has already approved an action plan for the years 2020 to 2030. This plan is a coordinating framework, to which all other government offices and agencies can plug into. A key part of the plan is to improve the measurement of greenhouse gas emissions and the Thai government is partnering with its Australian counterpart in this endeavour.
Are dire warning about climate change in Thailand, reflected on the ground among Thai farmers? 
Meanwhile the topic of climate change is something that is engaging the minds of media commentators in Thailand as well as those in academia and people who believe that the issue is the most important of our time. One Thai newspaper this week warned that the failure to limit global warming and temperatures would lead to rising sea levels, flooding, food insecurity and more severe poverty. It drew attention to the fact that Thailand is in the Southeast Asian region, which is one of the areas of the world said to be most vulnerable. However is this an accurate reflection of the where things stand? Thailand has been very successful in reducing poverty in the last 30 years driving it down from 44% of the population in 1988 to 7% today. Is climate change a factor or an issue that will begin to drive poverty in Thailand upwards again?
Thai academic says the issue is 'urgent' as the economy feeds more personal consumption
Some in Thailand are genuinely concerned about climate change. Carbon emissions per capita have increased Thailand between 2008 and 2018 from 3.21 tonnes to 3.90 tonnes, a reflection surely of increased economic growth and prosperity. Thai people are enjoying the fruits of economic gain. Personal consumption is rising. Thailand, while it was criticised this week as the most unequal society in the world economically and perhaps wrongly, is seeing the emergence of a larger middle class with young families living the dream of a prosperous life, which includes better housing, cars and more social activity and experiences. This is economic consumption, something that only in the last two years, the Thai government was anxious to prod, as Thais were reluctant to increase domestic consumption. This perhaps coincides with the resumption of increased carbon emissions. One person who is concerned is Arpa Wangkiat, an academic who works with the influential Rangsit University. She describes the issue as an international one and has called for 'clear cut' policies. 'This is urgent. We are nearing a critical point,' she warned.
Durian farmer in Thailand faces climate change
But how urgent is it really? This week also the Bangkok Post, Thailand's leading English speaking newspaper, set out to find someone in Thailand directly impacted by 'climate change'. They interviewed a farmer in Thailand who produces the durian fruit, a speciality produce for Thailand and Malaysia because of the unique weather or climate. A fitting story to explore. 43 year old Amapi Meelap farms in Rayong province located within Thailand's eastern region, earmarked by the Thai government for strategic expansion, under its new Thailand's 4.0 economic programme.
Later rainy season causes less fruit and more defects for Rayong farmer struggling with less income
The farmer farms a holding of 16 Rai, to use the Thai land measurement, which is the equivalent of 2.56 hectares. The farmer points to the unpredictability of the weather in Thailand of late. She says that, as a farmer, her income has suffered because of changes in the weather pattern. She points out that the rainy season in Thailand would normally end in September, giving time for for the flowers of the fruit to come out, in the somewhat colder weather. However, owing to a prolonged rainy season period beyond September, the blossom of the fruit falls off. She also explained that there are now more insects and crop defects. This causes increased costs.
Thai woman says we cannot control the weather
She explains it quantitatively by pointing out that her holding normally produces 35 tonnes in a year. Figures for 2015 to 2017 show 12 tonnes, 40 tonnes and 24 tonnes respectively. This is an average of over 25 tonnes or 9.77 tonnes per hectare. However significantly, when asked about climate change or at least government action, she was more fatalistic. She told the newspaper that she believes government action could not be of assistance to her. 'It can't control the weather,' she was quoted saying in the Bangkok Post news report.
Figures for durian fruit in Thailand show one bad year from 2013 to 2017 with local effects
It is well known that Thailand, along with Malaysia, is particularly suited to the Durian fruit and its production. Some experts say that it is possible in Thailand to grow 10 to 18 tonnes per hectare. This relates to M/s Meelap's holding which showed a range of as low as 4.69 tonnes per hectare in 2015 to 15.63 tons per hectare in 2016. For 2017 it was 9.37  tonnes. So it would appear that the Thai farmer had one very bad year in 2015. The figures for the durian crop overall in Thailand from 2013 to 2017, do show marked variation from year to year, but with a strong average figure that period. 2017 was a marked height or bumper year at 635,031 tonnes similar to 631,773 tonnes in 2014. The average for 2013 to 2017 was 601,017 tonnes. This tends to show a steady average over the combined years with fluctuations from year to year. It also indicates, in this particular example perhaps, that such weather effects are more local.The year 2016 was particularly bad, yet this was the year the Rayong farmer had a bumper crop. Her bad year of 2015 corresponded with a national figure of 601,017 tonnes, which was above the national average of 589,816 tons for the five year period. This indicates the impact of local weather conditions, as opposed to national weather conditions, but in Thailand, all weather is local.
Farmers a key priority for Thai government
Thailand's farmers are a key priority for the government and among the poorest earners in the country. One survey showed some farmers in the north of the country with an income of less than $84 per month or ฿2,700 per month. It is suggested by many climate change activists in Thailand that this is is the sector facing the greatest challenge from the threat.
Thai university study looked at the potential effects of climate change on Thai farmers
It is estimated that as much 40% of Thai people still maintain links to the agricultural sectors and farming and it is still vitally important to Thailand, not least for its role in food security and as swing factor for unemployment. There is not a lot of data or research available on the threat to Thai farmers except for some undertaken by Thai universities. One was undertaken in 2013 by Witsanu Attavanich of Kasetsart University. This was prior to a period when carbon dioxide emissions began to go down and certainly, this was the case in Thailand.
Earlier studies in Thailand suggest increased rice yields for farmers due to climate change
The  study carried out and published by the university looked at the impact of  climate change on Thai farming from  2040 to 2049. Its topline figure suggested that Thai farmer would lose anywhere from $24 billion to $94 billion in losses in that period due to the issue, beginning over 2o years from now and ending over 30 years into the future. It bases this on a decrease in the value of farming lands caused by the impact of altered conditions. The survey addressed many of the complexities, including earlier models by other academics, that were limited to particular areas and some which even suggested that climate change would increase rice yields on farms.
It is perplexing that different studies, at different times, need to alter the models to account for genuine factors and for accurate analysis of the impacts of climate change. This was the case in this report, which set out to give the most accurate predictions. It even ended up with two top line figures based on different assumptions. Even then it suggested that some parts of Thailand would indeed be better off due to climate change while others would suffer.
Rice yields in Thailand have risen with minor fluctuations, despite any effect of climate change 
There are a number of clear facts that need to be borne in mind. One is that despite year to year small variations, both up and down, Thailand has seen increasing rice yields consistently as a product of rice produced per hectare. In 2000, the rice yield was 2.61 tonnes per hectare. This was 3.01 in 2007 and 2014 with a high of 3.15 tonnes per hectare and a low of 2.86 tonnes in that period. The trend is clear, rice yields are up or at least steady and not down.
Farmers in Thailand, like those worldwide, are preoccupied by climate change or weather
Some of the reports quoted in the Kasetsart University reports suggest a decline in rice of as much as 40%, although that study set out to find a more accurate and balanced approach to estimating the impact. But the facts show that it is an impact that, while may be felt at some local levels, overall on a national scale, it is yet to be seen to lower rice yields. It may also be that thiis due to improvements and innovations in Thailand's farming methods and development of new strains of rice, which is countering the effect of climate change or  driving against the wind. It may again be that more robust increases in rice yields have been hampered by climate change. But this could also be due to Thailand's ageing farm labour, as more young people flock to urban centres for higher wages. As confirmed by Amapi Meelap, the Rayong durian farmer, the key effects or concerns, as they have been for farmer since ancient times, are precipitation and temperature. These are effects that may or may not be caused by man made climate change.
Thai farmers believe climate change is real
But what do farmers in Thailand really think about climate change. The Rayong farmer thought it was something the government could not control. She is not alone. A survey and research by Chulalongkorn University published in 2015 looked into the attitudes and perceptions of Thai farmers about climate change. It focused on the northeast of Thailand. It examined the psychological impact of the issue on those that took part. 82% were men and 18% were Thai women. The need for the study was highlighted by the university when it referred to a call from the IPCC to make farmers more aware of the issue.
For a start, the findings show, that 79% of the farmers believe that climate change was indeed real. 27% were not too sure what the climate change issue was about. A massive 99% of the farmers were certain that their own personal lifestyle or activities had very limited bearing at all on climate change, while over 80% felt worry or concern over the issue. The farmers believed that the climate is changing and worry or fear what the consequences may be, to state it obviously. Again, this has been state of mind for many farmers forever but there is a public awareness in Thailand of a change in the climate, the weather or seasons which is quite prevalent and growing.
While the figures on record for the rice and durian crop in Thailand show no real negative impact in recent years, the projections and models show effects 20 years ahead based on conflicting or various models. The Thai government has, so far, been very successful implementing a coherent and successful response to the issue. However, as the rioting in France shows, people's attitudes and opinions can quickly focus on the direct impact at hand when climate change policies result in higher taxes and costs that immediately and directly impacts those at the margins of society.