New digital licence was not recognised this week for road traffic enforcement purposes as the Royal Thai police explained that they were awaiting a legal amendment to a 1979 legal provision to provide for the use of the digital or smart driving licence on Thai roads. Meanwhile the boss at the the Land Transport Department, Pheeraphon Thawornsuphacharoen, has stoutly defended the new facility claiming that it does exactly what it is designed to do.
The plan for January 15th to become the D-day for digital licences in Thailand has been thrown out of kilter. Thai police have, instead, warned Thai motorists to still abide by the current requirements as an amendment is passed through Thailand legislature to make the new digital licence a valid alternative. At the same time, a senior Royal Thai Police officer and road traffic expert has expressed concern at the practical use of the new system and the potential for confusion. However, Thailand's Land Transport Department has defended the new system as fully fit for purpose and highlighted the benefits of the new digital system. It has emerged that the new digital licence has many indirect benefits and may be the precursor to stronger government control over drivers in Thailand which may usher in greater safety on Thailand's roads.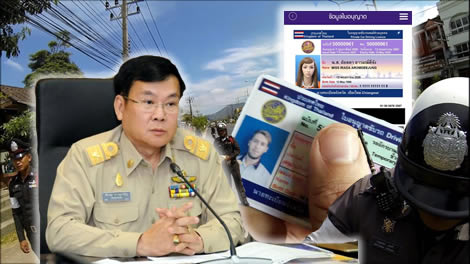 The first day for Thailand's new digital licence regime has not been the huge success it was anticipated to be. This comes after the Royal Thai Police issued a warning to motorists on Thailand's roads that they would still be required to produce the physical Thai driving licence even after that date. The issue has seen a slight contretemps between senior Thai police officials and officials at the Department of Land Transport in Thailand who insist that the new scheme and programme is 100% fit for purpose.
Thai police express concern about how the new e licence will work in practical law enforcement
On Tuesday, a Royal Thai police spokesman raised questions about the new facility. Currently, in Thailand, a motorist has seven days to bring their driving licence with them to a nominated police station if they are found, by Thai police, not to have it on their person. The procedure is to issue an interim notice on the spot for the driver to use until his or her driving licence is verified. It appears that there is some concern within the Thai police force about how the new smartphone verification system will work.
Top police officer fears new digital licence may create confusion  and raises the risk of impersonation
Major General Ekkaluk Limsangkat, who is a member of a committee which reviews the enforcement of traffic laws in Thailand, has voiced his concerns. He fears that the digital licences now online from the Department of Land Transport or what they term 'smart licences' may have the potential to create confusion and disrupt normal road traffic enforcement. He particularly queried the process for police being required to confiscate driving licences. He has also suggested that there could be an increased likelihood of impersonation.
Head of Thailand's Land Transport Department has full confidence in digital licence system
These concerns have been rebuffed by Pheeraphon Thawornsuphacharoen, who is Chief of the Land Transport Department in Thailand. Firstly, he pointed out that a licence can be canceled within the app which is linked to the database of the department. This cancellation would be clearly visible to Thai police officers who would have access to the system. He acknowledged that while the physical licences could still be used, it could be seen quite clearly when licenses are cancelled in real time. He expressed confidence that the new 'smart' license system was well researched and worked as advertised.
Thai police explain they are waiting for a legal amendment for the digital licence to become an alternative under Thai law
However, Thai police have issued a warning to Thai motorists that they must continue to observe the old law at this time. They warned motorists that fines will still apply if drivers fail to produce the physical drivers licence. Police Major General Ekkalak is also Deputy Commander of the Royal Thai Police Education Bureau. He pointed out that this week the Thai National Assembly will debate amendments to the legal instrument pertaining to the requirement which is Land Traffic Act of 2522 (1979). These amendments would provide the proper legal basis for use of the new digital licences. Until this new law is fully enacted and confirmed, the Thai police should observe the existing requirements which the law imposes on motorists.
January 15th was supposed to digital licence D-Day in Thailand with real time licence data
The Department for Land Transport had set January 15th as the date on the road use of the new facility. It enables Thai police to use a QR code to scan a user's digital licence which also provides a road traffic history for that driver. Supporters of the new facility say that it shows an accurate picture of a person's road traffic status in real time, free of bureaucracy which can be open to corruption. They also point to another benefit. The new digital licence gives vital health and safety information about the user such as his or her blood type or emergency contact information.
Thailand's Department of Land Transport lays out digital vision which is easier and smarter
Thailand has laid out plans for drivers to use a digital version of the normal license using a smartphone app which will help drivers as well as police officials to check all motorists' information and license status. The new measure and facility is in addition to the physical license, which will continue to be issued.
The Department of Land Transport announced its intention of issuing digital driving licenses for motorists and car drivers. 'The new smart license will make things easier for all motorists, for they will not need to worry about whether or not they carry their licenses,' said the department's Director General, Pheeraphon Thawornsuphacharoen.
The app will also help drivers reach their information but will also include an legal infringements
Using the smart phone app dedicated to help motorists access their digital driving license, motorists will be able to also access their personal information, driving bans, and outstanding fines.
With the new app, police will be able to check all the pertinent information of a motorists license to drive on Thailand's roads simply with a scan of a QR code. The app also has the capability of notifying licence holders when their license is about to expire.
New drivers licence app can be vital tool in an emergency or accident with online personal data
More interestingly, the app will include important information including the motorist's location, blood type, medical history and allergies especially in case of accident or emergency. This will allow for swifter rescue along with sharing the driver's medical history and information in the database for any connected hospital to be able to perform medical help when an injured driver is brought in for treatment. This includes important information such as allergies, blood type, and insurances.
Both Apple and Android users can use the app
The Department of Land Transport smart license app will be available for Thai users on both Apple and Android mobile phone operating systems. This digital license will be used for both car and motorcycle drivers, which in itself is a great step forward towards a more seamless information system in Thailand. Thailand 4.0, the Thai government's plan for a more digital Thai economy and society, calls for such programs and initiatives in order to make interaction with the government and authorities more open and efficient.
How to get the app and use it in Thailand
The app is available to users in Thailand on app stores. All drivers need to do is to download it for free, register by email and phone number, and scan the QR code on the back of their physical driver's license. For Thai drivers, who have old licences that do not currently display the QR code, they should contact the Department of Land Transport to get their new e licence.
The new app will morph into a tracking and police enforcement tool of the future
It is expected that the licenses will be ready for use before February 2019. Police will be able to check any motorists information by simply scanning their QR code displayed on the app. The motorists information will automatically be displayed to the officer's smartphone. The database on the app helps collect data on all motorists in Thailand for the use of the Royal Thai police and other supervisory agencies within the Thai government.
The app system will help motorists check whether or not they have any parking tickets on the central database or any other infringements of the law. It is also envisaged that the app will be used as a tracking device for drivers in the future. In case of a road accident, the application will automatically allow government officials and the emergency team responders to know the motorists exact location.