Appeal to exonerate her name ends in disaster for a former Thai teacher, 57 year old Jomsap Saenmuangkhot, as she jailed for 8 years as a liar: Five out of eight people before the court were today given jail sentences with the lightest one of two months imprisonment being given to Jomsap Saenmuangkhot's former husband, Niran Saenmuangkhot. Her friend Suriya Nualcharoen, reportedly the man who organised the the false testimony that was central to the story, was sentenced to seven years and nine months in prison. Two other friends were jailed for more than three years while three other defendants were acquitted of all charges. The Thai woman is seeking bail to launch an appeal according to her lawyer. It is all a far cry from four years ago when the former Thai teacher was celebrated as a seeker of justice and truth.
A former Thai teacher was sent to jail for the second time this week in Thailand over a road traffic accident that occurred fourteen years ago in March 2005. On the first occasion, she served half a prison term of 3 years and two months for killing an elderly cyclist whom she hit with a pickup truck. Today's prison sentence is much longer. It is for eight years and follows the collapse of an appeal to exonerate her name and have her original conviction set aside. The case made legal history in Thailand but was dismissed in November 2017. The Nakhon Phanom provincial court's decision today, following another court hearing against third parties last year, found the Thai woman together with four accomplices guilty of perjury.
Former Thai teacher, Jomsap Saenmuangkhot, who was sent to jail in 2013 after being convicted fro her part in a fatal car accident which saw 74 year old road cyclist Lua Phorbamrung die in a collision with her pickup has now been sentenced to eight years in prison by a provincial court in Thailand's Nakhon Phanom province in the northeast of the country bordering Laos. The original accident occurred on March 11th 2005 in the Renunakhon area of the province. The teacher was originally sentenced to 3 years and two months imprisonment by a Thai court following a trial six years ago in 2013. Now she is facing a longer sentence after being convicted of lying to a Thai court in 2017.
Thai woman fortunately received a Royal pardon and was freed after serving only half her sentence in 2015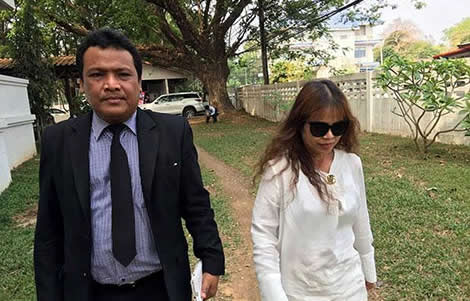 Sent to jail in 2013 to serve the prison sentence by the Thai court, the Thai woman only served half the term being released after serving 1 year and 6 months in prison. She was fortunate enough to received a Royal pardon from the Thai monarch.
53 year old woman came to court seeking full exoneration of her name in 2015
But that was not the end of the matter. Jomsap Saenmuangkhot, then 53 years of age, came back and in 2015 she made a legal move to clear her name over the affair. Utilizing legal provisions that provide for innocent people to exonerate themselves from wrongful convictions, the Thai woman submitted a formal petition to Thailand's Ministry of Justice.
Her legal representatives came forward with a Thai man who admitted culpability for the crime for which Ms Saenmuangkhot was originally convicted of in 2013. They introduced the court to this man named as Sap Wapee who, they claimed, had confessed to the crime.
Decision to accept her appeal made legal history in Thailand as the first case under 1983 law
A Thai Court of Appeal decided to accept the Thai woman's appeal on the basis of the new evidence and submissions presented. Thailand's Ministry of Justice even assisted the woman in her efforts to clear her name. Jomsap Saenmuangkhot at this time became a cause célèbre in Thailand. A Thai woman seen as a figure who stood up to fight injustice. The support of authorities arose from a genuine concern among public officials that a wrong had been done and should be righted. It made legal history in Thailand and was the first occasion in 34 years that a request for an appeal had succeeded under the Retrial of Criminal Case Act, a law which opened up such a possibility for the first time in Thailand when it was enacted in 1983.
However, questions began to be asked by eagle eyed online commentators regarding the testimony and confession of the mysterious Mr Sap Wapee which lay at the new heart of the matter. On November 17th 2017, the Appeals Court in Nakhon Phanom decided to reject Jomsap's submission that a retrial of the case should be granted. It dismissed her appeal and decisively endorsed the original 2013 verdict. The Thai Supreme court later upheld that decision.
Things went from bad to worse for teacher as Thai man withdrew his testimony claiming it was all a lie in the hope of being paid
After this, matters went from bad to worse, as far as Ms Saenmuangkhot was concerned. Mr Wapee came forward and revealed that his confession in the matter was a lie. He explained that his admission of culpability for the incident in March 2005 only came about in the expectation of a payment from a friend of the former teacher.
Police investigated the claims and charged eight people in 2017 with perjury to the court
The revelations drew the interest of Thai police who investigated the matter. Charges were subsequently brought against Ms Saenmuangkhot and those involved with her case, mostly a circle of friends who had rallied around the teacher apparently determined to have her original conviction overturned. A file was submitted to Thai public prosecutors office in 2017. Eight people in total faced charges in the case. Charges against the group ranged from unlawful assembly to perjury during the hearing of the teacher's appeal.
Witness made false claims to be the driver supported by his wife – both were jailed last year
Then last year, the star witness in Ms Saenmuangkhot's orginal submission to the Court of Appeal and her failed court hearing was charged before a court in Nakhon Phanom of providing false testimony in the matter. The man and his wife had confessed to police. Sam Wapee was sent to prison for two years and ten months. His wife, who had provided backup testimony supporting his false claim to be the pickup driver in 2005, was sentenced to one year and nine months. The Thai man and his wife had both claimed that he was the real driver in the fatalcollision in 2015 which killed the 74 year cyclist and not the Thai teacher, Jomsap Saenmuangkhot.
Teacher gets stiff eight year sentence with the man who concocted the false witness testimony
On Wednesday, the court handed down a stiff sentence of eight years against the teacher, now 57 years of age for perjury in her appeal in 2017. Her near friend and confidante, Suriya Nualcharoen, was sent to prison for seven years and nine months. It has been suggested that Mr Nualcharoen arranged the false witnesses on which she built her appeal to the court against her conviction.
Teacher's former husband given the most lenient jail sentence of only 2 months by the court
Three others involved in the conspiracy received jail sentences. Witness Thatsanee Hanphayak, who gave evidence supporting Jomsap's claims in court in 2017 was give a prison term of three years and seven months together with Thongret Wongsricha who was sent to jail for three years on similar grounds. Both witnesses had provided compelling evidence that the teacher was not driving the pickup that caused the fatal road traffic accident in 2005. The last person imprisoned was Jamsap's former husband, Niran Saenmuangkhot, who was sentenced to only 2 months in prison.
Teacher seeking bail to appeal
The Nakhon Phanom court refused to suspend the sentences imposed. All eight defendants were acquitted of the unlawful assembly charge before the court. Three defendants were acquitted of all charges by the court. Saneh Suphan and Rotjana Chantharat were friends of the former teacher while Watsana Phetthong was a niece.
The teacher's lawyer Pratheep Nualset, with whom she arrived in court in Wednesday, told the press that his client would seek bail from the court in order to file an appeal.