No one knows the extent of the breakthrough, if any at all, that the Future Forward Party will achieve after the March 24th election but the party's firebrand leader moved this week to dispel any perception that his business interests will get in the way of his party's radical, progressive vision for Thailand. On Monday, he signed over control of his personal wealth and commercial interests to an independent wealth management firm and what has been reported as a 'blind trust' which will only see the young man's fortune returned to him 3 years after he has left Thai politics.
Thailand's young maverick political leader of the new Future Forward Party, who wants to introduce a new progressive political agenda into Thai politics, has moved this week to give up control of his wealth and fortune. 'I'm not part of the elite,' proclaimed 40 year old Thanathorn Juangroongruangkit as he inked a deal with a Thai firm to manage his wealth and not to hand it back to him for up to 3 years after quitting Thai politics. He also announced that his family would dispose of its share in a Thai media group where he was formerly a director before committing himself to politics last year. The move is being seen as a step towards taking political office although no one is quite sure of the extent, if any, of the electoral breakthrough the new Future Forward Party will have following the March 24th election.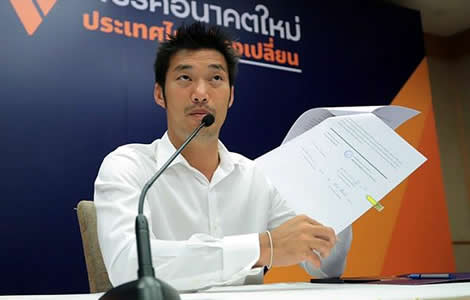 40 year old Thanathorn Juangroongruangkit, the leader of the Future Forward Party, has acted this week to put his fortune and commercial interests beyond his reach as he looks to the prospect of possibly taking public office after the March 24th Thai general election.
Maverick and Future Forward Party have captured the attention of Thailand's young voters
The young maverick politician, whose new party which was only formed last year, is being seen as a new departure in Thai politics. The party is drawing increasing support from young voters in Thailand, many of whom will be voting for this first time. Future Forward has been polling nationally with 15% of the vote and is fielding candidates in all constituencies throughout the country.
Not clear yet if the Future Forward Party will make the political breakthrough in Thai politics
There is still some debate on whether the Future Forward Party will make a breakthrough. Many seasoned observers remain sceptical of the party's chances of dislodging well known local politicians with new faces. However, there are few in Thailand today who are confident of predicting this election given the fact that the last poll count was eight years ago and the election is taking place under a new constitution and electoral voting system.
Canny political move sees young leader putting the best foot forward towards political office
Thanathorn Juangroongruangkit is nevertheless putting the best foot forward and showing that he means business. His announcement on Monday, that he was transferring his wealth and commercial interests into a 'blind trust' controlled by a company he has never had business dealing with before, is an impressive move. Thanathorn himself describes it as setting a new standard in Thai politics. It is reported that the amount involved is ฿5 billion. Thathathorn's mother, Somporn Juangroongruangkit, was recently listed by Forbes magazine as one of the world's most wealthy woman with a reported personal wealth of $1.2 billion. It is thought that this represents the family's shareholding in the successful Thai auto parts company Thai Summit Group.
Wealth and commercial interests will be held apart from the Thai politician until 3 years after he confirms that he has left politics and the political arena
At a news conference on Monday, Thanathorn explained his move to reporters. 'My action is meant to settle any scepticism, so that society doesn't doubt a businessman who enters politics.' Under the new arrangement, Thanathorn has put his wealth and commercial interests under the control of a respected Bangkok wealth management firm with whom he previously has never had a business relationship. His wealth will be managed by experts unknown to him and this wealth will not be returned until a certain period of time has elapsed after he has confirmed he has left politics and the public arena. It is thought that this period will be three years.
Thanathorn says it clear: 'I'm not part of the elite' as he distances himself from his wealth
Thailand's existing regulations governing public office holders, particularly since the new constitution with stricter oversight of those holding power, means that any Thai national appointed to the Thai cabinet may not hold more than 5% of a public company. The move announced by Thanathorn Juangroongruangkit today goes well beyond current regulatory requirements. 'This is the highest standard possible for businesspersons working in politics,' Thanathorn told reporters on Monday. But the young politician had a blunted message for the media and the wider public. 'I'm not part of the elite,' he proclaimed.
Thai firm appointed to manage his wealth
At a press conference, the firebrand political leader signed his contract with a firm called Phatara Assets Management in front of reporters. The move was welcomed by many observers including one transparency activist in Thailand. 'It's a good thing. People should campaign for other politicians to do the same,' Sarinee Achavanuntakul told the Bangkok Post. 'In terms of transparent governance, this is very good practice.'
Thai ministers in Abhisit Vejjajiva's government from 2008 to 2011 to similar steps
The transparency activist however has pointed out that this is not the first such move. She pointed to ministers in the 2008 to 2011 Thai government led by Abhisit Vejjajiva who made similar arrangement. Mr Vejjajiva will also be vying for political influence after the election. However, the move is a significant one and is quite different to normal practice for Thai politicians who attain high office. Most simply transfer their holding into the name or control of a trusted third party.
Thanathorn's family to take steps to dispose of its 19% share in Thai media company
Thanathorn Juangroongruangkit has explained that since moving into politics last year he has had no involvement with his family's firm of any kind. He has committed himself to serving the people for now though politics. He has also confirmed that his mother, Somporn Juangroongruangkit, will be taking steps to dispose of the family's 19% holding of the media concern Matichon Group which publishes newspapers and popular news websites in Thailand. Most foreigners will know the media group for its KhaoSod English website. The news media group has a history of progressive journalism in Thailand but also, in recent years, has widened its audience by focusing on crime and entertainment reporting.

Thanathorn's family have been the 2nd largest shareholder behind the founder of the group Kanchai Boonparn, in the Matichon Group. The family's holding last year stood at 35.8 million shares valued at over ฿175 million. Thanathorn Juangroongruangkit has been previously been a director of the company before moving over to politics.