Evidence presented at the trial suggested that one of the Thai women who testified had been assisted by the Australian Federal Police to obtain a permanent visa and to open a bank account. The legal case and charges revolve around interpretation of coercive debt bondage and working conditions in the prostitution industry in Australia. The law suggests that this can be slavery under certain conditions. The Australian High Court in 2008, in a landmark decision, upheld a 2006 conviction against a female brothel owner for enslaving 5 Thai women under the country's anti slavery laws.
A Thai woman is currently on trial in New South Wales charged with making sex slaves out of two other Thai women who arrived in the country in 2004 and 2005 to work as prostitutes. The trial shines a light on the prostitution industry in Australia and the state of New South Wales in particular. Prostitution is legal or partially legal in most Australian states. Its has strong links with the human trafficking of women from Thailand and other Southeast Asian countries.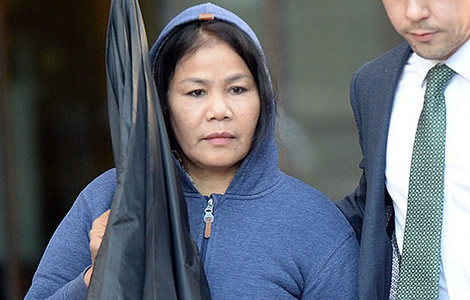 The prosecution in the case against of a Thai woman accused of sexual slavery in Australia has rested while the woman's defense is due to commence at the beginning of next week. Rungnapha Kanbut or 'Lisa' is accused of luring two Thai women into sexual servitude in 2004 and 2005. The prosecution alleges she controlled them as slaves to financial advantage. The trial is part of a difficult mission being pursued by the Australian Federal Police to fight human sex trafficking which is endemic in Australia's booming and in most states, legal sex and prostitution industry.
Thai women came to Australia to work as prostitutes and stayed at their compatriot's home
The two Thai victims told a New South Wales court, over the course of the trial in recent weeks, that they came to Australia voluntarily with the intention of working in the prostitution industry. The case centers on a widening of the legal definition and scope of sex slavery as defined by Australian law, a definition that was widened by a landmark High Court judgment in Australia in 2008. This allowed that prostitutes working in the country under onerous and abusive contracts could be defined as slaves under applicable provisions of Australian law. A conviction was imposed in 2006 against a brothel owner who had brought five Thai women into the country under such abusive terms of employment and the court upheld the basis for the conviction following a successful appeal.
Thai woman charged under slavery laws
The Thai woman currently before the courts in Australia is accused under similar provisions and case law. Rungnapha Kanbut also known as 'Lisa' (pictured outside the Australian court last month) has entered a plea of not guilty to two charges of exercising power as an owner of a slave while also pleading not guilty to handling the proceeds of crime. The crime here being the sexual enslavement of the two Thai women who were forced to work in Sydney's booming brothels after being caught up in the human trafficking trade between Thailand and Australia.
Thai woman suffered appalling abuse
One of the sex workers told the court in Australia in the course of the trial so far, that she was subject to being spat upon, sexually penetrated until she was bleeding and bruised while working long hours as a prostitute in a number of brothels frequented by Australian men.
Thai woman did not deny to the court that she knew the nature of the work was prostitution
The Thai woman had come to Australia to engage in prostitution work. She did not deny to the court that she was fully aware of the nature of the trade she would be employed in once landed in the country. She had stayed at the defendant's home twice in 2004 and again in 2005. In a submission to the court, senior counsel Peter Neil said that the Thai woman could not speak English properly. She was ignorant of the geography of Sydney and feared going out alone. In addition, she had very limited access to money while working long hours for her compatriot who was her manager or handler. Lisa or Rungnapha Kanbut had told the woman: 'Don't think about running away because there's nowhere for you to run.'
Woman threatened that nude photos of her would be published online in Thailand
The Thai prostitute was also threatened by Ms Kanbut that an associate in Thailand retained naked photographs of her. She intimated that he would release the photos in the kingdom through the internet causing her to lose face and be shamed publicly if there was an dispute between them or any non compliance with the abusive terms of her employment as a prostitute.
Disturbing evidence of life as an indentured prostitute in  Sydney Australia given by woman
One of the women exploited gave some disturbing evidence about her work. It was a picture of life working as a prostitute in Australia as a Thai woman. It appeared that she relied on the accused for support and also to communicate because of the language barrier. She had been promised a day off work every week. This did not materialize. The emphasis was on her repaying the $45,000 debt she was told that she had to repay. This was achieved over a number of months. She was escorted to and from work everyday in various brothels in Sydney by the accused.
Accused Thai woman sent $1,000 per month to the sex worker's family in Thailand
She was repeatedly warned not to run away until the debt was paid. The Thai woman estimated that she earned $500 a day after the brothel took its share. This went towards her debt. She was allowed to keep tips from the clients of $5 to $10. The woman accepted that the accused had sent $1,000 per month back to her family in Thailand. Her passport was withheld by the accused while the debts was being payed off.
Never taken to a doctor despite uterus pains and sometimes forced to work 21 hour days  
The woman worked from 10 am to 10 pm everyday. However, she told the court that she would sometimes be forced to work through until 8 am the next day to cater for demand and would be expected to be back at work by 10.30 am or 11 am the same morning. She was warned also about the importance of keeping the customers and of satisfying their needs. If a customer expressed dissatisfaction to the brothel management, she would lose her fee as a penalty. She said she complained a number of times about a pain in her uterus to the accused and recalled that she often had blood in her urine. She told prosecution counsel, Mr Neil, that she was never taken to a doctor while being held by the accused Thai woman despite these conditions.
Law on slavery in Australia interpreted by the courts to apply to women indentured into prostitution on abusive terms which leave no way out
The law in Australia, through case law, interpretation of legal statutes and international jurisprudence, has come to interpret abusive and exploitative financial arrangements and working conditions of Southeast Asian women brought to Australia as part if the lucrative sex trafficking trade, to be sexual slavery and consequently illegal. The prosecuting counsel, Mr Neil, said in court this week: 'Just because you accept your fate because there is no alternative doesn't mean you consent to it.'
A second Thai sex worker has also given evidence in the trial. She said that she had also stayed at the Sydney home of 57 year old Ms Kanbut in 2005. She was told that she had a debt that had to be paid off and her passport was taken. She was transported to various brothels in the city until the amount owed was paid off.
Prosecution emphasise the distinction between co-operation and absence of true consent
The prosecution barrister emphasised the nature of the crime and a distinction between the undisputed co-operation that the women gave and the actual circumstances they found themselves in which were coercive and met the tests of slavery. 'No one forced them onto the plane or anything like that,' Mr Neil explained. 'All that matters is what happened here. They did not know what they were getting themselves into,' he said.
The prosecuting senior counsel explained the law surrounding the charge of sex slavery. He said consent 'has got to be free, voluntary and with a full understanding of what you are consenting to, without this underlying fear of being shamed.'
Australian police secure permanent visa for prosecution witness against 57 year old Thai madam
The court has been told that the Australian Federal Police has assisted one of the sex workers who gave evidence against Thai madam, Rungnapha Kanbut. The Thai woman, who appeared as a witness, was working illegally in Australia but was subsequently granted a permanent visa to live in the country. She also received assistance in setting up a bank account from authorities.
Prostitution trade in Australia supplied by human trafficking activity with brokers in countries such as Thailand who charge hefty fees
Abusive sex trade employers in Australia often insist that sex workers from countries such as Thailand, Korea, Cambodia, Indonesia and a range of Southeast Asian countries work to pay off debts incurred for being brought to the country including brokers fees for being introduced to the trade.
This can typically be $50,000 which the woman must earn back by providing sexual services to paying clients, mostly Australian men. The amount paid by an Australian male punter for the service of the women as prostitutes can be typically $110 per session of which the woman may earn between $50 to $70. This means that many women are forced to have sex with up to 1,000 men until their contracts are paid off. The sex industry in Australia has also reportedly begun to commodify these contracts even using them as financial instruments in negotiations within the trade. This is driving the lucrative and evil trade of sex trafficking. Dealers in Thailand and other Asian countries who introduce Thai women to Australian based buyers charge approx $20,000 for a woman transported and landed in Australia.
Landmark 2008 High Court case in Australia saw brothel madam's 2006 convection for treating 5 Thai women as slaves upheld and the woman jailed
In fact, since the 2008 landmark High Court case of R v Tang involving Wei Tang, a brothel owner in the Australian state of Victoria who brought five Thai women to work in Australia as prostitutes in her  Club 417 brothel in Melbourne, the scope of the law on sex slavery has begun to widen further. In 2006, the madam was sentenced to 10 years imprisonment but subsequently the conviction was dismissed on appeal.
The 2008 High Court decision upheld the conviction and the woman was subsequently handed a 9 year sentence. Judges ruled that highly abusive financial terms and working conditions that effectively provided no alternative to the Thai women in addition to the commodification and sale of such contracts could be, when combined with international jurisprudence, considered slavery which was a criminal offence in Australia.
Tougher anti slavery laws in Australia
Australia last year tightened its anti slavery laws further. This was designed to criminalize an array of exploitative working situations that might otherwise be legal. It also imposes more responsibilities on employers and even big business to examine all areas of their activities. The move even provides for reporting on statutory basis specifically to address  slavery. A global slavery index, compiled by the Walk Free Foundation, an international organisation that fights slavery worldwide, estimates that there are up to 15,000 people held as slaves in Australia. Other figures, including estimates by a 2012 study by the University of Queensland as well as the University of Sydney, have suggested that over 2,000 Southeast Asian women are trafficked into Australia each year to work in the sex trade. It is important to note that not all women from Asian countries arriving in Australia to work as prostitutes are working in sexual slavery.
2012 University studies suggested many Asian women including Thais are misled or duped
Researchers, human rights groups and academics however, argue that the thriving business of prostitution in Australia is being driven by human trafficking and sex slavery. Professor Julie Hepworth, co author of the 2012 study, said that they found many women from Thailand, Korea and China were lied to and brought to Australia under false pretenses before being indentured into prostitution. 'They are facing a lot of immediate health consequences, legal consequences, economic consequences from the situation,' she said. At the same time, Kelly Hinton of Project Respect, a support organisation, said: 'It is a crime, a very profitable crime and it is going on all over the world, but it's very difficult to accurately determine how many victims there are here.'
Australian Federal Police monitoring legal brothels on east coast, concerns about oppressive management of vulnerable Asian sex workers
Australia's Federal Police are keeping a close eye on brothels and the prostitution industry in general. What concerns the police is the organised nature of the prostitution industry in Australia and links to underworld figures. They are also concerned with the exacting and oppressive approach of brothel operators towards prostitutes working in the business from Asian countries. One 2013 report on brothels in Melbourne saw Federal Police Agent James Cheshire tell a court that performance targets were set for women working in the trade with each 30 minutes of sex work being termed as a unit to maximise profit.
Police task forces actively looking for sex workers displaying tell tale signs of abuse
Criminal cases like the one in New South Wales which sees a Thai madam charged with sex slavery have a chilling effect on custom for associated Australian brothels if named by the media. Although the trade is legal in the bigger Australian states with slightly differing laws applying and tacitly accepted in others, the Australian punters are put off visiting any establishment that is reported as suspect or may be embroiled in legal difficulties. The Australian Federal police have special task forces which visit the brothels on a regular basis and interview women, many of whom are Asian, working within them. Officers are looking for tell tale signs of abuse or oppression.
Prostitution in Australia is legal in most population but the law varies considerably
Laws on prostitution in Australia differ from state to state to quite an extent. Australia's federal laws also impinge as well as new legislation concerning the activities of Australians abroad. Many of the bigger states in Australia effectively legalised prostitution in the latter stages of the 20th century. The laws, however saw a wide variety of amendments being introduced in the upper houses of the state legislatures during the liberalising process. This resulted in many different provisions in different states.
Prostitution was legalised in Victoria in 1986 and Queensland in 1992 but provisions vary
New South Wales, in fact, only decriminalised the activity in 1979. Laws introduced to fully legalise prostitution were passed in Victoria in 1986 and Queensland in 1992. Prostitution is still illegal in Western Australia, South Australia and Tasmania although tacitly accepted. 1992 saw it partially decriminalised in Canberra and the Northern territory. Even in the eastern Australian states that have legalized the trade, there is still strong opposition and pressure from  social activists as well as concerns emanating from law enforcement.
Some brothels change hands for millions of dollars and business is booming
The value or profitability of the the prostitution industry in Australia can be seen from reports of some busy brothels changing hands for many millions of Australian dollars and brothels, once opened, appear to trade for extended periods. Police scrutiny confirmed the booming industry from local police reports on individual brothel locations. These suggest heavy traffic and even van loads of men arriving at some establishments. Police investigations have been focused on human trafficking activity which effectively empowers the industry. The country's anti slavery laws are now seen as a route to achieving more convictions and combating this menace.