The Sungai Kolok to Tumpat rail link commenced in 1954  and connected Thailand's Narathiwat province to the Malaysian state of Kelantan. It was closed in 1978 as authorities feared it was being abused as a smuggling route. Now times and circumstances have changed says a Thai regional official in the south who is promoting the move to reopen the line.
The Secretary General of a key official body in Thailand's southern provinces is pushing for the reopening of a rail link between Thailand and Malaysia that was closed over 41 year ago as a means to boost connectivity today between Thailand's south and the north of Malaysia. This was a key goal committed to by Thai Prime Minister Prayut Chan ocha and Malaysian Prime Minister Mahathir Mohamad in October last.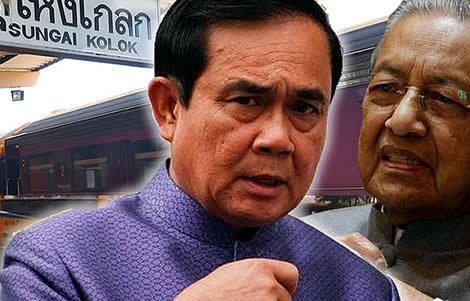 There are moves by authorities in Thailand and Malaysia to reestablish a once popular and well used rail connection between Sungai Kolok in Thailand's Narathiwat province and Tumpat railway station situated in the Malaysian state of  Kelantan.
Two prime ministers agreed in October to boost links and connectivity between southern Thailand and northern Malaysia by rail and road
It follows on an agreement, reached in October last year, between Thai Prime Minister Prayut Chan ocha and Malaysian PM Mahathir Mohamad. Both premiers then committed themselves to boosting connectivity between northern Malaysia and southern Thailand. Rear Admiral Somkiat Polprayoon of the Southern Border Provinces Administrative Center is now pushing a campaign to reestablish the rail link, closed over four decades ago due to security concerns in 1978.
Currently, there is only one railway link between Thailand and Malaysia. This runs from Hat Yai station in Songkhla province through to Kuala Lumpur once per day.
Valuable and busy Thai Malay rail link closed over smuggling and security fears in 1978
The connection between Sungai Kolok and Malaysia's Kelantan state was halted over concerns that the train link was being used for smuggling and people trafficking across the border. Now, according to the Rear Admiral Somkiat Polprayoon, circumstances have changed considerably. The route was first opened in 1954 when the State Railway of Thailand signed a rail service treaty with its counterpart in Malaysia, the Federated Malay State Railways.
Connectivity goal for Thailand and Malaysia
The move is being promoted as a potentially valuable part of an effort by Thailand and Malaysia to improve connectivity between the two countries and within the Asean community. In recent weeks, Thailand announced the reopening of another formerly thriving rail link between Aranyaprathet in Thailand's Sa Kaeo province and Poipet in Cambodia which was closed in 1973 due to civil war in Cambodia.
High level meetings at local level have been positive
The proposal to reopen the old rail link is being driven by Rear Admiral Somkiat Polprayoon who is the Secretary General of the Southern Border Provinces Administrative Center. It is reported that there has already been a meeting between the railway authorities in both countries and that organization to discuss the reopening of the route. This meeting was attended by the Thai consul general in Kelantan state in Malaysia and the Malaysian consul general in Songkhla province.
Thai promoter says Malaysian authorities stand ready to act on rail link restoration 
Read Admiral Somkiat has confirmed that Malaysian authorities support the proposal. They have made it clear that they stand ready to bring it to fruition. He is also optimistic that progress on getting the line reopened would be swift and even holds out hope that some movement towards that objective could be seen before the year is out. The rear admiral is to present a proposal to the Thai Prime Minister on the basis that the reopening of the railway link would help boost cross border trade and economic opportunities on both sides of the border.