Woman's husband works away from home to find employment. His salary as a driver is just over ฿10,000 per month. The infant's mother, after bringing him into the world on her own, decided the best course of action was to give him up in the hope that someone would find and care for him.
An incident that is as sad as it is striking took place last Wednesday afternoon in Nakhon Pathom province 60 km west of Bangkok. A young 29th-year-old Thai mother on a motorbike carefully placed a holdall bag with a healthy little boy, just delivered that day, between two rubbish bins. The woman had given birth to the child that day, herself. Thai police quickly tracked down the mother of the child. As they brought her in for questioning, they quickly discovered she needed medical treatment in hospital for blood loss and weakness.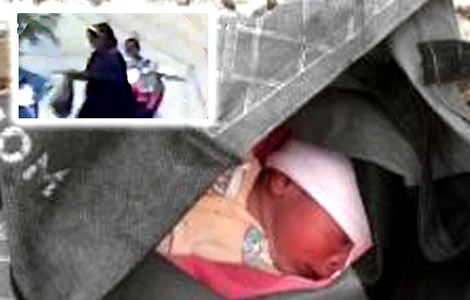 Just weeks after a young mother in Nakhon Ratchasima tried to bury her newborn baby alive only to be saved by a dog, another shocking tale has emerged of a mother in distress at the prospective of birth. On June 5th, in the afternoon, Thai police discovered a newborn baby left in a holding between two rubbish bins. The incident occurred in Nakhon Pathom province about 60 km west of Bangkok. The baby was a little boy.
Mother placed her child born that day between rubbish bins hoping he'd find a better life
The infant was not long abandoned at the spot and Thai police, acting swiftly from retrieved CCTV footage, unearthed images of a red motorcycle carrying an adult woman wearing a black or blue jacket. She was accompanied by a young boy. CCTV footage showed the woman parking the motorbike and carefully placing the bag between the two trash bins. At the same time, a man was leaving garbage at the scene but did not notice what was happening.
Thai woman is from Samut Sakhon province
The police later arrested a 29-year-old Thai woman named Waraporn. It transpired that she had just given birth to the baby that day, it was her own child that she had given up. The woman lives in the Krathum Baen district of Samut Sakhon province.
Woman taken in by police for questioning over the shocking daytime incident
The woman was taken to Pho Kaeq police station and interviewed at length. She explained that the infant was her own son. She had given birth to the little boy that day in the bathroom of her home and managed to cut the umbilical cord herself. After the child was delivered alive, she brought the little boy in the black holdall bag to leave in the hope that someone might find the child. The other boy on the motorbike was an older son.
Thai woman's husband is a little over ฿10,000 per month and the couple already have four children
She explained to the shocked police officers that she simply did not have the money to care for the young child. She already has four children. Her husband was not living at home and had to go far and wide to find work and income. He is a driver for a private company and has a monthly salary of a little over ฿10,000 per month ($300). She explained that the income is simply not enough to provide for her family in these times. She also feared her husband's attitude to another child. She admitted to officers that she had immediately regretted her actions.
Charges of abandoning her child mooted but police first took woman to hospital due to blood loss
The woman may face charges of abandoning her child although police officers were sympathetic to her plight. She had experienced a lot of blood loss giving birth to the child that day and was weakening before their eyes. It was decided to immediately bring her Sam Phran Hospital for treatment.
Further reading:
Mother abandons newborn baby as she felt she could not care for little boy on husband's income
Premature 28-week baby is the latest COVID-19 victim after being delivered by caesarean section on Saturday
Ping Pong the 6 year old dog who saved a Thai baby buried alive last week is a media sensation
Thai dog saves newborn infant buried alive by his teenage mother in Nakhon Ratchasima province