26-year-old Wanida Thongtum was detained by Crime Suppression Division officers on Friday at a resort in Singburi province. The woman created a spurious closed LINE chat group.
A 26-year Thai woman has been arrested in Singburi by police for holding herself out to be the daughter of Thailand's army chief and duping two different men, a singer and a snooker player, out of ฿350,000 using false online profiles.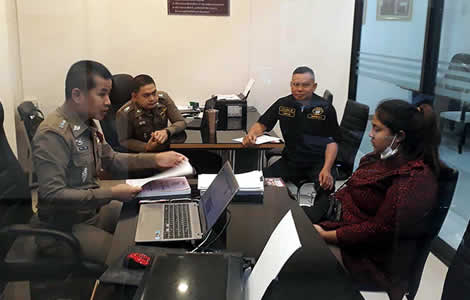 A Thai woman has been arrested by the Crime Suppression Division of the Royal Thai police on Friday in Singburi province in central Thailand for using the name of Army Commander in Chief General Apirat Khongsomphong to commit fraud using an online Facebook profile.
It is reported that the 26-year-old woman lured at least two men into sending her money online by holding herself out as a daughter of the well known Thai public figure. 
26-year-old Thai woman charged with fraud and Computer Crime Act offences
CSD police in the Phrom Buri district of Singburi on Saturday named the woman as Wanida Thongtum. She was detained by Thai police in front of a resort in the province on Friday evening on foot or a warrant issued earlier by the criminal court for her arrest. She faces charges of fraud and an offence under Thailand's Computer Crime Act of inputting false data into a computer system.
Well known singer filed a police complaint
Her arrest follows a complaint to police from well known Thai singer Jinda Wiriyasangjun also known as 'the voice' that he had been taken in by the woman's online character which he subsequently learned to be an invention of the young woman's imagination.
Singer taken in be an attractive photo
He told Thai police that the woman online he supposed he was speaking with was quite attractive but that he ultimately discovered that the photo was not real. The woman had approached him on a social network and at one point in their communication, claimed to be a daughter of General Apirat also known in Thailand as Big Daeng famous for his trenchant views and comments in defence of the Royal Thai Army which he has led since October 2018.
Woman set up spurious LINE chat group purporting to be linked to the army chief's family
It is understood that General Apirat has, in fact, one son and one daughter. The 26-year-old online fraudster invited the singer to join a chat group on the social network LINE which purported to be a closed family LINE group used by General Apirat's family. It turned out to be completely spurious.
Singer sent the imposter ฿150,000 during their online friendship with the imposter
Despite this, the singer soon became intimate online with Ms Wanida, the imposter. Over a period, he wired the woman up to ฿150,000 in online payments. The singer only became suspicious after a pattern developed of the woman failing to turn up to appointments to meet offline. This led him to research the profile and discover painfully that the photo on the profile was a phoney. It belonged to a young woman living in Cambodia.
Questioned by police on Saturday after being arrested on Friday outside a resort
Ws Wanida was questioned by police today in relation to her online persona and her claims to be a daughter of Thailand's army boss. She also faces questions in relation to a second man she inveigled into her trust online.
Thai woman also targeted and duped a Bangkok snooker player out of money
Police Colonel Thongchai Yookate is the Superintendent of the Crime Suppression Division of the Thai police in subdivision 1. He revealed on Saturday that the young woman also targeted a snooker player online. She managed to swindle that man out of ฿200,000 with the same online scam and story. The man who has not been named had earlier filed a police complaint at Thung Song Hong police station in Bangkok.
Police singer at the police station to issue a public warning to other online users
The singer Mr Jinda was at the police station in Singburi today to give his statement and to make public his views on the matter. He warned other people using social media not be gullible when it comes to online friendships and contacts most especially if they are good looking. The singer alerted other online users to the danger of processed photos that have been professionally produced which capture the attention of those seeking friendship on websites.
Singers tips: Look for online profiles with depth but meet the person in the real world
He said that people should look closely at all profiles online and look not only for a real photo but also someone with depth to their profile including extensive photos of their life and family. However, nothing can match meeting the person in the real world. This he suggested was the only way to make sure that those seeking love and friendship online are dealing with a real person.
Imposter posing as the CSD police chief in Bangkok arrested on July 22nd at Don Muang Airport
The exploits of Ms Wanida and her use of the family name of Army Chief General Apirat comes a week after a similar story in Bangkok where a 37-year-old businessman in Don Muang Airport posed as Major General Jiraphob Puridet, the high profile National Head of the Crime Suppression Division of the Royal Thai Police. This is the same Thai police division that yesterday nabbed Ms Wanida in Singburi.
Man later charged on drugs and firearms offences
On Monday 22nd July, police arrested the man at Don Muang Airport and took him into custody after he had demanded access at the airport parking terminal in his purported senior police role. The man was found to be in possession of large amounts of cash, guns and a small quantity of drugs. He was subsequently charged with possession of drugs and illegal firearms which he denied. Between searches of his luxury Mercedes car and a follow-up search of his home and office, police found ฿9 million in cash.
For further reading:
Businessman sets up his own arrest posing as one of Thailand's most senior police officers at airport
Businessman sets up his own arrest posing as one of Thailand's most senior police officers at airport