The 31-year French man was named by Ko Samui police as Yann Naquin. He was admitted to hospital on August 5th and diagnosed with liver disease. On his return home the next day, he continued drinking alcohol and acted like a mad man. 
On Thursday, police in Ko Samui found the body of a French man, a chronic alcoholic, dead on the side of a road on the island. The man who had been living on Ko Samui for about three months with a Thai woman had drunk himself to death.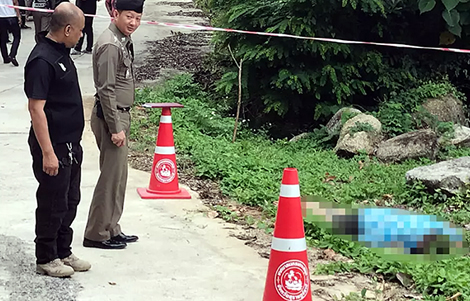 Thai police on the island of Ko Samui believe that a French national who had been staying on the island for the last 3 months drank himself to death by continuous imbibing alcohol.
The 31-year-old man was found lying near a grassy verge of concrete road in the BoPhut area of Ko Samui early on Thursday afternoon. The location of the road is believed to be behind the famous Lamai night market on the popular getaway island for foreigners. The location was not far from a rented house in which the man had been living. He has been named by police as 31-year-old Yann Naquin.
Police fund no external bodily injuries
Police at the scene were led by Lieutenant Colonel Supakit Chusamong who is the deputy chief at BoPhut police station. He was accompanied by emergency services and medical personnel for the nearby hospital.
The body of the French man was examined for any signs of external injuries or attack. Nothing was found. The body was lying next to a black suitcase.
French man admitted to hospital on 5th August where doctors diagnosed him with liver disease
Thai police interviewed an attractive 20-year-old Thai woman named as Jirawan Changlor who had been staying and taking care of the French man for over a month. She told police that on the 5th of August, he was admitted to hospital on Ko Samui suffering from pains. Doctors at the hospital did tests and confirmed that Mr Naquin was suffering from liver disease. He was detained at the hospital overnight while they perfected the diagnosis. Doctors the next day discharged him with medication to assist with his condition.
On his return from hospital the next day, the French man was even more erratic, like a mad man
His Thai girlfriend told police that on his return to the home they shared, his behaviour became even more erratic and he continued to consume alcohol with abandon. On the night before he died, she said that the man did not sleep but descended into a state of delirium. He babbled and communicated incoherently. His 20-year-old girlfriend Jirwan said he appeared to be acting like a madman.
At some point, he told his Thai partner that he was leaving the abode to go and find a friend. He put clothes into his black suitcase and set off. It was the last time she saw him alive.
Immigration police had earlier searched the man's home and full alcohol bottles
It is reported by the Thai newspaper, Thai Rath, that immigration police officers had occasion earlier to search the man's home and found it stuffed with empty alcohol bottles and containers. Police officers found a number of large bags full of discarded alcohol bottles. They also found the French man's medication prescribed by the hospital where the patient had discarded it.
Man drank himself to death with alcohol
Provisionally, investigating Thai police officers on Ko Samui have formed a view the 31-year-old man expired after he drank himself to death with alcohol. Nevertheless, a post mortem was ordered by police to be conducted by the hospital.