Speaking to the BBC about the granting of citizenship by Serbia to his sister, Thailand's ex-premier from 2001 to 2006 Thaksin Shinawatra, said that the family had many friends across the Balkans who knew that they could come with 'new, useful ideas' to help people. He again extended an invitation to the Thai government to seek out his help on economic matters.
The Serbian President has defended his country's decision to grant citizenship to former Thai Prime Minister and fugitive from justice in Thailand, Yingluck Shinawatra which came to light last week and appears to have caught Thai authorities by surprise. The citizenship was granted to the sister of Thaksin Shinawatra on June 27th by a decree signed by Serbia's first female prime minister six days after Ms Yingluck's birthday.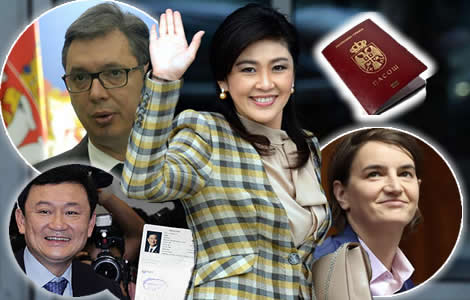 The Serbian president has defended his country's decision to grant citizenship to former Thai prime minister Yingluck Shinawatra. It was revealed last week that the Serbian state website had confirmed as far back as June, that the 52-year-old younger sister of Thaksin Shinawatra had been granted citizenship of the Balkan country.
Yingluck's Serbian citizenship confirmed officially 6 days after her birthday by decree
The Serbian president, Aleksandar Vucic, was visiting a village in the north of the country on Friday when he said 'I don't see this as a problem for us, especially if the government can see any economic or other benefits for our country. The passport is not some sacred thing.' The grant of citizenship occurred on June 27th, 6 days after the birthday of Thailand's first female prime minister who was in office from 2011 until she was ousted by a court decision just before the army coup in May of 2014.
Order signed by Serbia's first female prime minister
The order or decree granting Yingluck citizenship was signed by Serbian Prime Minister Ana Brnabić who is also Serbia's first female prime minister as well being that country's first openly gay government leader. The order signed by the Serbian PM cited the applicable law and stated thus: 'A foreigner whose admission to citizenship…would be of interest to the Republic of Serbia may also be admitted to Citizenship.'
Honorary Thai Consulate in Belgrade expressed 'surprise' at the move last Friday
At the end of last week, the Royal Thai Honorary Consulate in Belgrade issued a statement expressing 'surprise' at the move and said it had made enquiries with the Serbian Ministry of Foreign Affairs. This appeared to indicate that Thai authorities were not aware of the situation.
Thaksin tells the BBC that he has many friends in the Balkans – 'We always do what is useful for them'
Yingluck's brother Thaksin Shinawatra, also a former Thai premier, spoke last week with the BBC's Thai radio service. He confirmed that the reports were true and that he may have had a role in the matter. The former Thai PM who was in power for over five years and was the first elected Thai prime minister to complete a full term in office told BBC reporters that he and his family had many friends in the area. 'I'm a friend of all of them. We always do what is useful for them,' he revealed.
'They knew we did good things for the people'
Thaksin himself obtained citizenship of the nearby state of Montenegro in 2009. He is reported to have developed a luxury tourist resort in the country called St Nikola's island. While speaking to the BBC, he indicated that Balkan leaders are aware of the family's background. 'They knew we did good things for the people. They want us to come up with new, useful ideas. Since we can't do good things for our own country, we decided to help them.'
Ex premier again invites the Thai government to ask for his help on economic matters
Pointedly, the ex Thai prime minister who was ousted by an army coup in 2006, said that Thailand is currently using his 'own and expired medicine' on economic matters and if the Thai government needed his help, they should contact him. It is the second time that he has issued this invitation.
It appeared that the 70-year-old ex-premier was referencing the economic challenges currently being faced by Thailand and other Asian countries. The comment was also similar in theme to recent tweets by his sister Yingluck offering her support to farmers in the north of Thailand and the Thai people during difficult economic times.
Corruption over rice-pledging scheme cost Thai taxpayers ฿230 billion and caused hardship
Yingluck Shinawatra fled Thailand in 2017 hours before the Supreme Court for Political Office Holders handed down a guilty verdict in relation to charges of dereliction of duty for her role and failure to oversee as PM, a botched rice-pledging scheme riven by corruption including a bogus state to state deal. The scheme cost the Thai taxpayers reportedly over ฿230 billion and subsequently caused extreme hardship for farmers who had difficulty getting paid when it collapsed.
Shinawatra brother and sister loved by a strong and loyal core following in Thailand
Nevertheless, Ms Shiniwatra and her brother remain in the hearts of a sizeable proportion of the Thai public. For these supporters, Thaksin Shinawatra and his beautiful younger sister can do no wrong. The Pheu Thai Party, the main party associated with the family, emerged with over 100 seats in the lower house of parliament in this year's election and now leads the opposition. 
Revulsion at the spectre of Thaksin propelled Palang Pracharat in this year's election
On the other side of the divide, the resurrection of the spectre of Mr Shiniwatra is also believed to have galvanised support for the governing Palang Pracharat Party in the same election in March, feeding off the revulsion that Thaksin Shinawatra generates among the other half of the nation implacably opposed to him and his family. This new party nominated current Prime Minister Prayuth Chan-Ocha to the position of prime minister and saw him elected in June this year by parliament.
Yingluck believed to be living in London
It is believed that Yingluck Shinawatra is living in London where she is reported to have been granted a long term visa by British authorities. It has also been reported that since her Thai passport was cancelled in October 2017 that she may have been granted other passports including another European document. Earlier this year, respected newspapers in China, including the South China Morning Post reported that Yingluck had a Cambodian diplomatic passport which was used to sign a contract in Hong Kong in 2018.
This was followed by vociferous denials from Cambodian authorities citing newspaper sensationalism. They compared the reports to newspaper stories of Chinese naval bases in that country's Koh Kong province which they also denied.
Cambodia denied reports that Yingluck had a Cambodian diplomatic passport earlier this year
Cambodia then immediately announced the recall of diplomatic passports held by non-Cambodian citizens. However, it did not deny that Yingluck may also have been granted Cambodian citizenship at some point. Thaksin Shinawatra was an official economic advisor to Cambodia and the government of Hun Sen from 2009 to 2010.
Thai officials now proposing Yingluck's arrest in Serbia to the government there
Following the news of Yingluck's Serbian passport at the end of last week, Thai officials at the International Affairs Department at the Attorney General's Office mooted a possible arrangement with Serbia to arrest and extradite Yingluck. This even though there is no extradition treaty between the two countries.
Ongoing efforts to get the ex-prime minister back from the UK by the Attorney General's office
The Director-General of the Department, Chatchom Akarin, still insisted that a mutual co-operation scheme could be worked out. The same office has also been pushing London which does have an extradition agreement with Thailand, to arrest Yingluck over the course of the last two years. The Thai government claims that the offences she was convicted of are not political and should be covered under normal extradition arrangements.
Latest request to extradite Yingluck was made officially to the UK Foreign Office in July
The last occasion was in July when the Thai government sent an official request for the extradition of the now fugitive ex-premier to face justice and due process in Thailand where she has already been sentenced to 5 years imprisonment. The letter was sent to the UK Foreign and Commonwealth Office in Whitehall. The British have so far declined to respond positively.
Further reading:
Cambodia's recall of diplomatic passports linked to press reports of Yingluck's Hong Kong dealings
Thailand steps up efforts to bring the Shinawatras to justice with moves against former prime ministers