Recent moves against the two former prime ministers are thought unlikely to be successful
It is reported that Thai officials are sanguine about their efforts to repatriate both former Prime Minister Yingluck Shinawatra and Thaksin Shinawatra home to Thailand to face justice. Officials have stated that the matters are entirely in the hands of the foreign authorities involved. The Thai junta had in July renewed their effort to bring the exiled Prime Minister Yingluck Shinawatra and her brother Thaksin Shinawatra back to Thailand. The move came after a successful visit to Europe by the Prime Minister and signs that Thailand is preparing for a national election in 2019.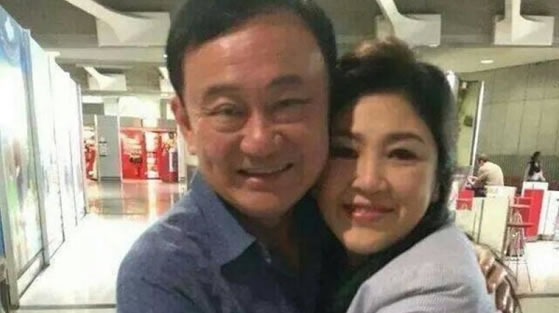 On July 5, the Royal Thai Embassy in London sent to the UK's Foreign and Commonwealth Office a letter formally requesting the extradition of former Thai PM Yingluck Shinawatra who fled Thailand in August 2017 just hours before a verdict and sentence was handed down by a Thai court. The former Prime Minister is believed to be residing in the UK. The letter, attached with copies of the Supreme Court verdict against Yingluck and the arrest warrant for her, invoked a old but valid treaty regarding the extradition of fugitive criminals signed by both countries in 1911. Thailand's Foreign Minister Don Pramudwinai, speaking to a English language Thai national newspaper, emphasized that the request was a procedural matter concerned with his department and that he was not consulted in relation to it. It involved 'normal procedures, and not a policy matter, so they didn't need to inform me,' he was quoted by the newspaper saying.
Thai embassy in London asked UK to keep the extradition request confidential
The Royal Thai embassy in London is reported as saying that the instructions to send the request were received from the Thai government. Mr Amnart Chotchai, the Director of the International Affairs Department of the Attorney General's Office in Thailand confirmed to The Nation newspaper that he his office had coordinated with the Thai Department of Foreign Affairs in 'according to protocol' when sending the request. He stressed that the request was not political. 'We made it clear that this is a corruption case, not a political case, and hope the British authorities consider the request,' he said. He pointed out that a similar request has been made in respect of Thaksin Shinawatra in the past but no response was received. The letter emphasises that the extradition request was in respect of a prison sentence handed down by a Thai court in accordance with Thai law. 'She has not been given a pardon or amnesty. And the arrest warrant for the defendant to serve her sentence is not affected by a statute of limitations,' the letter said. It has also emerged that the Royal Thai Embassy in London requested that the request be treated in a confidential manner.
Extradition request linked to 5 year prison sentence handed to Yingluck in August 2017 handed down hours after she fled Thailand
The 1911 treaty specifically does not apply to people deemed as political dissidents. In the past, Yingluck Shinawatra has claimed that the trial which led to her conviction and jail sentence was linked to politics. Her trial centred on a disastrous rice pledging scheme which led to huge losses of billion dollars. Yingluck was charged and convicted of negligence as well as misfeasance resulting in a 5 year prison sentence being handed within hours of her dramatic and sudden flight from the Thailand by airplane last August. The extradition request is understood to be a request that Yingluck Shinawatra be returned to Thailand to serve her prison sentence.
New arrest warrant issued by a Thai court for Thaksin on corruption charges the day before a request was made to the UK government to extradite his sister
The day before this legal proceedings against Mr. Thaksin which were suspended in 2008 as he had fled the country after the 2006 coup were reactivated. The Thai Supreme Court agreed to a request from the country's National Anti-Corruption Commission (NACC) to reopen an investigation into alleged corruption at a new hearing held on July 4th. The NACC sent representatives to attend the hearing but Mr. Thaksin failed to appear before the court. His absence caused the court to issue the latest arrest warrant for the ousted prime minister and schedule a new hearing on October 31th. The new arrest warrant for Thaksin, issued by the Thai Supreme Court in July, has been made possible under the amended Procedural Act of Criminal Cases against Political Office Holders that allows the court to try fugitive officials in absentia as well as abolishing the statute of limitations if the accused is in hiding.
Yingluck fled Thailand, skipping bail in August 2017, before being convicted on negligence over rice scheme

The Thai government has consistently made the point that the case against Yingluck Shinawatra, Thailand's first female prime minister, is purely linked to her criminal conviction and strictly unrelated to politics. Yingluck Shinawatra was ousted by the military in 2014 amid huge street demonstrations protesting against her government's incompetence, the centerpiece of which was the notorious rice-pledging scheme. Despite being introduced to improve incomes for millions of Thai rice farmer and initially proving to be a vote winner, the programme ran up losses in the billions of dollars and was an unmitigated disaster. Prior to her conviction and sentence being handed down, Yingluck skipped bail and secretly left Thailand for Dubai in August 2017 to reunite with her brother, the former prime minister Thaksin Shinawatra. Earlier other defendants in the case had been found guilty when they appeared in court and received stiff prison sentences. She later moved to the United Kingdom where it has been reported that he has been granted residency in recent times.
Thai Prime Minister issued a challenge to the Shinawatras on his return from Europe in May
When current Prime Minister Prayut Chan-o-cha returned from his successful trip to Europe in May, he called for Mr. Thaksin Shinawatra to come back to Thailand and stand trial for charges against him if he wanted to prove his innocence. The former prime minister, who was ousted by the 2006 military coup and who fled the country after a brief return in 2008, does not appear too interested in accepting the invitation. The current Prime Minister had  earlier confirmed during his foreign trip that Thailand would hold elections in 2019.
Current Thai PM says extradition decision is entirely in the hands of the U.K. government
Despite the current Prime Minister Prayut Chan-o-cha's implicit criticism of 'second-class citizens' living overseas to escape Thai laws, the Shinawatras appear to lead a comfortable life as Yingluck regularly posts videos of her life on social media and even once threw a birthday party for her brother. The Prime Minister made the comments after he had met U.K. Prime Minister Theresa May on his successful European trip and on his arrival home after being questioned by reporters.
It is not clear why the Thai government waited until now to issue an extradition request, but Prime Minister Prayut Chan-o-cha is reported to have raised the issue with his British counterpart when both leaders met at Downing Street in London during the May trip. The Prime Minister has made it clear, during a recent interview, that the matter was entirely in the hands of the British government whether to allow the extradition or not. 'We cannot go and arrest people abroad so it is up to that country to arrest and send (her) to us,' he said.
Cases still pending against Thaksin Shinawatra who left Thailand in 2008 for the Olympics

There are a number of cases against former Prime Minister Thaksin that are now ongoing. The most significant one is an allegation relating to abuse of power in 2006. Thaksin is accused of ordering Thailand's Export-Import Bank to increase a low-interest loan to Myanmar's military government from three billion baht to four billion baht for a telecoms project that used equipment from his family-run company, Shin Satellite. He was convicted by Thailand's Supreme Court in 2008 of an abuse of power for his role in a land transfer to Khunying Potjaman Na Pombejra, his then wife. He was sentenced to two year imprisonment. Thaksin and his wife had earlier fled Thailand to Beijing for the Olympics that year violating their bail terms and he later declined to return. Numerous arrest warrants have been issued for the former prime minister, his diplomatic passport cancelled and bank accounts linked to him frozen. It is understood that Thaksin may face prosecution for his role in the Thai Finance Ministry's takeover of Thai petrochemical industry and other charges resulting from a series of investigations into his activities as Prime Minister up to 2006.
Shinawatras still maintain support but the political landscape in Thailand has changed

The Shinawatras still have a following in Thailand and maintain active social media accounts which are updated regularly with family events and travels. It is thought that they still have some influence in the north of Thailand within their electoral hinterland. However, Thailand's new Constitution and political order has changed the political landscape in Thailand considerably since 2014. Even those that are supporters of the Shinawatras acknowledge the stability that the country now enjoys although many are still openly critical. Next years General Election in Thailand,if successful, may further diminish their influence. There is also a movement in Thailand to look beyond past rifts in the country and many hope to see a reconciliation without undermining the legal process.