Mother and little girl were found embracing in the back seat of the Toyota car after Thai police managed to unlock the doors.
Police in Pathum Thani made a grim discovery on Tuesday when called to the scene of a car parked overnight since Monday. A family suicide pact.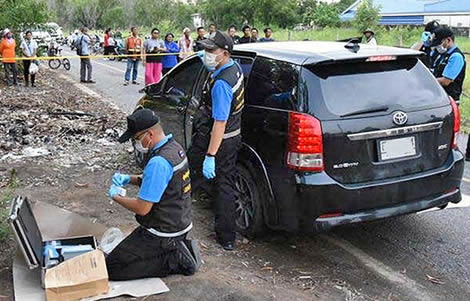 Thailand' police made the shocking discovery on Tuesday afternoon when they found a family of three members dead in a black car in the Lam Lukka district of Pathum Thani province.
It is though thought to be a mass suicide by a young family. A husband, wife and their little girl were discovered by police officers when they went to investigate the car which is understood to have been parked overnight from Monday at approximately 9 pm.
Concerned members of the public called local police
Police officers responded to the calls from concerned members of the public to Lam Lukka police station and found the car on Soi Boonyalak off the motorway.
Father found in drivers seat
The father was named as 36-year-old Surachet Nilkhote. He was found by police in the driver's seat of the black Toyota car. The bodies of the mother named as Natnicha Nilkhote and her little girl Fahsai Nilkhote thought by police to between 4 and 7-years old were found in an embrace in the back seat of the car.
Police had to get car technicians top open the locks
Police found a stove with burned ashes when they finally got access to the interior of the vehicle. The car was locked from the inside.  Police at the scene had to request the assistance of car technicians to open the door to access and examine the interior of the car. It was after this that police found the poignant and disturbing scene. A bag of Charcoal was also found nearby.
Family dead for over 7 hours
A doctor informed the police that the couple and their little girl had expired over 7 hours previously.
The bodies of the family have been sent for a routine autopsy and police were also working on making contact with their families.