The kiwi was been named by police and has also charged with working illegally in Thailand while holding a retirement visa. He is being held in custody at Chiang Mai police station.
A 55-year-old New Zealand was arrested by Chiang Mai police on Wednesday night and is facing serious consequences after police found illegal drugs after searching a bar and restaurant premises owned by the man. He has been charged with possession with intent to distribute.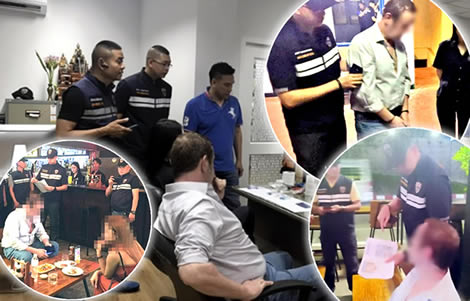 Thai police in Chiang Mai on Wednesday night raided a restaurant and a bar run by 55-year-old New Zealand man. The raid took place at a premises in the Sam Lan road in the centre of Chiang Mai at 10 pm.
Kiwi charged with working illegally in Thailand
Police were investigating reports that the Kiwi, who holds a retirement visa to live in Thailand, was working in Thailand illegally. Under the provisions of Thailand's immigration law, the holder of a retirement visa is specifically prohibited from engaging in work or business within the kingdom.
Police also discovered that the man did not have a valid work permit which is required for any foreigner engaged in commercial activity from a place of work in Thailand on a continuous basis.
Drugs found included ecstasy, cocaine and ketamine
Police, in the course of their search, found 64 ecstasy tablets, 9.92 grams of cocaine and 9.62 grams of ketamine. Some of the drugs were found in a desk which only the New Zealand man had access to while some rugs were found scattered on the floor of the premises.
Charged with possession of drugs with intent
The man was accompanied by a Thai girlfriend and observed as the police went about the search and the collection of evidence. The man was subsequently arrested and taken to Chiang Mai police station.
He has been charged with working in Thailand illegally and without a work permit in addition to possession of illicit drugs and most seriously, possession of illicit drugs with intent to distribute.
He is currently being detained as police issue proceedings for legal action against him.
Charges against the suspect subsequently dropped
Note: Thai Examiner has removed details from this story, including the man's full name, as it later emerged that charges were dropped against him by the police. This story was based on a press statement issued in the aftermath of the raid.
A police investigation which took 3 months and only found the presence of narcotics in the suspect's urine. A court order terminated the proceedings was subsequently handed down.
He is understood to now be living in New Zealand having left Thailand  later of his own accord. His legal representatives have made it clear that no proceedings were issued against him in relation to his immigration status.