Police suspect that the passenger van veered onto the other lane on the motorway hitting the large lorry head-on creating a devastating impact.
Thai police and emergency workers responded to a harrowing road traffic accident early Sunday morning in the eastern province of Sa Kaew. Eleven people lost their lives in the third reported accident in two weeks where a van or bus driver fell asleep at the wheel.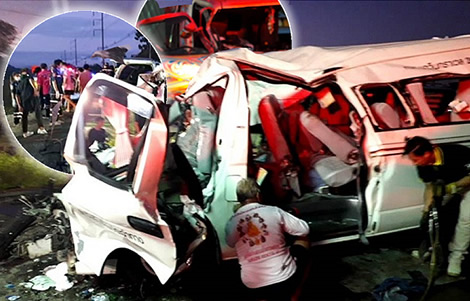 Eleven people were killed in a horror smash in the eastern province Sa Kaew this morning when a passenger van was involved in a head-on collision with an 18 wheel truck. The passengers in the van are understood to have been workers from Laos heading to Chanthaburi Immigration to have their visas renewed.
Police at the scene suspect that the driver of the passenger van may have fallen asleep at the wheel. The accident occurred sometime before 4.15am when the alarm was raised. The driver has been named as Sansern Sathongkhan.
Passenger van driver thought to have fallen asleep
The van appears to have veered off onto the other side of the road running headlong into an approaching truck. If so, it will be the third reported fatal accident in the last two weeks involving bus or passenger van drivers who have fallen asleep while driving.
Accident happened on the main road from Sa Kaew to Chanthaburi road near Wang Samboon
Police and emergency rescue services arrived at the site of the accident within minutes. This was on the main road from Sa Kaew to Chanthaburi not far from the District Office of Wang Samboon.
Emergency responders faced a harrowing scene
The responders faced a shocking scene of carnage from the devastating accident. Only three of the passengers from the bus were brought out alive and they were seriously injured. The driver of the truck named as Subin Pengmoo was also recovered but he was also found in a critical condition.
Bodies hurled from the passenger van on impact
It is reported that 10 of the workers from Laos lost their lives as well as the driver of the passenger bus. Many of the victims were crushed due to the impact with the large lorry while some bodies were hurled from the bus van when the front of the vehicle virtually disintegrated from the force of the crash.
Further reading:
Fatal passenger van and bus accidents on Tuesday caused by drivers who fell asleep at the wheel in the early hours