Australia criminal linked to murders and famous for his refusal to speak or assist the police. He is the boss of the Comancheros bikers gang, one of 35 outlaw motorbike gangs in Australia which are heavily involved in a range of criminal activity and who often engage in violent turf wars.
A Liberal Party politician and opposition leader in Melbourne Australia on Saturday praised Thai officials after notorious local crime gang boss Mick Murray was turned away when he landed in Thailand for a holiday on Friday. He said that it was clear that the Thai authorities were more concerned with public safety than those in Australia.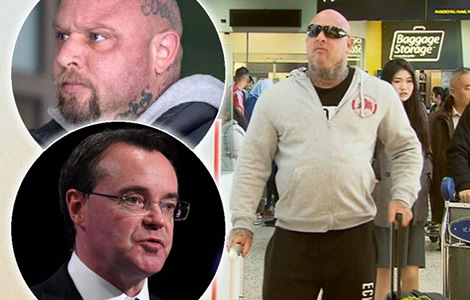 Authorities in Thailand were singled out for praise by the leader of the opposition in the Australian state of Victoria yesterday after Thai immigration authorities early on Friday morning refused denied entry into the kingdom to notorious criminal and gang leader Mike Murray who had been granted special bail permission by a Victoria court to holiday in the land of smiles.
Red-faced criminal had to about-face and fly back home to Melbourne – holidays cancelled
It is understood that the President of the biker's gang the Comancheros, was refused entry into Thailand because his extensive criminal history made him an undesirable not wanted in the country. The red-faced criminal had to abort his holiday itinerary which included an onward trip at a later stage to Dubai and return home. He boarded a plane and headed right back to Melbourne where his flight originated on Thursday night.
Stoic and silent gang leader walked the gauntlet of reporters at Tullamarine Airport
At Tullamarine Airport back in Melbourne, the 40 year old gang leader was stoically silent as he walked through the airport terminal with his baggage. Mr Murray is famous in the criminal underworld in Australia for his reluctance to speak to police or authorities.
Jailed in March 2018 for contempt of court – 'I'm not a dog…you're wasting your time'
In March 2018 he was jailed by the Victoria Supreme Court for 'deliberate and flagrant' contempt of court. He was sent to prison for eight months and held on 23-hour lockdown in a secure facility. The criminal had prior to this, been called before an examiner and questioned about criminal matters. 'Mate, this is very, very simple, I'm not a dog, I'm not answering questions. I'm not lagging anyone,' Murray told court officials. 'You're wasting your time'.
The judge said that the gang leader's refusal to cooperate with the courts was not out of fear of retribution but his own code of silence. 
Granted special permission by a court to holiday in Thailand and Dubai even though on bail
On Thursday last, Mick Murray flew out to Thailand after a Victoria court amended his bail conditions to allow him to take off on holiday despite objections from police who feared that he may have skipped bail while abroad. 
Murray is the boss of an outlaw biker gang the Comancheros in Australia linked to crime
The gang leader was arrested in December 2018 on fraud charges and his case is due to be heard shortly. He is reported to be heavily involved in criminal activity in Australia where biker gangs are an integral part of the crime world. Murray is the boss of the Comancheros which is an outlawed organisation down under. It was formed in 1968.  It is one of 35 which have become heavily linked with criminality. The biker gangs regularly engage in violent feuds and turf wars resulting in spates of murders.
Hells Angels bikers in Pattaya
The Hells Angels is another such club in Australia and which is reported to have members in Pattaya. It has been linked by Thai police in the resort city to a range of criminals cases including murder and illegal drug distribution.
Thai authorities praised by Liberal Party leader in Victoria state for putting 'public safety' first
The decision by Thai authorities was praised by Michael O' Brien who is the leader of the political opposition in Victoria state and the Liberal Party. He noted that 'clearly the Thai government is much more concerned about public safety' than officials in Australia for sending Murray packing when he presented himself at the Thai immigration after this plane landed on Friday morning.
'A justice system that backs our police instead of always seeming to back the criminal'
The Victoria-based politician criticised the legal system in the state and Australia that allows criminals on bail to go on holidays. 'Our police work incredibly hard, we need to have a justice system that backs our police instead of seeming to always back the criminal.'
Aussie denied entry into Thailand

+ An Australian criminal gang leader was denied entry into Thailand for a holiday on Friday even after getting special permission from an Aussie court to travel to the Land of Smiles while on bail.https://www.thaiexaminer.com/thai-news-foreigners/2019/08/18/thai-police-refuse-entry-thailand-mick-murray-criminal-gang-leader-australia-victoria-court/James Morris reports from Bangkok

Posted by ThaiExaminer.com on Sunday, August 18, 2019