The Metropolitan Police Commissioner was on the scene with 200 police officers in what was described as a security sweep in advance of a key Asian summit held in Bangkok over the weekend. 6 people were questioned after failing to produce ID or for showing traces of narcotics in a urine sample.
Police swooped in force on the Nana Sukhumvit area of Bangkok in the early hours on Saturday morning trying to root out criminal activity in the area suspected of being run by foreign gangs described by Thai police as foreign tourists behaving suspiciously.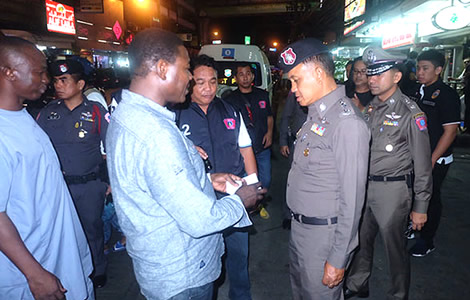 Bangkok was named this week as the world's most visited city for 2018. It took the title for the 4th year in a row. Yet it was the week in which 58 Chinese tourists appeared in detention clothing after being arrested at a hotel for running an online share fraud scheme. It was also a week in which a wealthy Chinese tourist was robbed of ฿3.6 million in valuables and personal accessories after being dropped off by a Bangkok taxi cab in a drunken stupor. Bangkok, in the week previously, was voted by The Economist magazine again as one of the world's safest big cities ranking as 47th safest in the world.
Another African drug mule at Suvarnabhumi
Earlier in the week, Thai police arrested another African drugs mule at Suvarnabhumi Airport. This time it was a 30-year-old Kenyan woman with cocaine hidden in her private parts and packages of the drug in her intestines. It was a similar story two weeks before when a Kenyan man was arrested for having cocaine in his stomach together with a Nigerian man arrested with him for being part of the same drug trafficking ring.
It is all quite a paradox yet one that the Thai police must deal with. The challenge facing them is how to keep real tourists, genuine foreigners and the Thai public safe while also combating crime that is being brought into Thailand by foreigners from countries all over the world but with notably high numbers coming from China and Africa.
Police raid Nana Sukhumvit area seeking 'suspicious' tourists in the early hours of Saturday morning
Over the weekend, on early Saturday morning, the Royal Thai police descended upon the Sukhumvit area of Bangkok, an area very popular with foreigners, checking identification documents. The police reported that the operation was partly a security arrangement for a key regional conference. Bangkok hosted the Asian Cooperation Summit from Saturday until Monday.
Area known for African criminal rackets
The area raided by Thai police is well known as a haunt for African criminal gangs running drug and prostitution rackets in recent years. In April this year, a Tanzanian woman gave evidence before a Bangkok court that a Scottish man she had married in her home country was involved in trafficking African prostitutes into Thailand to work in Bangkok. The man has since fled the country.
200 police officers involved in the operation
During the crackdown on early Saturday morning, around 200 police officers took part as the operation focused on Sukhumvit near Soi 3. The task force included police from the Metropolitan Bureau, the Patrol and Special Operation Division as well as the Thai Tourist Police and officer working with the Narcotics Suppression Bureau.
30 people stopped by police, 6 had either no ID or showed signs of illicit drug taking
The operation led to 30 people described by police as tourists behaving suspiciously, being required to give urine samples and asked to produce evidence of ID including valid passports. Six of those stopped were reported as having failed to produce the ID required or were found to have traces of illicit drugs in their system.
Metro police commissioner briefs the media
The media was briefed on the operation by Police Lieutenant General Sanit Mahathavorn, the Metropolitan Police Commissioner. He described the operation as one to help curb crime in Bangkok. He explained that those being stopped by the police on Saturday morning were also been checked for criminal records.
Plainclothes police and informants also on the scene
The operation was assisted by plainclothes police with the help of informants on the lookout for known criminals. The police boss highlighted that the mission of the police in this operation was also to protect genuine tourist enjoying Thailand's capital city. He asked for the cooperation of tourist businesses in making sure that all tourists have proper identification with everything in order. This would help the police maintain security for everyone.
Tourist police boss in August warned of Chinese criminal networks of pickpockets posing as tourists
The police commissioner's comments were similar to the head of the tourist police Major General Woraphong Thongphaibun in Bangkok in early August when he revealed that a large number of Chinese pickpockets had been arrested at a hostel posing as tourists. He identified a problem with Chinese criminals entering Thailand who were difficult to detect because they had no prior criminal records at home.
 Further reading:
Chinese pickpockets staying in hostels as backpacker visitors targeting tourists in Bangkok