Thai student from Yala was taking part in protests last week against the Egyptian president who overthrew the short-lived government of Mohammed Morsi in 2013 in a coup supported by a wave of popular support.
A senior and respected Muslim academic at Chulalongkorn University has a called on the Thai government to do more to assist a 24-year-old Thai man from Yala province who was detained by Egyptian security forces on Tuesday last September 24th while taking part in protests against the regime of Egyptian strong man General Abdel Fattah el-Sisi in Cairo.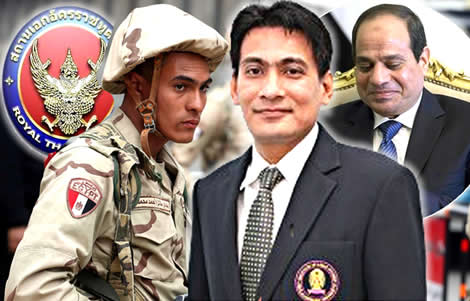 A senior academic has called for more urgency in seeking to have a Thai student arrested on September 24th in Cairo allegedly for supporting Islamic State, released by Egyptian authorities. The Chulalongkorn University director of Muslim teaching at its  Institute of Asian Studies, Dr Sarawut Aree, made the call while speaking with the Bangkok Post newspaper.
Thai student among up to 100 arrested
Dr Sarawut revealed that the Thai student was one of up to 100 arrested in a security forces operation last week to crack down on opposition to the current Egyptian President Abdel Fattah el-Sisi. It is believed that the Thai student, believed to be 24 years old and from Yala province, was taking part in the demonstration.
Seen on TV expressing support for Islamic State
Egyptian police and security forces who detained him found that he had pictures and messages associated with the Islamic State Group on his smartphone. He was also shown later in a clip on a TV station in Egypt voicing his support for the terrorist organisation responsible for mass slaughter and atrocities throughout the Middle East and in some western countries in recent years.
Help to clear the 24-year old on suspicion of being linked to IS terrorist group
Speaking with Bangkok's English language newspaper, the respected Muslim academic said that the Thai government should provide assistance in clearing the student of any suspicion that he is linked to Islamic State and ascribed the arrest of the young man from southern Thailand to the coercive tactics of Egyptian security services: 'The arrest of anti-government protesters is a desperate dragnet to boost the legitimacy of the Egyptian government,' he said.
Student studying at famed Al-Azhar University
It is understood that the student whose name is being withheld by authorities, is a student at Al-Azhar University in Cairo which is associated with the Al-Azhar Mosque and is considered one of the most prestigious learning institutions for Sunni Muslims in the world.
Growing opposition among sections of the Muslim community in Egypt to the regime of el-Sisi
There is growing opposition in Egypt among some sections of the powerful Muslim community to the government of General Abdel Fattah el-Sisi which overthrew the short-lived, elected government of Mohamed Morsi who was a member of the Muslim Brotherhood in 2013. In spite of this, the government of el-Sisi retains popular support in Egypt among Egyptians who wished to maintain the country's secular values and who quickly turned against the Morsi regime as it pursued a more Islamic agenda in 2013.
Previously arrested in Kuwait
There are also unconfirmed reports that the Thai student at the centre of the controversy was previously arrested by authorities in Kuwait although no details of that incident are currently available.
Thai embassy in Cairo making efforts to meet the arrested student through key channels
On Thursday, the Thai embassy in Cairo confirmed that it had made contact at the highest level with the Egyptian Department of Foreign Affairs and it is understood that its concern for the welfare of the Thai national as well as a request to meet and provide him with consular assistance has been communicated to the relevant security agencies.
At the same time, the embassy has also reached out to The Grand Imam of al-Azhar to use his influence to arrange for access to the young man who is being detained.
Thai nationals warned to stay out of Egyptian internal affairs by consular officials in Cairo
The embassy has also warned Thai nationals in Egypt to avoid places of tension or risk and to ensure that they do not become embroiled in internal political matters of the Middle Eastern country.