The director in charge of financial institutions at the Bank of Thailand has also revealed that Thai banks are more than ready to comply with more stringent reporting regulations next year.
As growth in the Thai economy slows, the Thai central bank boss has indicated that he may loosen controls on capital outflows as a remedy against the appreciating baht. He has also indicated that the bank is mindful of financial stability and that he will make a decision on more extensive and broad-ranging lending cubs at the end of the year to combat a rising trend in Thai household debt levels.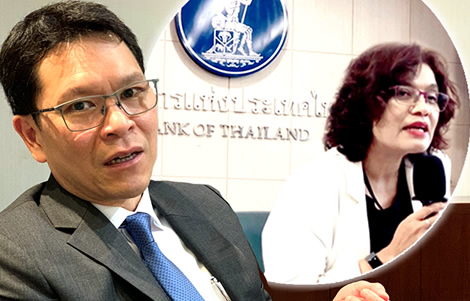 He was speaking to Reuters as one Thai securities firm has revealed that the combined profit for 8 commercial banks will fall by 4% in the third quarter. The survey also shows that they are performing quite well despite the slowing economy.
Thai banks are expected to see their profits decline in the third quarter as the weakening economy takes its toll. However, the performance of the banks in real, underlying terms, is slightly better than last year which was a particularly good one for the financial institutions due to exceptional circumstances.
Rate of non-performing loans is stable
The rate of non-performing loans is indicated at 3.66% which is only very marginally ahead of the 3.64% rate in the second quarter. The net outcome, however, is that bank profits for the eight commercial banks reviewed will fall to just over ฿50 billion for the third quarter. This represents a 4% fall off on last year's figure for the same period.
The figures were released on Monday by Apichat Poobunjirdkul who works with TISCO Securities Co Ltd in Silom, Bangkok as a senior strategist.
Banks well placed to deploy forward reporting requirements that come into effect in 2020
It comes as the director at the Bank of Thailand for financial institutions, Yuphin Ruangrit, expressed confidence in the ability of Thai banks to comply with new accounting rules expected to be in place by 2020 which will require them to forward provide a loan reserve against anticipated losses from bad debts.
New reporting criteria followed the US subprime banking crisis and mean stronger bad debt provisions
The new accounting rules are similar to that adopted in the United States following the subprime mortgage debacle which at one precarious moment, threatened the US with financial chaos and saw the shock closure of a number of long-established, venerable financial institutions precipitating a rolling financial crisis from 2007 to 2010 which saw the US fall into a severe recession.
The new reporting system being introduced is named as the Thai Financial Reporting Standard. A similar regime for auditors and external assessors will be introduced by 2025.
Bank of Thailand tests shows banks have between 110% to 150% provision on average for bad loans
The positive statement from the bank followed its own tests and calculations which showed that Thai banks on average have a loan reserve in place ranging from 110% to 150% against bad debt loan provisions.
This has left the banks looking at an upside if some of the loans to borrowers with bad debt provisions are ultimately repaid in addition to the interest on such loans which will give the banks a higher level of profitability.
Thai economy is slowing – evidence of higher small business defaults in the last 9 months
All this, of course, must be seen in the context of a Thai economy that is slowing down and where there is evidence already that bad debt levels may be rising among small and medium-sized businesses. It is also an economy where interest rates are now very low and may go lower which tends to put pressure on bank margins traditionally.
Bank governor mindful of financial stability
This was referred to indirectly by Bank of Thailand Governor Veerathai Santiprabhob in his Reuters interview on Friday last when he emphasized that the bank's policy committee is very aware of its role in preserving financial stability at this time.
He said that there were concerns. 'When interest rates have been low for a long time, it has some impact on the leverage of the whole economy – We need to be mindful of that impact on financial stability as well.'
Measures to tackle the star performing Thai baht
The Bank of Thailand suggested that the central bank had held off on further interest rate reductions and was trying to find other responses to the strong baht. The Thai currency has gained 7% against the US dollar so far in 2019 making it the region's star performing currency with attendant negative consequences for Thai exports.
Holding off on a further rate cut if possible
The bank boss indicated that it would take a significant downturn in the external economic environment to bring about another, now widely anticipated, interest rate reduction from the central bank at this time. 'But if we see the deterioration of economic activity beyond what we have forecast, we stand ready to review our monetary policy,' he said.
New loosening of capital outflow limits for Thai firms and investors sending money abroad
He revealed that the Bank of Thailand was preparing to 'substantially' increase the ceiling on foreign investment abroad from Thailand to facilitate in particular, Thai mutual funds investing outside Thailand. The ability of individual Thai nationals to invest externally will also be strengthened, he indicated.
High level of household a key concern
Mr Veerathai appeared particularly focused on the high level of household debt in Thailand which stood at nearly 79% of GDP at the end of June in an economy where growth is slowing.
This year's growth rate for the economy according to the bank's projection will be 2.8% following a 2.3% growth in the first half compared with 4.1% growth last year. Sentiment is not, at this time, distinctly bullish for next year. 
Decision on broad lending curbs by the end of the year
Perhaps this is why the Bank of Thailand boss told Reuters that he has postponed a determination on introducing tighter debt service ratios to curb bank lending, something he has been threatening to do for some months now. He now plans to decide on this at the end of the year.
Further reading:
Thai economy remains sound says Fitch the ratings agency as the baht's surge may be over for now
Economy not yet in crisis says central bank governor as ministers meet to discuss trade and tourism
Prime Minister in New York predicts that Thailand will be a first-world economy in 17 years or by 2036