Thailand's Suvarnabhumi is the 17th busiest airport in the world, the 11th busiest in Asia. It handles huge numbers of arrivals and departures daily numbering in hundreds of thousands. However, the number of foreigners who take their lives at the airport is becoming a notable phenomenon. The latest is a Finn who died last Saturday evening after jumping from the 6th to the 4th floor.
A Finnish man jumped to his death at Suvarnabhumi Airport on Saturday night. The tragic incident was the 10th likely suicide at the airport committed by men, most of them foreigners, since the airport opened in 2006.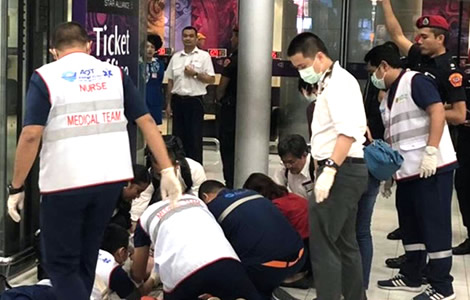 Another man has jumped to his death at Bangkok's Suvarnabhumi Airport. A Finnish man identified by authorities as Mr Jurisoo Timo took his own life suddenly on Saturday at 9.30 pm by jumping from the 6th floor at Zone F of the airport's huge passenger terminal.
Found breathing hard but horribly injured
Police and airport workers found the man still breathing but seriously injured after falling from the 6th to the 4th floor. He was taken to a Samitivej Srinakarin Hospital but died shortly after being received there.
Entered Thailand on September 6th, extended his visa to stay in Thailand until November 6th
Immigration police revealed that the tourist had entered Thailand on a 30-day visa arriving on September 6th. He had extended his stay until November 6th. He was observed before his fall using his mobile phone in front of a ticket sales desk for Thai Smile Airways on the 6th floor from where he jumped suddenly
Many fractured bones but responded to care
Medical responders report that they found him breathing heavily and laying on his back. He had fractured his arms on both sides as well as many other bones from the fall. He was wearing a grey jacket over a yellow collared sweater. Medics said he responded initially to treatment before he was removed to the hospital.
Authorities reach out to family
Authorities have informed the Finnish embassy about the incident. They are also reaching out to his family to see if there was an underlying reason for his actions and to have his body returned for funeral arrangements.                         
10 people have died in similar circumstances since the airport first opened in 2006
It brings the total number of suicides to 10 since the airport first opened in 2006, many of them foreigners. Airport authorities in 2013 undertook extensive works to install glass partitions in vulnerable areas to prevent such tragedies.
The total cost was ฿33 million but the incidents have continued to occur since with more frequency including an Irish man who was stopped by police and taken into custody in November 2015 after his suicide bid was foiled while attempting to jump from a floor at a height in the terminal.
Irish man said he could not afford a flight home
The man, from Belfast, told police that he did not have the money to pay for a ฿22,000 flight back to the United Kingdom. He was released temporarily for a cigarette break by police officers after he convinced them his suicide attempt was only a temporary lapse. He later took his life after completing the jump on his second attempt.
German jumped as if diving into a swimming pool
On March 12th 2015, it was German tourist Michael Walter who eyewitnesses recalled vividly running and then jumping over the edge like a swimmer jumping into a swimming pool. He fell from the 4th floor to the 1st. He also died later in hospital.
Russian man climbed over the glass wall and jumped
A Russian mean jumped to his death at the airport in February this year. He simply climbed over the newly installed glass wall and jumped to his death from the 4th to the second floor. Similar to Saturday's incident, he was found seriously injured and died later in hospital.
On Saturday, a safety officer at the airport could only confirm that such incidents have happened before.
Further reading:
UK businessman found dead in staged suicide in Chiang Mai as such events become more usual in Thailand
'Richest man in Khon Kaen' keeps police on tiptoes with 7 hour suicide threat with a knife at a church