Disturbing and unacceptable actions of a western foreigner in Khon Kaen have left the public and authorities both perplexed and bothered over the last week or so. He has now been sent to a medical facility for a mental evaluation and is understood to be facing a range of charges from an incident on September 23rd when he rear-ended a Thai woman's car following which he both verbally and physically abused her and her property. The 47-year-old man known as Mr Wesley told the woman that he was the 'richest man in Khon Kaen' as if to justify his outlandish and thuggish behaviour.
On Monday, a disturbed western man forced Thai rescue services and police to stand guard as he stood for up to seven hours with a knife held to his throat. He was later overcome by police when he eventually tired and was taken to a local medical facility for assessment after what was the second public disturbance caused by the man in the space of a week.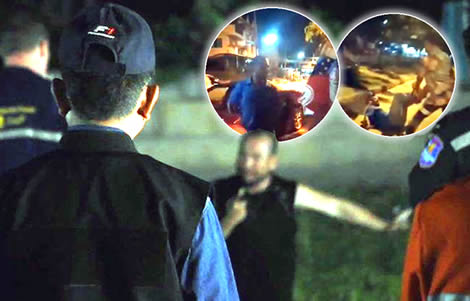 A crazed western man has been terrorising locals and causing consternation and difficulties for rescue worker and the police in the northeastern Thai city of Khon Kaen since Monday, September 23rd when online reports of his activities emerged.
Detained by police after 7-hour suicide standoff
This Monday, police were forced to monitor the man for four hours on the grounds of a local Christian church after he turned up three hours earlier and raised a knife to his neck. The 47-year-old man lives locally with a family in Khon Kaen and is known as Mr Wesley.
He has not yet been named officially by police who on Monday had the clearly unstable man taken to Srinagarind Hospital in Khon Kaen for treatment and assessment under Thailand's 2008 Mental Health Act which has a provision whereby police can order a psychiatric evaluation of an individual over a 30-day period.
Police had earlier in the day been notified of the man's eccentric and disturbing conduct at the Kun Hai Church of Christ in the Ban Ped part of the city. 
Westerner pushed Thai hospitality and understanding to the limit with aggressive behaviour
It is not the first time that the man has brought himself to the attention of police and pushed the limits of tolerance and patience of the security and rescue services as well as the public in Khon Kaen.
The previous incident occurred on the Monday previous when the man accosted and assaulted a Thai woman who was parked near his Ferrari. The woman went on Facebook to describe what happened to her when she was confronted by the violent and aggressive western man.
He had pulled in behind her car with very loud music blaring. Then when she attempted to drive away, the foreign man drove into the rear of her car.
Emerged from his orange Ferrari hurling abuse at the Thai woman – 'the richest man in Khon Kaen'
Mr Wesley then emerged from his orange sports car and started hurling abuse at the woman. He had been drinking an alcoholic beverage and discarded the bottle. He told her that he was the richest man in Khon Kaen before later attempting to assault her as an argument ensued. She explained online that her attempts to make a video of the alarming sight before her were thwarted when the man knocked her phone to the ground.
Noticed by staff and customers at a nearby restaurant
The commotion and events were noticed by staff and customers at a nearby restaurant and later Mr Wesley was interviewed by police. It is reported that ฿18,000 in compensation was paid to the woman by the man's family in Thailand.
However, Colonel Pravit Tohha of Ban Duck police station in Khon Kaen has told the press that his officers have communicated with Mr Wesley that he will be facing reckless driving charges after the incident. There are also reports of further charges filed against him in addition to summary fines which police have imposed.
Mr Wesley and his orange Ferrari
It has also been suggested that the orange Khon Kaen registered Ferrari may be fake. Whether fake or authentic, however, Mr Wesley has now created an unfavourable impression and has left many online and within community annoyed and outraged by his actions.
His bizarre behaviour is another reminder that the mental health of a small number of foreigners living in Thailand is becoming an issue of concern.
Further reading:
Pattaya's Canadian hellraiser tells police he has 'suicidal tendencies' as he taunts officers in cuffs