The accident occurred in Ubon Ratchathani province on Wednesday morning and saw a passenger van lose control and swerve onto the path of a heavy truck.
Another fatal passenger van accident in the north of Thailand has claimed seven lives and left four seriously injured.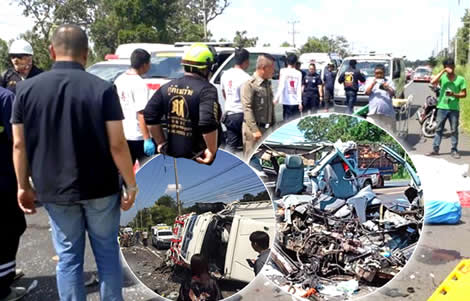 Seven people were killed in yet another passenger van accident on Wednesday morning in northern Thailand. The accident happened in Ubon Ratchathani province located in Thailand's northeastern Isan region.
Van reported travelling at high speed
It is reported that the van travelling at high speed in the Warin Chamrab district of the province, lost control causing it to swerve on to the other side of the road. It was then hit by an approaching six-wheeler truck.
Passenger van completely shattered
The devastating collision completely shattered the van and resulted in the instant death of seven of its passengers reported to include two monks, two women and three other men.
Four additional passengers including the van's driver were seriously injured and rushed to hospital.
Van registered in Chonburi
Police and rescue workers at the scene found the obliterated passenger van and the truck which had been toppled over as a result of the head-on collision.
As the rescue operations wound down, many rescue workers were left deeply affected by the sight of wrapped and bound bodies at the side of the road taken from the wreckage of the passenger van which was registered in Chonburi province.
Further reading:
GPS policing to be studied for all cars and motorbikes in Thailand to curb road accidents, deaths and carnage
Another fatal passenger van crash in Sa Kaeo claims at least 5 lives as a car ploughs into it after losing control