Former senior Ministry of Agriculture official gives evidence to the court to support the injunction and suggests that farmers may later be forced to take further legal action for damages against the Thai government for failing to carry out a comprehensive and thorough study into the implications of the pesticide ban and the provision of suitable alternatives to prevent the hardship and loss of income which will result when it goes into effect.
Thailand's Agriculture Minister Chalermchai Sri-on on Wednesday highlighted the future growth of 'organic' farming in Thailand as he set up a committee to assist farmer's nationwide with the fallout from the pesticide ban on the widely used substances which Thai farmers groups are warning will have a catastrophic effect on farming output and livelihoods when it becomes effective on December 1st.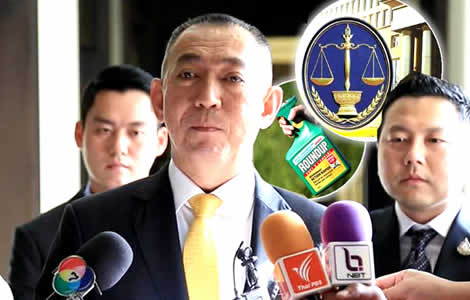 The Secretary-general of the agriculture department, meanwhile, has said that 73 pesticide products comprised of biochemical and microbial substances are now approved for use by farmers as a replacement to the three controversial pesticides, paraquat, glyphosate and chlorpyrifos which are the subject of the ban.
Court postpones decision on injunctive relief
It comes as the Administrative Court in Bangkok has not so far given the farmers who lodged proceedings for an injunction on Monday last, the relief they sought. Judges said on Wednesday they would consider the matter.
Thailand's Administrative Court sitting in Bangkok postponed a decision on the application for an injunction lodged by a farmer's groups asking that the controversial pesticide ban approved by a key government committee on October 22nd last be shelved.
Legal proceedings taken on Monday
The legal proceedings were taken on Monday by Thai fruit growers of the Asa Rak Mae Klong groups representing up to 1,000 Thai fruit farmers in 6 provinces namely Chanthaburi, Ratchaburi, Samut Songkhram, Rayong, Suphanburi to Nakhon Ratchasima.
Famers on the committee that approved the ban were not 'real' farmers say those opposed to the measure
The farmers are claiming that the cost of the ban will be prohibitively expensive, that no provision has been made for alternatives or a proper study conducted before the ban was approved and that the decision-making process leading to the ban was flawed. They specifically point out that farmers on key committees as required were not 'real' farmers but those representatives of Thailand's organic farmers, a minority in the industry.
Court heard evidence from 10 witnesses but postponed a decision on Wednesday
The Administrative court judges heard evidence from up to 10 witnesses, including some former senior officials at the top of Thailand's Department of Agriculture who are vehemently opposed to the move.
One of these is Anan Daldom, formerly one of the most senior officers at the top of the Department of Agriculture. 'Bringing the case to court is the last resort to seek justice.' he told reporters after the hearings this week. He warned that the government may be facing a large bill because of the pesticide ban as farmers may be forced at some point, to lodge an action for damages.
Minister says committee set up to assist farmers
On Wednesday, Thailand's Agriculture Minister, Chalermchai Sri-on revealed that he had ordered a special study and committee to begin work to assist Thai farmers impacted by the move. He also said that officials at his department were reviewing alternative pesticide treatments for farmers that would both effective and safe to use.
These new pesticides are biochemical and microbial products designed to work effectively for farmers seeking to grow rice and a range of other crops.
Minister highlighted an organic farming vision
The minister highlighted a long term vision for Thailand to place itself at the fore of organic farming in Asia. The country is currently ranked in 7th place with 570,000 rai covered with a growth rate of 16 %. The minister said he wants to boost this to 1 million rai and growth rate of 25%.
72 new safe new pesticides approved for use
The minister promised that moves will be made soon on providing alternatives to farmers. The director-general of the Department of Agriculture Sermsuk Salakphet revealed that 72 different types of pesticides including biochemical and microbial solutions had already been approved by the department capable of working effectively with eggplant, leek, rice and other vegetable crops.
All future products must pass a toxicology test
She said that other manufacturers of such products must in future demonstrate both the effectiveness of their products and their safety. 'Manufacturers of bio-pesticides who wish to register their products with the department must demonstrate the product's efficiency in pest elimination or prevention, as well as pass a toxicology test to ensure the safety of farmers, consumers and the environment,' she said.
Further reading:
Chemical pesticide ban will have a severe economic impact on Thailand say US officials who asked for delay