It is clear that Bart Allen Helmus who when originally arrested by police last July in Pattaya was found with a gun and 200 bullets, had no intention of being taken back to Thai prison alive. What is notable about this case is how very nearly successful escape bid was, the level of co-operation and deployment of resources that the escaped inmates were able to muster before executing their bid for freedom.
American drug dealer, Bart Allen Helmus, the 39-year-old man who managed to escape from the holding cells at Pattaya Provincial court on Monday afternoon with his wife Sirinapha Wisetrit and 41-year-old Thai drug dealer Noi Thon Nintet was reported to be in a coma and nearly dead yesterday shortly after being delivered to a local hospital in Sa Kaeo province where the 3 inmates were recaptured between 1 pm and 3 pm yesterday afternoon.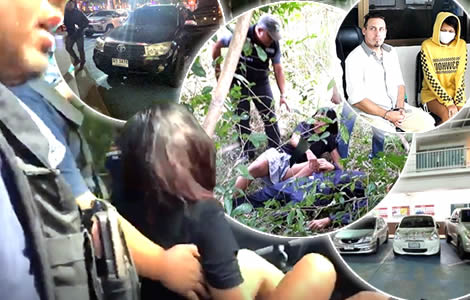 It has since emerged that the downfall of the escape bid was the seizure by Thai police of the 5th and final escape vehicle left in position and which the escaped inmates were planning on using to cross the border into Cambodia.
It was even being reported that Helmus had died shortly after arrival at Sa Kaeo's Crown Prince Hospital on Wednesday after turning his gun on himself and his 31-year-old Thai wife Sirinapha Wisetrit.
Later, medical officials said he was in a coma and on a life support ventilator.
Ms Wisetrit was in the hospital when doctors frantically tried to revive the American. She was also being treated for her own injuries.
Pitiful scene as wife held husband's hand surrounded by police in a rural plantation
On Wednesday afternoon at a Sa Kaeo sugar plantation, police who did not fire at the escapees, witnessed a pitiful scene as the young woman held the hands of her drug-dealing husband who exactly two days prior has repeatedly stabbed a Thai police officer at the Pattaya Provincial Court in an unnecessary brutal attack that left the man in a critical condition.
Not going back to prison alive
The message on Wednesday from Bart Allen Helmus was clear. He would die a free man and was not going back to Thai prison. He is reported to have shot his pregnant wife at the same time as himself but she was not as seriously injured.
Ms Sirinapha was taken by police officers into the back of a waiting police pickup and fitfully cried as the unconscious body of her husband was brought out of the plantation. The couple were only 35 km from the border with Cambodia at that point.
Elaborate and sophisticated prison escape
It is also now being revealed that the prison escape was a more elaborate and sophisticated operation than first thought.
Police on Thursday are expected to give details that there were up to 5 vehicles involved in the escape attempt as the three inmates made their way eastwards towards the Cambodian border.
Last vehicle picked up by police at Sa Kaeo
It is understood that a network of accomplices left the cars including a bronze pickup, a white Mitsubishi sedan, a grey Honda sedan and a black Toyota at the different points on the planned escape route in Chonburi province, Prachin Buri province and finally in Sa Kaeo province.
Unfortunately for the three inmates, the black vehicle in Sa Kaeo was intercepted and picked up by Thai police before the escapees reached it forcing them to improvise which led them to make for the border on foot. It was their downfall.
Bart Allen Helmus plagued by a leg injury
It is understood that Mr Helmus while moving on foot, had developed a leg injury which stymied the group in making progress through the agriculture land as they desperately attempted do cross Sa Kaeo. Mr Helmus is understood to have become erratic and frustrated by his injury, the oppressive heat and concern for Ms Sirinapha who was 3 months pregnant.
Thai drug dealer Mr Noi surrenders to police
It is at this point that the Thai drug dealer and escapee Noi Thon Nintet escaped inmate made the decision to surrender. This triggered the end of the escape bid.
Once he was in police custody at 1 pm on Wednesday, a 10km net was spread to capture the American Thai couple which ended at 3 pm with the drama of Mr Helmus shooting himself while also turning the gun on his wife.
Continued investigation into the escape operation
Thai police are continuing their investigation into the dramatic events associated with the escape.
Senior police officers have described Mr Helmus and those who assisted him, including another couple, as a network of small drug dealers.
This was the verdict yesterday from Police Lieutenant General Visanu Prasatthong, an assistant police chief actively involved in the investigation and yesterday's operation.
Who supplied the gun and knife to the inmates? 
What police authorities need to find out is how the now-deceased drug dealer Bart Allen Helmus and the two other escapees managed to have a gun and a knife provided to them on Monday afternoon in Pattaya Court holding cells and how they were able to break out of custody without any serious effort to impede them.
Further reading:
American drug gangster escapes from custody in Pattaya with Thai wife in armed prison break