Police are still carrying out a detailed forensic examination and keeping an open mind but when they entered the bedroom early on Thursday morning the 38-year-old woman had the .38 calibre revolver in her hand and had left a note for her two sons. Locals told police that her 42-year old husband, a local kamnan or headman was successful, very good looking and an upbeat man whose construction business was thriving. They attributed jealousy as the motive for the crime.
Police are investigating what appears to be a murder-suicide in Chachoengsao province in the south-central region of Thailand on Thursday morning where a Thai wife with cancer murdered her handsome and well-loved husband before turning the gun on herself.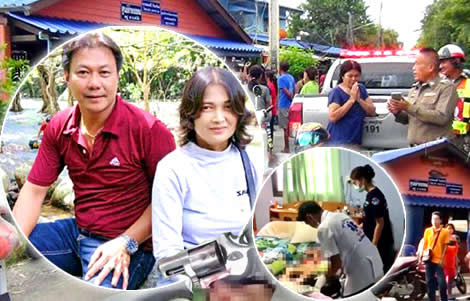 Thai police were called to a heartbreaking scene on Thursday in Chachoengsao at the home of a local kamnam or sub-district leader.
In the bedroom of the house, they found the man's 38-year-old wife with a .38 calibre handgun in her left hand and breathing heavily. She was just expiring as officers entered the bedroom.
Local district leader shot in the head by his wife
Police found next to her the local headman or kamnan who had been shot by his wife in the forehead but was still alive.
He was rushed by medical rescue services to the local Phutthasothon Hospital.
Police Lieutenant Major Jaresak Suwannason got the call to the scene at 7.45 am and reached out to the rescue service to join him at the house in village 16 of the Tha Khai sub-district which is the home of local Kanman 42-year-old Montri Kimaphan.
Large number of onlookers outside the home
When police arrived at the scene, they found a large crowd of onlookers surrounding the one-storey home.
The alarm had been raised by the couple's 20-year old eldest son who told police he had heard 3 shots although neighbours outside the home say they did not hear the shots and were alerted to the tragedy when the 20-year-old son ran out of the house calling for help.
Full police investigation including forensics
Police are carrying out a full investigation at the scene but initially, it appears that the kamnan was shot and killed by his wife, Pilaiwan Khamdee.
Police were told by the family and locals that Ms Pilaiwan was extremely ill, suffering from a range of ailments including nasopharynx cancer or cancer of the throat for which she was receiving treatment.  
Local Kamnan or leader was extremely popular
Neighbours told police that the local kamnan was very popular in the area and would often hold drinking parties in front of his home.
They speculated that the stress of his wife's illness and a certain amount of jealousy may have stirred her to act as she did.
A handsome man with a happy disposition
The 42-year-old district leader was regarded as a handsome man with a happy disposition and was admired by many in the community.
Locals also pointed out that he also had a thriving construction business which was doing very well at present and even though his wife was ill, he had shown no signs of withdrawing from life.
Murdered by his wife who left a short note for the couple's sons saying their parents could not go on
The woman believed to have committed the murder-suicide left a short note for her two sons.
Her oldest lived at the home with his mother and father while his 18-year-old brother lived in another house with his girlfriend. The note was short and read: 'Mum and dad could not stand it anymore. I was so tired. I am sorry.'
The woman then went on to leave her assets to both sons.
Police still have an open mind
Police, however, are still keeping an open mind and are collecting fingerprints from the scene including the murder weapon found in the deceased woman's hand.
Locals have made up their mind – a Thai wife determined to be her husband's last love
However, local people have made up their mind about exactly what happened early on the morning of the 14th of November.
They say that Thai women are particularly jealous. It is the reverse side of the coin by which they value men and husband's so highly. In fact, it is often said that a Thai woman aims not to be her partner's first love but his last.
This may well have been the motive for murder which saw a successful Thai man's life brought to a premature close on Thursday morning by a woman who loved him so much she could not bear to part with him under any circumstances. 
Further reading:
Sexual jealousy and love rivalry behind horrific murder-suicide act of senior Bangkok policeman
Thai wife murders her younger husband and buries him 3 metres underground in her orchard
Murder of ex cop focuses the light on his love life even though police have cleared his 5 wives as suspects