The 50 year Thai wife assisted police last Tuesday including Deputy National Police Chief General Weerachai Songmetta, recover the body of the local politician, her 46 year old husband. In January, a 55 year old Thai wife murdered her husband's mistress and seriously injured her spouse after attacking them with a Czech semi automatic pistol after they emerged together from his car.
A Thai wife helped Thai police this week locate the body of her younger husband whom she is believed to have murdered sometime in April in a fit of jealousy. It took a team and backhoe hours to finally unearth the body of the local 46 year old politician, buried 3 metres under the ground. It comes as crimes of passion are on the rise in Thailand more often than not involving men as perpetrators but there a growing number of crimes driven by the violent and dark hearts of spurned Thai women.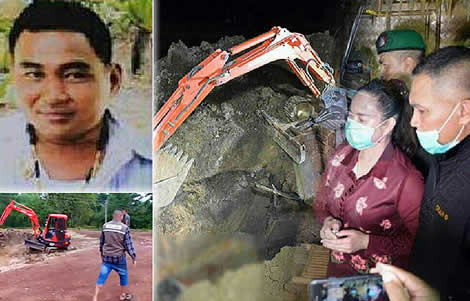 This week saw another story of the black heart that can sometimes lurk in Thai women spurned, ignored or deserted by their love partners. Thai police, led by Deputy National police Chief General Weerachai Songmetta, undertook a grim operation on Tuesday to recover the body of a 46 year old Thai politician murdered by his newly married 50 year old wife some time in early April this year.
Victim was a local politician in Chanthaburi
The 46 year old murder victim was a member of the administration board of tambon Wang Mai in Chanthaburi province in the east of Thailand on the shores of the gulf. The man's name has been revealed as Songsak Phermsuk. His Thai wife, Benjawan Thaijia, has admitted shooting her husband dead in a jealous rage. She later put his body in a plastic sheets, wrapped it up and buried it deep at her durian orchard located in the Tha Mai area of the province.
Thai wife buried husband's body 3 metres down after shooting him in jealous rage
Thai police duly unearthed the grim package on Tuesday after digging down 3 metres down with a backhoe. The murdered man's Thai wife was at hand to confirm the location of the burial site and assist the police in retrieving her dead husband's body.
The media was denied access to the scene although a report and photos were later published online. Police had begun their investigation after the murdered man's son filed a missing person's report in respect of his father on April 15th last.
Crimes of passion are frequent in Thailand where guns are freely available
Crimes of passion are quite frequent in Thailand and more often involve men as the perpetrators. The availability of guns in Thailand both sourced legally and on the black market supported by a criminal underworld contributes greatly to the problem. The unique customs of Thai society make affairs quite widespread despite traditional values which are observed by most but not all Thai men and women.
Thai wife in Lampang guns down love rival and husband with semi automatic pistol
In January last, a Thai woman in Lampang used a sophisticated and deadly Czech made automatic pistol to murder her love rival and seriously injure her husband after her jealous and anger finally got the better of her ability to reason or control herself. Lampang is a large city and province in the centre of Thailand's northern region.
Wife followed her husband and his mistress on her motorbike before attacking them
The incident occurred on January 19th in the Chompoo area at the centre of Lampang city. The 55 year old Thai woman followed her husband on her motorbike for an extended period of time to determine her suspicions and to catch him red handed. She had formed a definite opinion that her husband was involved in an affair with another woman.
Sight of her husband with another woman just too much, a trigger for a jealous Thai wife
The suspicion and jealousy came to a head when the Thai woman observed her husband in his car with another Thai woman, 42 year old Titichada Tanbut, the owner of a busy second hand clothes shop in the area. As her husband 51 year old Anuwat Jaidee emerged from his car with his new girlfriend, she could not control her jealous rage.
Thai woman fired two shots in temper before matters got deadly within seconds
First, she is reported to have fired two shots into the air as a warning and in temper. Then, matters became more deadly. Eye witnesses gave a dramatic account. She had first shot her husband in the ribs and as his body lay prone on the ground, she ran after the younger woman inflicting the fatal wounds on her.  She shot her 42 year old love rival, Titichada Tanbut, in the neck and the back of the head. The younger woman expired on the way to hospital from the deadly injuries inflicted by the Thai wife's pistol. Her husband was removed to intensive care.
Thai wife waited for police to arrested her by drinking beer after her murderous rampage
Thai police, who arrived on the scene with emergency services, found for shell casings from the Ceska Zbrojovka pistol and two bullets near the second hand clothes shop. The 55 year old Thai wife was seated nearby drinking a bottle of beer as she calmly waited to be arrested for her crime. Police took control of the 9mm Česká Zbrojovka Czech manufactured 9mm pistol from her. The semi automatic weapon had just taken one life and destroyed the lives of two other people in a few minutes of violent mayhem.