Thai police investigating the murder of a retired policeman in Nakhon Pathom on Friday believe his murder may have been linked to his money lending activities. The former officer had 5 Thai wives but police have ruled out this as a motive for the killing saying that all knew each other and got along quite well.
Thai police are probing Friday night's murder of a 75 year old ex policemen, west of Bangkok, who had 5 Thai wives. Investigating officers believe Weerachai Jirundorn's love life is not linked to the murder which occurred after one of the wives he was staying with, went out to dinner. They are focusing on the ex cop's money lending activities. The shocking story highlights not only the prevalence of murder Thailand, but Thailand's tradition and custom of men having multiple wives. In 2017, one businessman and local politician in Nakhon Nayok province in Thailand, revealed the secrets to his busy love life. The man, at that point, had 120 Thai wives and 28 children.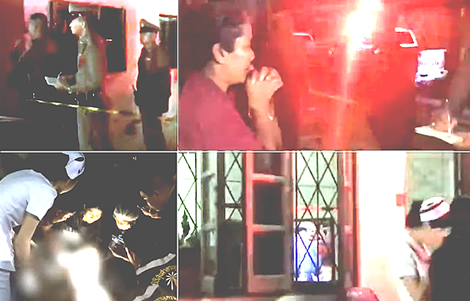 A 75 year old former Thai policeman was found murdered on Friday in Thailand's Nakhon Pathom province about 60 km west of Bangkok in central Thailand. The ex cop was found in a room he was renting which housed one of his Thai wives in the central district of the province.
Wife returned home to find 75 year old ex cop and husband dead from a head wound
Thai police named the man as Weerachai Jirundorn. Police believe that the man was killed inside his room sometime after his 51 year old Thai wife, Pornpen Phayabal, went out for dinner. His wife returned to the home to find her husband had suffered a large wound to his head with marks on his neck suggesting that he had been throttled with a cloth. Police believe that he was hit over the head with a heavy object.
Thai police do not believe man's busy love life is linked to his murder – his wives did not bicker
His Thai wife had asked her husband to join her earlier as she wished to eat out but he preferred to stay in. She had prepared a meal for him and then left. On her return, the meal was as she had left it, undisturbed.
Police Colonel Piradej Charoendej, who commands the Muang area police in Nakhon Pathom, told reporters that the former officer had five wives. He said that each wife financially supported herself. The police chief believes that the motive for the murder is not linked with the 75 year old Weerachai's busy love life. Police believe that the five women were well aware of each other and there was no bickering or arguments between them.
Police following the theory that the killing was linked to former police officer's money lending activities
The police believe the issue that could have lead to the ex officer's death may be linked to money lending. The 75 year old was known to be in the habit of extending loans as is quite common place in Thai society. Police believe that the murder could be related to a falling out between Mr. Jirundorn and one of his borrowers.
By Thai  law, a man can have only one legal wife, this does not prohibit traditional practice
By law in Thailand, it is illegal to have more than one wife. This is taken to mean more than one registered wife under Thailand's marriage laws. This does not preclude men from taking wives under Thailand's traditional customs and codes that have existed for many more years than the marriage law in Thailand.
Custom and tradition allow Thai men to have many wives and it is widely practiced
It is quite common for Thai men, in this way, to have more than one wife. To many Thai men and women, this is a cultural issue. However, there is another group of people in Thailand that pursue monogamy and the strictly legal interpretation of marriage that is the norm in western countries. There is also a differentiation between a mistress which rich Thai men take and the common tradition of Thai men, from all walk of life, having second or multiple wives.
58 year old Thai man and local politician with over 120 wives and 28 children
In 2017, a Thai publication, the Buriram Times, featured a frank and in depth interview with a then 58 year old Thai businessman and construction industry boss who had no less than 120 wives and 28 children. Tambon Prasert from Nakhon Nayok province, about 90 km north east of Bangkok, is also a local politician who has assiduously pursued what he sees as an honorable and traditional course of marrying younger Thai women since he was 17 years of age.
Began marrying beautiful Thai women at 17 years of age, says younger women argue less
He explained his story to reporters. 'My first marriage was when I was 17, my first wife was one or two years younger than me and we had three children. After that I had a string of others. Most of them were young women and they were all under 20. I don't like older ones, they argue too much,' he revealed.
In 2017 interview he was accompanied by his latest wife, a 27 year old beauty by his side
The construction business boss gave his interview with his latest wife, a 27 year old beauty named Nam Fon by his side. The Thai man explained that he was always forthright and honest with his prospective brides telling them he had many other wives and also seeking the proper permission for their parents for the marriage. This would include paying a dowry or Sin Sod as is the tradition in Thailand.
Habit of building homes for his wives has been a success – 'everyone is happy'
One of the reasons for Tambon's apparent success is that his business has required him to move to many different parts of Thailand. In each area, he would build a home for himself and take a new wife with whom to share the new home with him. Since then, the busy husband has often built homes for his wives including finding the land to make it possible. 'If they didn't have their own house I would get them some land and sort everything out for them so everyone was happy,' he explained.