The return of former Prime Minister Thaksin Shinawatra on or before July 26th next, his 74th birthday, would be a sensational and historic moment for Thailand. It is bound to be one that the interim Prime Minister, General Prayut Chan ocha must handle with care and tact. Deputy Prime Minister Wissanu Krea-ngam clarified in recent days that Mr Thaksin faces at least 8 years in prison as some of the cases against him are already finalised and cannot be appealed nor can bail be sought.
Thailand's Prime Minister General Prayut Chan ocha may still have to face a key moment as Prime Minister even if he loses next Sunday's General Election following an announcement earlier in the week that former premier and fugitive from justice Thaksin Shinawatra may be intent on returning to the kingdom to face justice on or before July 26th or before a new government is formed.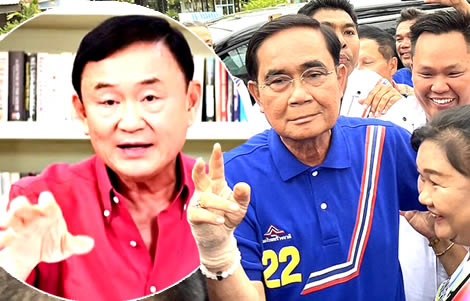 On Friday, Thailand's army chief General Narongpan Jittkaewtae told reporters that the word coup should be removed from their dictionaries while Prime Minister, General Prayut Chan ocha suggested he would leave politics behind him if his United Thai Nation (Ruam Thai Sang Chart) Party failed to win enough seats to form Thailand's next government after Sunday's General Election.
At the same time, Thai officials made the final preparations for the poll in which it is expected that the Pheu Thai and Move Forward parties will emerge victorious.
With many different permutations still possible given the voting influence of the unelected Thai Senate with 250 votes, it will not be clear until Sunday night or even afterwards what sort of government will take shape over the coming months.
Return of Thaksin who is facing over 10 years in jail on or before July 26th next would be a test for the government given his divisiveness as a figure
However, even if Sunday night's outcome forces General Prayut into retirement, he may nevertheless still have to confront one last crisis or critical moment for the kingdom, the growing possibility of a return of ex-Prime Minister and fugitive from justice, Thaksin Shinawatra.
Thailand's ex-premier, on Tuesday, in a dramatic tweet from exile in Dubai, said he would return to the kingdom before July 26th next which is his 74th birthday.
Such an eventuality has the potential to ignite divisions in Thailand at a critical moment in the country's still very fragile democracy under the 2017 Constitution.
In the tweet, with emotional undertones, Mr Thaksin, who is the father of leading Pheu Thai Party prime ministerial nominee Paetongtarn Shinawatra, made it clear that he explicitly intended his return to come during the period before any new government is formed and under the rule of the interim government led by General Prayut Chan ocha.
Thaksin who was ousted in a 2006 coup d'état, spoke as a grandfather, wanted to spend time with his grandchildren but will be faced with a prison cell
The message from Dubai came just over a week after Thaksin welcomed his seventh grandchild, a son born to Ms Paetongtarn or Ung Ing who has been named Thasin or Prujthasin Suksawat.
He is the second child of the 36-year-old and her husband Pitaka Suksawat.
Ms Paetongtarn is one of Pheu Thai's nominees for the role of prime minister in this election.
In his tweet, published on Tuesday at 10.26 am, Mr Thaksin makes his intentions quite clear although he did not explicitly suggest that he was ready to begin serving the 10-year sentence of imprisonment that currently hangs over him in Thailand following convictions which have now been finalised by the courts in relation to corruption, charges which the ex-prime minister who won two General Elections in Thailand before being ousted by a 2006 coup d'état staged by the military, has always claimed were politically motivated.
'Don't worry that I will be a burden for the Pheu Thai Party. I will enter the legal process. On the day I return, the caretaker government of General Prayut Chan ocha would still be where it is. It's all my own decision – with love and attachment to my family, my homeland and our high-up,' he stated.
General Prayut was quite offhand and dismissive on Tuesday as reporters questioned him on his reaction to Mr Thaksin's social media message on Twitter
Reaction to Thaksin's message from Dubai came after a poorly attended cabinet meeting on Tuesday at the Santi Maitri Building or Government House in Bangkok where the cabinet heard a gloomy report on the external outlook for exports and was told that there was still no response from the Election Commission concerning a ฿10.46 billion subsidy to cushion the impact of sky high electricity costs in Thailand caused by record high temperatures and price hikes.
After the meeting, General Prayut made it clear that the matter was both in the hands of Mr Thaksin himself and the judicial process.
'It's up to him and the judicial procedures,' General Prayut replied when asked to comment.
Asked whether Thaksin's tweet was sending a signal to General Prayut, seeking a deal, he said. 'Did he send a signal via air? I didn't receive any signal.'
Then asked if he could decipher some reason or motive for this announcement which is coming just days before the General Election, the PM was equally offhand. 'You asked this question, so you answer it.'
Government's legal eagle was quite explicit. Thaksin must be lodged in a state-run prison and has to serve over 8 years behind bars before a pardon
Deputy Prime Minister and cabinet legal specialist Wissanu Krea-ngam then gave the press some of his insight into the situation.
He made it clear that by entering the 'judicial process' Mr Thaksin would have to be incarcerated in a government-run prison pursuant to his convictions before the courts.
He said that as the cases were finalised there was no question of bail.
He also dismissed speculation linked with former Minister of Justice Somsak Thepsutin that Mr Thaksin could be imprisoned at home.
Mr Wissanu said that, as yet, Mr Somsak's proposals in this regard while serving as a minister were only policies and that there was no legal alternative for a prisoner serving a prison sentence but to be placed in a state-run prison.
'Inmates must be sent to state detention facilities and they cannot be placed under house arrest,' he explained.
Some legal cases facing the former PM are still not decided while others were finalised with no possibility of bail or appeal said Deputy PM Wissanu 
He said that there were three types of cases linked with the former premier.
Cases where he had been convicted and sentenced, cases which were still before the courts and cases where he had been acquitted.
All would have to pursue their proper legal course.
The deputy prime minister also addressed the prospect of Mr Thaksin receiving a royal pardon by first of all pointing out that this was something to be decided elsewhere.
However, in respect of any possibility of pardon, a prisoner would have to have served a minimum of eight years or a third of his sentence to be eligible for one.
Return of Thaksin to Thailand would be a sensational moment in the country's history if it comes between now and July 26th as he indicated this week
The return of Thaksin Shinawatra, if it does come in July, would be a sensational moment for Thailand and would also come in the aftermath of the May 14th election which looks like it will throw up the likelihood of a coalition government formed by both the Pheu Thai and Move Forward parties.
However, nothing in Thai politics is ever certain with concern about the transparency of this Sunday's election, growing scrutiny of the Move Forward and Pheu Thai parties and dark warnings from the Prime Minister's United Thai Nation (Ruam Thai Sang Chart) Party of the danger of further political turmoil in Thailand.
Further reading:
Dark predictions as the opposition parties look set to sweep to power in next weekend's General Election
Move Forward Party surging in the polls as the General Election campaign enters its final week
PM warns giveaway policies of some parties may be 'bad karma' for the country in the longer run
Leader of PM's UTN tells rally a government led by his party will 'get tough' with nation haters
Deputy Prime Minister Prawit Wongsuwan warns that those in power who support coups still exist
Whip hand with Pheu Thai to secure power in this year's General Election despite Senate's waning power
Pheu Thai knocks Palang Pracharat Party coalition talk on the head with more bad news for Prawit
Corruption and the role of the unelected Senate in electing the next PM to be General Election issues
Prayut to make his move for a third term but is the battle for power already lost to Pheu Thai?
PM and Ung Ing to do battle in 2023 for the top job with public debt and the economy as key issues
PM upholds status quo as he seeks a path back to power with the help of the Bhumjaithai Party
3 out 4 believe that Pheu Thai will take power in 2023 with a third Shinawatra taking the reins
Court decision on electoral law is a big boost for Pheu Thai Party as Prayut remains tight-lipped
Pheu Thai looking at property developer tycoon Srettha for PM role after next General Election
Possible Pheu Thai PM Paetongtarn Shinawatra promises a new society where everyone is secure
Drugs to be an election issue as Anutin digs in insisting that attitudes must change on cannabis
Senator warns that Paetongtarn Shinawatra or Ung Ing, Thaksin's daughter, is wrong for the job
Legal pot does not appear to be working for Anutin's Bhumjaithai Party in latest opinion poll
New Shinawatra may lead the next quest for power as Pheu Thai Party aims for 14 million members