A top Thai official sees stronger links between China and cooperation between Thai and Chinese entrepreneurs as critical to the future industrial development of the kingdom as he rolled out the red carpet for Shanghai's mayor.
Thailand and China are to forge closer links as the country's Board of Investment (BOI) last week announced plans to work with the City of Shanghai to build closer links under China's Belt and Road initiative, in particular better transport links and synergies between Bangkok and the commercial capital of the People's Republic.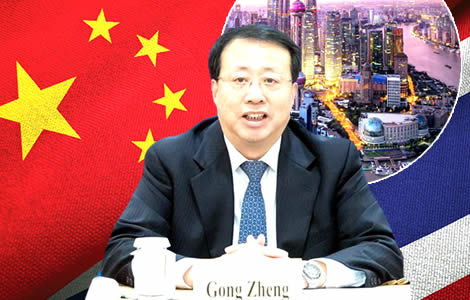 The Secretary-general of the Board of Investment (BOI) Mr Narit Therdsateerasak has announced that his agency will be working closely with the City of Shanghai in promoting closer integration between Thailand and China's leading commercial centre as part of the Chinese government's Belt and Road Initiative (BRI) while also encouraging businesses to take advantage of the Regional Comprehensive Economic Partnership (RCEP) free trade area which is reportedly the largest in the world and which China and Thailand are part of.
Shanghai, on China's eastern coast, is one of the three most populous cities in the world with nearly 25 million people.
Like Bangkok with a metropolitan population of 14 million, the city is a major commercial and financial centre of long-standing at the heart of Chinese economic expansion.
Mayor of Shanghai in Bangkok to promote investment in the Chinese commercial capital and its special economic trading zone aimed at advanced industries
The announcement came as the Mayor of Shanghai, Mr Gong Zheng, visited Bangkok to promote the Chinese city and the adjacent Lingang Special Area which is an economic development zone specialising in modern industries such as digital ventures, health and medical devices as well as electronics and electric cars.
The Chinese mayor was also promoting an event to be held in his city themed 'Invest in Shanghai, Share the Future' which the Board of Investment (BOI) sees as a meeting point for Thai and Chinese entrepreneurs and industrialists looking to forge closer cooperation.
Mr Narit appeared enthusiastic about the possibilities that a tie-up between Shanghai and Bangkok might hold if connectivity such as rail links and other improved transportation projects between the two cities are brought to fruition.
Top Thai official says Thailand's proximity to China and its centrality to the ASEAN community make it a strong base for expanding Chinese firms
His theme was that Thailand with its centrality to the ASEAN community and its proximity to China stands to benefit from improved infrastructure projects and links between the two countries.
He also held out the prospect of links and closer cooperation between the government's flagship Eastern Economic Corridor (EEC) project in the eastern provinces and the Chinese development project in Shanghai.
He explained: 'The location of Thailand in the heart of ASEAN near China with an efficient transportation system that would connect with countries in the region. That would lead to a present supply of quality infrastructure and industrial estates, especially in the Eastern Special Development Zone (EEC), which in the future may be linked to the Lingang Special Area of ​​Shanghai. In addition, Thailand has strength in the industry to support qualified personnel. We also offer government support measures and benefits while Thailand also has good relations with other countries.'
China is Thailand's biggest trade partner and has now become, also, its largest investor representing 18% of funds pledged last year across seven projects
The government agency official highlighted that China is Thailand's main trading partner accounting for 17% of total trade volume and now also the country's largest inward investor at 18%.
Investment pledges in 2022 were worth $129 billion with China pledging $10.99 billion across 7 projects while Japan pledged $8.545 billion across 25 projects.
By comparison, the United States pledged $3.2 billion across 13 projects.
Mr Narit says that the level of investment from China in the last ten years had grown exponentially making the People's Republic critically important to the Thai economy.
Further reading:
Thailand turns to China in 2023 for GDP growth in a world buffeted in real-time by raw geopolitics
Thai economy up against it in 2023 despite the hype and hoopla over Chinese tourists returning
Economic chiefs promise a brighter 2023 for Thai people despite the more gloomy world outlook for the year
War erupts over Pheu Thai's ฿600 minimum wage plan with the economy as the key election issue
Even as the baht surges, Thailand faces economic recession in mid-2023 with lower earnings
Soaring baht as the Thai economic spirit rises with one of the world's lowest levels of inflation
Finance Ministry unveils green bonds as it seeks ฿900 billion for investment over four years
Thailand feels the pinch of lower tourism earnings as second ex-minister queries economic data
Former minister questions export growth data as Bank of Thailand plans to rein in consumer loans
Warning to central bank to preserve Thai foreign exchange reserves for a brewing 2023 economic storm
Baht slide continues as Bank of Thailand sticks to its dovish and soft approach to interest rates
Choppy waters for the economy as central bank tries to cling to its benign interest rate policy
Prawit stuns the cabinet demanding a ฿35 to the dollar rate and action from the Finance Minister to stop the slide