The use of Thailand's defamation laws which include both civil court and criminal court proceedings, by those accused of wrongdoing even when facing court arrest warrants for serious criminal charges or those seeking to subdue public debate, is a disturbing legal trend in Thailand. 
An activist who helped coordinate public demands for police action into the alleged serial killer Am Cyanide or Ms Sararat Rangsiwutthaporn has been served with defamation proceedings in an action taken by the jailed suspected killer from behind bars in a Bangkok prison. On Tuesday, he told reporters that he was not concerned about the legal proceedings as he relied on the evidence to be laid before the court after 15 arrest warrants against the woman accused of using cyanide to poison her victims since 2015. In another development, police have confirmed that they are waiting to interview the former lawyer of the accused, Ms Thannicha Ek Suwanwa after a summons was issued for her in connection with charges of helping to conceal evidence in the case.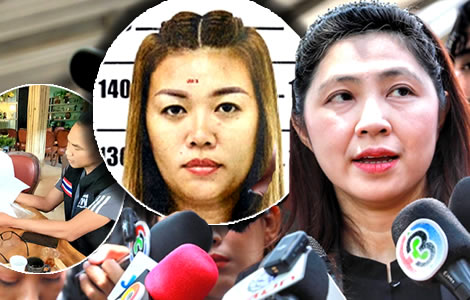 The former lawyer for Ms Sararat or Am Cyanide, Ms Thannicha Ek Suwanwa has been served with a summons to appear before investigators looking into allegations that she may have committed an offence under Section 184 of Thailand's Criminal Code.
Section 184 refers to concealing evidence to evade rightful punishment under the law. It carries a penalty of up to 5 years imprisonment and a fine not exceeding ฿10,000.
'Whoever, in order to help the other person not to be punished, damages, destroys, conceals, makes away evidence in the commission of an offence, shall be liable to a prison term not exceeding five years or a fine not exceeding ten thousand baht,' the provision reads.
Court declined arrest warrant request on Monday for an unidentified woman reported to be close to the suspected serial killer based on fairness
On Monday, in an awaited development in the case, a request was made by General Surachate Hakparn, the leader of the police task force in the case to the Criminal Court seeking an arrest warrant for a woman in connection with the investigation reported as being close to Ms Sararat Rangsiwutthaporn or Am Cyanide.
The request was denied by the court which advised the police to summon the individual to hear the charges to be put before them instead, based on fairness to the defendant.
It is being reported that Ms Thannicha has already acknowledged the summons and has arranged an appointment to meet with police working with the Crime Suppression Division (CSD) to give a statement on the matter.
Activist sued for defamation by alleged killer, a key figure in pushing public demands for police action in April after a sudden death in Ratchaburi
A the same time, Mr Rapee Chamnanrua, a key coordinator among victims in the web of cyanide poisonings has confirmed that he is facing a lawsuit for defamation filed by a lawyer on behalf of Ms Sararat Rangsiwutthaporn or Am Cyanide, the suspected serial killer, for his activities in exposing what could turn out to be one of Thailand's biggest serial killing sprees.
Mr Rapee played a key role in calling for urgent police intervention after public unease over the activities of Ms Sararat arose in April.
Mr Rapee, it is understood, was involved in first raising suspicions about the death of the last victim, Ms Siriporn Khanwong or Koi in April during the Songkran Holidays in Ratchaburi province which sparked a chain reaction of developments and revelations by police once a task force was appointed by National Police Commissioner General Damrongsak Kittiprapas led by General Surachate Hakparn.
Am Cyanide held in Bangkok women's prison
Ms Sararat is currently being held at the Central Women's Correctional Institution in Bangkok after the court denied her bail and is facing multiple charges of premeditated murder.
She is reported to be a popular inmate at the women's prison
The case was filed by the accused through her lawyer on May 20th last and an appearance must be made on June 1st before the Criminal Court.
Mr Rapee appeared sanguine on Monday as he spoke about the unexpected legal twist.
Defendant in defamation action is sanguine about his chances in court given the overwhelming and comprehensive nature of police evidence in the affair
He said that the arrest warrants executed by the police and the evidence in the case speak for themselves while what he had said and done was undertaken purely in the public interest.
'There is nothing to worry about. What we say is in the public interest. And is the source of 15 arrest warrants, which is true. And the witnesses are the police who took the accused that day. Take it to see the place mentioned. And finally, the accused admitted to me that Ms Koi had taken the things and did not visit her friend's house. She was the one who took the things and went to the trash until finally came to find that the bag was not abandoned. This is where I come from,' he said on Monday, speaking with reporters concerning the start of what has turned into a huge, nationwide murder investigation going back to 2015.
He said that the iPhone belonging to the last victim and her bag for it had still to be found and remains hidden to this day.
Despite this, however, the evidence in the case against the accused continues to build.
He thanked the media and the public who have pushed for the case to be exposed and the task force led by General Surachate seeking to uphold the law and pursue justice.
Use of defamation laws to silence media coverage or cool public interest in matters linked to the pursuit of justice and public debate is concerning
'Actually, Koi's case is not of any concern. I believe that the team of police officers has gathered evidence which is quite complete. It's just filling it up more completely than before. It must clear all doubts, that of both society and the courts,' Mr Rapee said.
The use of Thailand's defamation laws which allow for both criminal and civil action is a growing concern in the kingdom as it is being deployed by those involved in criminality to ward off whistleblowers and witnesses to wrongdoing or to subdue public debate and commentary on issues that should be exposed in the public interest.
In recent times, Mr Chuwit Kamolvisit, the whistleblower, has faced defamation proceedings from various parties over his exposés of corruption in the Royal Thai Police and government agencies while the Move Forward Party's Rangsiman Rome was recently sued by a sitting senator who is facing indictment by the Office of the Attorney-General (OAG) on money laundering charges.
Activist Chuwit Kamolvisit still faces Bhumjaithai Party defamation proceedings in court over his anti-marijuana campaign during the General Election
Mr Chuwit is also facing civil defamation proceedings for damages in a case launched by the Bhumjaithai Party over his campaign against it relating to the legalisation of cannabis for the potential financial losses caused to its electoral campaign and prospects which is due to come before the courts again in June.
The party went on to win 70 seats in the May 14th General Election which many analysts saw as a vindication of its position on the issue and a rejection of Mr Chuwit's anti-cannabis crusade against it by the voting public.
Thai courts have, in recent years, indicated that such actions are, however, likely to fail based on free speech rights under the 2017 Constitution and indeed attempts to injunct Mr Chuwit to silence his stinging criticism during the election campaign at the request of Bhumjaithai Party officials, failed.
In Thailand, defamation proceedings can be pursued as a criminal matter or a civil matter.
In the former, the defendant may be obliged to post bail and could be subject to onerous restrictions by the court such as having to seek permission to travel, while the legal process plays out while the latter is not unlike typical Western legal actions outside Europe except trials are conducted according to the Thai justice system which is quite different to typical western legal action based on English common law and an adversarial system.
Further reading:
Am Cyanide touched by the evil of online gambling sites where she lost as much as ฿1 million a day
Alleged cyanide killer's lawyer off the case as police and key witness meet Am Cyanide in prison on Saturday
Am's ex police officer husband bailed, visits her in jail, wants her to confess to the serial poisoning murders
Police to arrest serial killer suspect's husband, 10 more charges for gambling addict 'Am Cyanide'
Thailand's biggest serial killer suspect legally protected from the death penalty as horror grows
Damning evidence mounts against what police now believe to be a prolific cyanide serial killer
Mother of murdered woman at the hands of a suspected serial killer calls for the death penalty to be meted out
Killer sentenced to death for the 2nd time for the murder of a woman 7 months after being paroled
Sadistic rapist, drug dealer and serial murderer is sentenced to life in prison by Thon Buri court
Scotswoman to appeal dropping of death sentence on brother in law and two hired hitmen by court in Phrae
Death sentence for murderous trio who executed a loving Thai wife and her UK husband in Phrae
Death sentence imposed on school boss who murdered a 2-year-old boy in a gold shop robbery in January
School director pleads guilty in court to murder and other charges after Lopburi shopping centre massacre
Master of lies and death, the gold shop killer's life, actions and motives probed by police as wife flees
Lopburi child killer is a primary school director who murdered 3 people this month just for kicks
Mum's heartbreak after 2 year old's murder as police now know the identity of the cruel and evil killer
93% of Thai people want to see the death penalty put to use to curb shocking murders and drug gangs