Political pundits this week however disagreed with Mr Chuwit's assessment suggesting that the party may return anywhere from 60 to 70 MPs and be a possible player in a coalition government arrangement with either the Pheu Thai Party or an alternative minority government led by either General Prayut Chan ocha and General Prawit Wongsuwan. 
The Bhumjaithai Party, on Thursday, was refused a civil court order compelling Mr Chuwit Kamolvisit from campaigning near its election rallies in the coming days leading up to the General Election. The decision came after the activist was targeted three times this week with a criminal and civil case for defamation being lodged in court against him and a complaint made by former media mogul Mr Sonthi Limthongkul to the National Anti-Corruption Commission (NACC) over Mr Chuwit's Bangkok property holdings. Nevertheless, the defendant, an outspoken critic of the Bhumjaithai Party and its controversial marijuana policy, continued his campaign and crusade on the streets and predicted that Bhumjaithai will come out of the General Election with fewer seats than it won in 2019 and that it would be removed from government.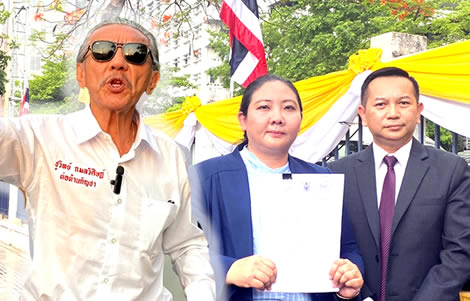 Lawyers acting on behalf of the Bhumjaithai Party, on Thursday, were unsuccessful before the Civil Court in Bangkok as it rejected a request for an order or injunction prohibiting Mr Chuwit Kamolvisit, the subject of a lawsuit seeking damages for defamation, from campaigning near the party's rallies or events in Bangkok in the runup up to next Sunday's General Election.
The court ruled that such activities were protected by Section 25 of the Constitution which protects the right to protest, peaceful assembly and freedom of expression without impinging on others.
Court told lawyers for Bhumjaithai Party that any potential interference in events would be a criminal offence and could be responded to by the police
The court further opined that any action taken by Mr Chuwit, if it caused a disturbance or interfered with the Bhumjaithai Party's rally activities would potentially constitute a criminal offence which would warrant police action.
The court set July 3rd as a date to hear witnesses in the defamation action lodged with it on behalf of the Bhumjaithai Party against Mr Chuwit.
On Wednesday, the Bhumjaithai Party launched what will now be a fourth legal attack on the party's arch critic Mr Chuwit when two lawyers representing candidates for Bhumjaithai in 400 constituencies across the kingdom lodged the ฿100 million claim for damages with the civil court in Bangkok alleging that Mr Chuwit's campaign targeting the coalition government party's controversial policy on marijuana legalisation had cost it severely in terms of popularity.
Damages being sought for loss of support caused by Mr Chuwit's political campaigning with each candidate spending ฿1.9 million in their constituency
The damages were reportedly based on an estimated cost of ฿1.9 million per constituency and the proportion lost or cancelled because of Mr Chuwit's personal campaign launched in early April which he described as a crusade against marijuana and the Bhumjaithai Party.
The case and others like it highlights the use of Thailand's unique defamation laws by parties and individuals to limit or stifle constitutional rights on free speech where they are considered defamatory to the plaintiff.
Free speech rights have been upheld by the courts in recent years even under the 2017 Constitution with those taking such actions including the government, arguing that the consequences of free speech must also be noted and taken into account.
Similar cases have, in the past, been successful in the shorter term such as a civil case against human rights activist Andy Hall which was upheld by two Thai appeal courts in 2018 and 2019 who ordered the defendant to pay ฿10 million in damages.
Case shows the use of Thai defamation laws against unwanted criticism on the basis that inaccurate or distorted information damages the plaintiff
Mr Hall was initially sued for civil defamation by a fruit firm after campaigning for better working conditions for the firm's workers and drawing public attention to the cause.
The basis for such legal cases is that the information used by those campaigning is either inaccurate, vexatious or 'distorted' thus causing financial injury or hardship to the plaintiff.
The decision and award were subsequently overturned and dismissed by the Supreme Court in Bangkok in June 2020, a decision welcomed by the media and human rights activists in Thailand.
Earlier in the week, Mr Chuwit told reporters that the Bhumjaithai Party will be lucky in this election to get anything like the same number of seats, 51, in Sunday's General Election as it did in 2019.
Chuwit's prediction not in line with political experts who predicted, on Thursday, that Bhumjaithai will return between 60 and 70 MPs to parliament
His estimation of the party's support is, however, at odds with political experts who on Thursday, interviewed by the Bangkok Post, all suggested that despite the loss of popularity because of the marijuana issue, it would return to the House of Representatives with between 60 and 70 MPs.
These same pundits suggested that Pheu Thai may opt for the Bhumjaithai Party over the Move Forward Party to form a coalition of the centre while either General Prayut Chan ocha or General Prawit Wongsuwan may approach the party to form a minority government with the support of the Senate which would later reach out to attain the support it needs in parliament.
Chuwit, on Thursday, predicted, in fact, it would be much lower and compared this to confident soundings by party bigwigs and the media supporters of the Bhumjaithai Party suggesting it would bag 120 seats and even proclaiming Mr Anutin Charnvirakul in pole position to become the next Prime Minister after General Prayut Chan ocha will be forced to relinquish power in 2025 even if, as seems now highly unlikely, he retains power after the election.
Criminal action for defamation against Chuwit on Monday on the basis of Section 73 of the Election Act by another lawyer following the first case in April
These high hopes have faded with consistent opinion polls showing the party's support at a far lower ebb.
The legal action on Wednesday followed moves earlier in the week by another lawyer acting for party registrar Supachai Jaismut who brought a criminal action in the courts also against Mr Chuwit for his campaign against the Bhumjaithai Party.
The later civil action was filed by lawyers Natchanikarn Ketkhamkhwa and Pichai Iem-on.
The plaintiffs had sought an injunction against Mr Chuwit for campaigning at or near rallies or campaign events conducted by the Bhumjaithai Party between now and Sunday's election.
In April, following another civil case lodged on behalf of Mr Supachai in court, a short-lived injunction was granted compelling Mr Chuwit not to speak out about the Bhumjaithai Party or its controversial marijuana policy but this was quickly rescinded on constitutional free speech grounds.
Chuwit has campaigned all over Thailand against the Bhumjaithai Party and its controversial marijuana policy after launching his campaign in early April
This led to Mr Chuwit taking his campaign around Thailand.
He even canvassed near Prime Minister Prayut Chan ocha at one point in Bangkok's Chinatown causing the government leader to take his leave of the area and reportedly putting him in what looked like an unhappy mood although General Paryut denied this was the cause later.
The political calculation that the legalisation of cannabis or marijuana would be a vote-winner for the Bhumjaithai Party in this year's General Election has backfired on it leading the party to vehemently deny any support for the wholesale recreational use of the drug which has been the result of its decriminalisation by order of Minister of Public Health and Bhumjaithai Party leader Anutin Charnvirakul in June 2022.
At the same time, Bhumjaithai Party spokespeople have repeatedly blamed parliament for failing to pass legislation to control the drug but this occurred because MPs from other parties considered the bill proposed to be ineffective in that it failed to criminalise the recreational use of cannabis outright thereby denying direct and effective police control over the drug which had been previously enforced.
The decision on the latest injunction sought by the Bhumjaithai Party was handed down on Thursday afternoon. 
Criminal case against Chuwit to be heard on June 26th
On Monday last, another lawyer acting for Bhumjaithai and party registrar Mr Supachai Jaismut filed criminal proceedings without seeking damages against Mr Chuwit under Section 73 of the law for electing MPs.
The criminal case is to have a preliminary hearing on June 26th next. 
In a third development this week, Mr Sonthi Limthongkul, a former media mogul and political activist who served prison time with Mr Chuwit some years ago, has petitioned the National Anti-Corruption Commission (NACC) to investigate land holdings held by Mr Chuwit in the Sukhumvit area of Bangkok.
Mr Chuwit's response this week was typical.
Chuwit cycled in Bangkok this week targeting the Bhumjaithai Party and teamed up with the Democrat Party candidate in Bang Khae-Nong Khaem
He continued to cycle in key Bangkok constituencies with his advertising against the Bhumjaithai Party and its policy on marijuana while holding a large Thai flag.
At one point, he met the Democrat Party candidate for parliament in the Bang Khae-Nong Khaem district, Mr Watchara Petchthong, who wholeheartedly agreed with Mr Chuwit's stance on the issue leading to the former massage parlour tycoon and highly successful whistleblower activist campaigning for the candidate in the area on a bus top.
Last year, in parliament, the Democrat Party led the revolt against the cannabis bill and was subsequently joined by the opposition parties and other government MPs to defeat it on the basis that the bill was soft on possible recreational use of the drug and not fit for purpose.
Further reading:
Dispirited Prayut exits stage left after Chuwit addressed him by megaphone on new liberal cannabis policy
PM warns giveaway policies of some parties may be 'bad karma' for the country in the longer run
Dirty tricks feared by Pheu Thai, the Election Commission urged to probe Maha Sarakham vote-buying reports
Pheu Thai's ฿10k digital economic stimulus for all under fire as Election Commission opens probe into it
Srettha eyes top job and defends ฿10k spending wallet for over 16s just unveiled as a Pheu Thai policy
Polls show advantage still with the opposition and that Pheu Thai is on course for government reins
Bad week on the campaign trail for General Prayut as a lack of public enthusiasm makes itself known
Social welfare scheme sees millions signed up for monthly handouts and easy access to small loans
Ung Ing says Prawit is better liked than PM Prayut with reports of the return of key ex-ministers
Whip hand with Pheu Thai to secure power in this year's General Election despite Senate's waning power
Prayut to make his move for a third term but is the battle for power already lost to Pheu Thai?
PM upholds status quo as he seeks a path back to power with the help of the Bhumjaithai Party
3 out 4 believe that Pheu Thai will take power in 2023 with a third Shinawatra taking the reins
Court decision on electoral law is a big boost for Pheu Thai Party as Prayut remains tight-lipped
Possible Pheu Thai PM Paetongtarn Shinawatra promises a new society where everyone is secure