Business tycoon turned politician, Srettha Thavisin, briefed investors in Bangkok about the current political situation as capital and investment flow out of the kingdom due to rising political uncertainty as the May 14th General Election result becomes embroiled in controversy due to the extremely onerous nature and complexity of the country's electoral system.
Pheu Thai Party Prime Ministerial nominee, Srettha Thavisin, this week tried to sound positive about the current anxiety sweeping the business sector over the murky political situation and growing doubts about the May 14th General Election result. Mr Srettha said he was confident that if a government led by Move Forward Party leader Pita Limjaroenrat is installed in August, it would lead to a return of investment and capital to Thailand as money continues to flow out of the kingdom.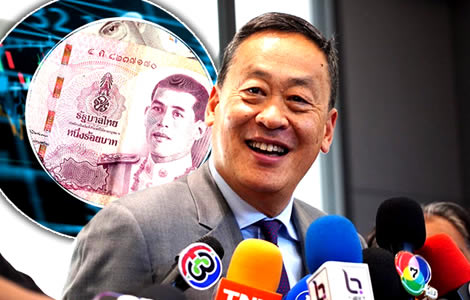 Key Pheu Thai Party leader Srettha Thavisin, a former property tycoon and business empire builder, on Wednesday, told reporters that he was aware of international business enterprises that would like to move plants and production to Thailand but are put off, for now, by the delay, in the aftermath of the May 14th General Election, in clarity emerging as to the nature and substance of Thailand's next government which is expected to be elected by parliament in August.
This comes as business and industry leaders continue to warn that rising uncertainty and controversy linked with the political future of Move Forward Party leader Mr Pita Limjaroenrat is impacting business confidence along with other factors.
Business sentiment is in freefall due to other factors also such as a fall in exports, the threat of a higher minimum wage promised by Move Forward 
On Wednesday, the Federation of Thai Industries (FTI) announced that its industrial sentiment index had fallen for the second month in a row from 95 to 92.5.
Commenting on this news, Chairman Mr Kriengkrai Thiennukul, said business was being impacted by a slowdown in world trade and economic activity while also being hampered by volatility relating to the Thai baht.
The baht has lost approximately 3% of its value against the US dollar since the General Election.
Mr Kriengkrai also points to the future trend of industrial confidence suggesting three months of uncertainty ahead with key concerns being the potential for political instability and then, even if a government emerges, there is also apprehension over the stated policy objective of Move Forward to raise the minimum wage to ฿450 within 100 days of a new government taking office.
Political stalemate feared in August, in just two months, unless the way is cleared for a government led by Pita Limjaroenrat but uncertainty may remain
However, there are fears of a political stalemate if Mr Pita and the eight-party coalition including Pheu Thai, which has signed a Memorandum of Understanding to form a Move Forward Party-led government, fails to garner 376 votes in parliament for his candidacy as Prime Minister despite the bloc controlling 62% of MPs in the lower house based on provisional results and having received 75% of the national vote as part the party list ballot system.
The controversy swirling around Mr Pita's role as an executor of his father's estate and the ownership of shares in the defunct TV media enterprise iTV is further muddying the waters and looks like it is destined to be decided by the Constitutional Court.
That may happen after the government is formed and therefore will continue to be a threat, potentially undermining its stability. 
Deputy Prime Minister Wissanu Krea-ngam highlights the potential for uncertainty and the unpredictable nature of past court decisions 
This is heightened given the unpredictability of court decisions as acknowledged by the caretaker government's legal eagle Deputy Prime Minister Wissanu Krea-ngam, on Tuesday.
The country's political future is uncertain as elected politicians negotiate the legal minefield created by the National Council for Peace and Order (NCPO), the former junta, through the 2017 Constitution and the country's demanding political laws enacted to curb corruption and the influence of any one person or populist politics over the country's political affairs.
On Wednesday, speaking to a conference for investors at an event organised in Bangkok by CLSA Securities Thailand and attended by over 100 executives linked with 80 wealth funds, Mr Srettha was adamant that only a government formed from the winning coalition and headed by Mr Pita Limjaroenrat can head off a political crisis in Thailand.
He said that this was necessary to arrest the current outflow of capital from Thailand including money being diverted offshore from the Stock Exchange of Thailand (SET) and most importantly, the country's bond market.
Political certainty required to kickstart inward investment and job creation says Pheu Thai's Srettha Thavisin, firms are waiting to invest in Thailand
The former businessman who shifted over into politics just months before the General Election, told his audience that if this happened, the country would again begin to attract inward investment.
He told gathered investment executives that their attendance at the conference, in itself, was a testament to their confidence in Thailand.
Speaking to reporters afterwards, he said that he would not describe his disposition as one where he was worried about what will happen but would rather emphasise the potential upturn for the economy if the new government comes to power.
At the same time, he expressed tiredness and frustration at the increasing number of factors now coming into play which are impacting the election's outcome and could yet frustrate the goal of a peaceful transition to a new government.
The veteran businessman said it was also important for Mr Pita to have a complete understanding of Thailand's economy before taking up the job in August as Prime Minister.
He said the new prime minister could be a key player in helping to attract more investment into Thailand.
He wanted to see matters moving forward faster and with more certainty.
Pheu Thai leader to brief business leaders in the provinces as the Election Commission lists 79 MPs provisionally elected who are facing investigation
His comments came as the Election Commission, on Wednesday, appeared to raise further doubt over the poll's outcome when it revealed that 79 MPs were being examined related to complaints made against them and other anomalies.
The coalition partners are reported to be not overly concerned about this given that 41 of these MPs are from parties relating to the existing government or those who would potentially oppose the election of Mr Pita as Prime Minister. 
Mr Srettha said he was working closely with top officials within the Pheu Thai Party which is engaged in negotiating the new administration's outline and programme for government.
He revealed that he was planning on visiting provinces throughout Thailand in the coming weeks to brief small entrepreneurs and business people on the current situation in the aftermath of the General Election.
Further reading:
79 new MPs face scrutiny as Election Commission says only 321 to be declared elected on June 21st
Way cleared for Pita's election as PM but seeds sown for political conflict with criminal probe under poll law
Dangerous political flux in the aftermath of the General Election is growing and poses a threat
Pita shares cast a pall over historic May 14th Election, fears that the results may be nullified by a court
Compromise mooted between Pheu Thai and Move Forward on House Speaker job before key meeting
Kooky Palang Pracharat reports rejected on Tuesday by Prawit as Pheu Thai stands by Pita for PM
Move Forward's 'Government of Hope' coalition delivers a programme promising a new charter
Jatuporn warns Pheu Thai may be turned as he predicts a political impasse. Should wait for 2024
Election vote for Move Forward may have been a cry for help from voters mired in short-term debt
Pita, Move Forward and eight other parties meet in Bangkok and come out smiling, ready to govern
Pita plots a new coalition government with Pheu Thai but open conflict has already raised its head in the Senate
Move Forward Party's good election result leaves uncertainty as to who will form the government
Move Forward leader denies claims he held shares in media company barring him as a Bangkok MP
Move Forward Party surging in the polls as the General Election campaign enters its final week
PM warns giveaway policies of some parties may be 'bad karma' for the country in the longer run
Leader of PM's UTN tells rally a government led by his party will 'get tough' with nation haters