The government is working with Israeli authorities to provide replacement and reserve passports to a growing number of Thais in Israel who want to return after witnessing the terror unleashed by Hamas in southern Israel on Saturday, October 7th. The repatriation operation is to be completed by early November. 
As more Thais are found dead in Israel, the Israeli government has announced compensation packages for the wives and families of the deceased and support payments for those injured. Wives will receive ฿35,000 a month, with child support for those under 18 being paid at ฿10,000 to ฿11,000 per month. The Thai Embassy in Tel Aviv is currently working with Israeli authorities as Prime Minister Srettha Thavisin has talked about boosting repatriation efforts by hiring an Airbus A380 aircraft in addition to Royal Thai Air Force flights and chartered flights from Thailand's airlines. On Sunday, 90 people were received by officials at Utapao Airport, and a further 137 were due at Don Mueang Airport on Monday, with 7,446 now wishing to be repatriated, and this number is expected to grow further along with the death toll, now at 28.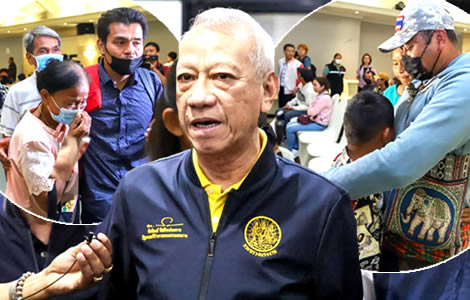 On Sunday, the Minister of Labour, Mr Phiphat, revealed that the death toll for Thai workers in Israel had risen to 28 after the horrific invasion of the southern part of the country by Hamas terrorists from Gaza on October 7th.
Phiphat Ratchakitprakarn spoke at the SC Park Hotel in the Wang Thong Lang district of Bangkok after 90 Thai workers arrived home at Utapao Airport on Sunday morning.
More and more Thais working in Israel are opting to return as the threat of broader conflagration rises. PM Srettha Thavisin impatient to finish the job
The number of Thai workers who have requested repatriation has exceeded 7,446, with the government trying desperately to increase the number of flights, including using Royal Thai Air Force aircraft and charter flights provided by Thai Airways, Nok Air and Thai Air Asia, among others. 
On Sunday, Prime Minister Srettha Thavisin announced plans to charter an A380 Airbus jetliner to complete the government's repatriation of stricken Thais caught up in the conflict.
The PM expressed concern and promised that the government would redouble its efforts to provide the necessary flights with a plan in the pipeline to repatriate 400 people a day from next week.
Number of Thai dead rising, with the latest figure at 28, and this may not yet be definitive with intelligence still being collected from the murder zone
The number of Thai dead in the terrorist invasion is rising as officials with the Thai Embassy in Tel Aviv, including attachés from the Labour Ministry, are in constant contact with officials of the Israeli government, which is still restoring order in southern Gaza.
This part of Israel was the murder zone into which up to 2,000 armed Hamas fighters flooded on the morning of October 7th, aided with intelligence of Israeli vulnerabilities and with orders to murder everyone they encountered in a massacre that has been described as a pogrom not seen since the early 20th century in Europe.
Israeli authorities are preparing for what is anticipated to be an invasion of Gaza in the coming days, as well as defending its northern border with Lebanon and with new threats emerging from Syria.
The Ministry of Labour on Sunday promised to find new work for those returning in other countries if some Thais are caught between security fears and the need to earn money for their families.
Heart-rending scenes as reunited families gathered safe and sound on Sunday in Bangkok, but many families with loved ones held hostage fear the worst
On Sunday, there were heart-rending scenes at the SC Park Hotel in Bangkok as families were reunited with the returnees from Israel, with the nightmare for many families whose loved ones were abducted by the Hamas terrorist group continuing.
It is now reported that Hamas is holding 17 Thai hostages in Gaza, with fears rising for their safety amid news emerging that some of the hostages held by the terror group backed by Iran have already been killed in intensive aerial bombardments from Israel's air force.
On the other hand, the Israeli government has announced generous compensation packages for Thais who have been killed in Israel.
Israel offers generous benefits to Thai families
This includes a payment of ฿35,000 per month to the wife of each worker permanently until she remarries and registers the marriage officially.
In addition, the Israelis will pay child support of ฿10,000 to ฿11,000 per month for children under 18.
Concerning those injured, with injuries of less than 10%, free medical treatment will be provided while a one-off payment of ฿1.44 million will be made to those injured 10% to 19%.
Those who were left seriously injured to the point of disability will be provided with an Israeli government-funded care package for the rest of their lives.
The Ministry of Labour is working with the Israeli government to implement the package while providing security fund assistance to those affected, including a payment of ฿15,000 to those injured, ฿40,000 to those deceased, and a further ฿40,000 for funeral expenses. 
Number of Thais deceased now at 28, with more arrivals on Monday as the government sets about boosting numbers, landed to at least 400 daily
The number of Thai deceased has been constantly rising. The figure of 28 is just up to October 15th, as data and intelligence collection operations continue in the southern region of Israel as stability is restored. 
In addition to 28 deaths, 16 injured, 17 people are being held by Hamas in Gaza.
On Sunday, Mr Phiphat announced that a further 137 Thai workers would return early on Monday morning and be received at Don Mueang Airport in Bangkok. 
The government is also liaising with commercial airlines, and these flights will fly into Suvarnabhumi Airport.
Thai nationals in Israel returning personally will be compensated by the government for their airfares and other travelling expenses. 
New passports for Thais who fled for their lives on October 7th as hordes of Hamas fighters in green headbands committed indiscriminate atrocities 
Prime Minister Srettha Thavisin has said the government's priority now is to repatriate everyone who wants to return to Thailand as the situation in Israel continues to be volatile with the increased risk of a regional war or conflagration.
The government is organising up to 8,000 spare passports, including reserve passports for those seeking to return imminently.
Many Thais lost their documentation in a flight for their life on Saturday, October 7th, as Hamas fighters with green headbands and balaclavas terrorised southern Israel and committed atrocities.
Officials from the Ministry of Foreign Affairs and the Ministry of Labour have been dispatched to Tel Aviv to assist with the efforts to repatriate Thais and provide further assistance to the Thai population in Israel, which numbered 30,000 before the onset of hostilities.
Repatriations to be completed by early November
On Sunday, the government indicated that all 7,446 who now wish to return will be repatriated by early November. 
Thai authorities, through the Thai Embassy in Israel, are compiling a database and have, so far, registered 7,540 Thais who have completed information forms with the embassy, of which 7,446 have been placed on the repatriation list while only 94 have indicated a desire to stay in Israel.
Of the workers who returned on Sunday morning, 88 were men, while only two were women.
They arrived on a Fly Dubai airline chartered flight at Utapao airport in Rayong province.
They were transported in buses to the Wang Thong Lang district of Bangkok, where they will stay at the SC Park Hotel for a recuperation period.
Further reading:
PM says all Thais in Israel can be rescued as war is declared with fears of an even wider conflagration
Rogue Israeli tourist is taken into custody by Immigration Bureau police prior to deportation
On the run Israeli tourist tracked down to Ko Samui, surrenders to authorities, taken to hospital
Thailand votes on the right side of history in UN deploring Russian military action in Ukraine