A 29-year-old couple murdered a small businessman over the price of a cheap cocktail using a .38 revolver purchased on Facebook. Appalling crime shocks Thailand and tells a tale of despair and evil at the economy's grassroots and within society.
On Thursday, Thai police in Plutaluang in the Sattahip district of Chonburi announced the arrests of a loan shark couple, each 29 years old, who callously murdered a 45-year-old fruit seller on Tuesday evening over his failure to make ฿400 or $11.50 in repayments over two days despite pleas from his girlfriend that the full amount would be repaid.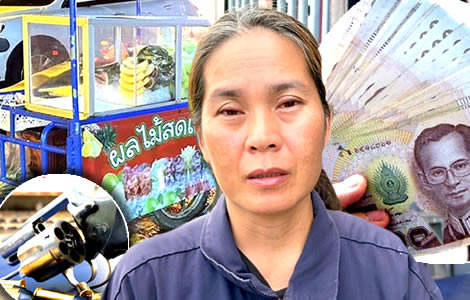 The loan shark couple who murdered a 45-year-old Thai fruit seller on Tuesday night have been arrested by the Royal Thai Police.
The shooting and fatal attack occurred in front of a convenience store on Soi 109 on the Sukhumvit Road in the Plutaluang sub-district of Sattahip in Chonburi province, the site of Thailand's top naval base.
Principal money lender was a 29-year-old woman who pulled the trigger. She later attempted to flee Chonburi for Prachuap Khiri Khan ahead of police
The two arrested were identified by Plutaluang Police as 29-year-old Somchai Homkaraket and Ratchadaphon Sirirat, the latter having been apprehended by police in Bangsaphan Noi, Prachuap Khiri Khan after she attempted to flee the province.
Ms Ratchadaphon had loaned money to the small businessman and told police she became incensed when he failed to make the interest payments due causing her to lose money and further opportunities.
She explained that she had asked the fruit vendor to repay the money at a faster rate but he had verbally abused her.
After this, her partner handed her a gun and she fired two shots at the fruit vendor.
Police have received a .38 mm revolver which Mr Somchai had purchased on the social network site Facebook.

Police in Plutaluang widen their investigation into Ms Ratchadaphon's financial dealings and the purchase of the .38 revolver by her partner in crime
Meanwhile, the Police have expanded their investigation into this aspect of the case and the financial dealings of Ms Ratchadaphon and her loan business.
The 41-year-old local woman and girlfriend of the deceased reported to Plutaluang Police Station in the Sattahip district on Wednesday morning after her 45-year-old partner succumbed to wounds received in the shooting on Tuesday evening on the Sukhumvit Road area of Sattahip in Bunrit Village 2 in the sub-district. 
Mr Itthiphon Pinthong, the deceased victim, a fruit seller was gunned down by the loan shark after he failed to make a daily repayment of ฿200 for two days in a row. 
In any case, this was according to his girlfriend Ms Saengduean Ketmala on Wednesday morning as she reported to police who prepared arrest warrants for the loan shark gang, by that time, known already to be a man and a woman who mercilessly murdered the small businessmen for his failure to pay.
34 km from where foreigners live it up in Pattaya, the 45 year old Mr Itthiphon's death is a travesty driven by the Kingdom's chronic problems 
Sattahip is 34 km from the resort city of Pattaya, where each year tens of thousands of foreigners party amid the sunshine and nightlife while around them, huge numbers of Thai people eke out an existence and struggle under the country's growing and overbearing problem of household debt.
On Wednesday morning, Ms Saengduean told a pitiful tale of how she attempted to intervene when the loan shark came to collect money from her boyfriend on the second day. 
The collector, a woman, now known to be the loan shark principal Ms Ratchadaphon listened as, according to Ms Saengduean, she promised to pay the full amount due and that she and her boyfriend had no intention of moving away.
Borrowed money to buy fruit stock but the trader was not able to sell fast enough to pay off his debts
Mr Itthiphon had borrowed ฿10,000 or $285 on which the daily interest payment alone was ฿200.
However, he could not even afford to pay for this because he had difficulty selling the fruit he purchased due to the stagnant nature of the current economy. 
On Tuesday evening, even after his girlfriend intervened to try to buy him time, a man approached the small trader and the loan shark while they were talking and handed the woman nearby a gun which she used to shoot the fruit seller at point-blank range two times.
It is then reported that the man produced a knife and further attacked the fruit seller leaving him with life-threatening wounds including a bullet wound under the right armpit which doctors noted later at the QueenSirikit Hospital's Naval Medical Department had caused catastrophic injuries to the middle-aged man.
Brave girlfriend gave evidence to the police leading to the arrest and prosecution of the pair for murder and other offences after the businessman died
At 8.30 am on Wednesday, Ms Saengduean informed police that her relationship partner had passed away on the night previously as he could not recover and succumbed to his wounds. 
Police rushed to issue an arrest warrant for the pair who attacked the small business person and who, they were informed, had already fled the province. 
' I told the loan shark gang that I would quickly get the money and send it to you then and that we would not run away. I now want the police to quickly track down the culprits and prosecute them as quickly as possible,' Ms Saengduean said before entering Plutaluang Police Station on Wednesday morning.
Plutaluang Police, on Thursday, confirmed that the arrested pair are now being held in custody and are facing prosecution for the 45-year-old's murder and other offences.
Debt spiral in Thailand is already deadly
After the first quarter of 2023, the Bank of Thailand revealed that Thai household debt had reached 91.7% of GDP, totalling over ฿16 trillion, with ฿13.6 trillion advanced by leading financial institutions under the country's banking laws.
At the same time, a survey conducted by the Puey Ungphakorn Institute for Economic Research in February last year, based on a large sample of 4,800 households, showed that 42.3% of them resorted to informal debt to make ends meet.
The report put the average debt outstanding at ฿54,300 per head. 
The same report revealed that 60% of small business owners had, at some point in their existence, resorted to informal lenders at exorbitant rates of 10% to 25% per month.
Further reading:
Loan shark arrested in Nonthaburi for bullying a borrower charged an annual interest rate of 730%
Bank of Thailand to tackle household debt in new plan from 2024 which will see higher standards
Debt crisis may be one of the top items on the new cabinet's agenda as central bank stands ready
Potential hazard lights flashing as kingdom's auto loans spiral into default with sky-high borrowing