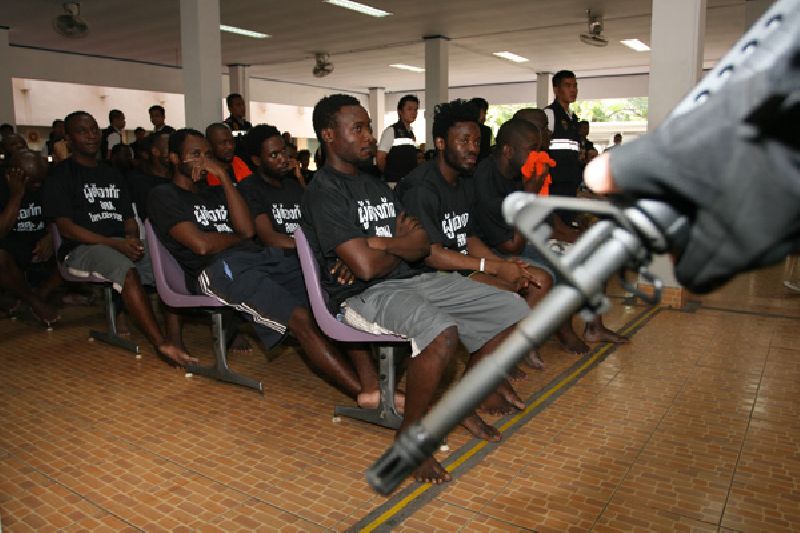 Thailand's new laws clamping down on abuse of the immigration system and blacklisting foreigners who overstay their visa comes into force in March. This  follows a tightening of the rules on visa runs which came into effect late in 2015. These moves are part of a determined campaign by Thai authorities to come to terms with large numbers of foreigners who have living illegally in the kingdom.
Thai authorities began orchestrating the extensive crackdown on foreigners overstaying visas with extensive arrests at the end of 2015. Prior to Christmas it was reported that over 100 foreigners were arrested by Thai immigration police for overstaying their visa expiry date. One of these, a Belgian man who was arrested on December 20th 2015, was found to have overstayed his visa by 305 days. Thai Immigration police reported that prior to Christmas 2015, 105 people were arrested in one sweep but this is nothing in comparison to the massive crackdown in October 2015. Police in Thailand revealed that over 9,000 foreign nationals were arrested in that month alone for overstaying visas and infringing immigration laws.
Aim is to reduce illegal immigration in Thailand by 80%
The Thai authorities have stated that it is an aim of the current administration to reduce illegal immigration in Thailand by 80%.  To this end, in March 2016, a new system will go into effect. The new immigration regulations will introduce automatic blacklisting for foreigners found to have overstayed visa limits beyond 90 days. This is part of a package of measures approved by the Prime Minister Thailand Prayuth Chan Ocha on November 27th 2015.
Under the new regime, which was first proposed in August 2014, any foreigner who is found to be overstaying in Thailand for more than 90 days will be banned from the country for at least one year. For those overstaying for more than one year, a ban of three years will apply while a ban of five and ten years will apply to those overstay for a period in excess of three years and over 5 years respectively.
Stricter punishment for infringement of Thai immigration rules
Thai authorities have told the media that foreigners found to be infringing Thailand's immigration laws will face even stricter punishments if they are located and arrested by the Royal Thai Police. It is believed that the issue of immigration enforcement has now risen high on the agenda of the Thai government as a result of a number of developments in 2015. This includes a renewed commitment by the Thai government to tackle human trafficking but also the need to introduce tighter security regulations in the aftermath August bombing in Bangkok which was responsible for the deaths of 20 people. A successful investigation by the Royal Thai Police, which involved a number of arrests and for which a number of suspects are still being sought for extradition, revealed that many of those involved in the plot had entered Thailand illegally and even suggested that bribes had been accepted by those in a position of authority.
The new regime to introduce stricter immigration regulation in Thailand, when introduced in August 2014, was seen as part of an effort of the Thai government to combat corruption and abuse of power.
Massive 7 day police operation in October 2015 saw over 9,000 foreigners detained by Thai Immigration police
The arrest of 9,000 people in October 2015 sent a very strong signal that the Thai authorities were getting serious about cracking down on those infringing immigration rules. On October the 25th 2015, at Thai Immigration police headquarters in Bangkok, many of the foreigners arrested were introduced to the media wearing specially designed T shirts marked 'detainee'. At a press conference given at that event, the Thai Immigration police chief Lt. General Nathathorn Prousoontorn compared the regime that it is now being introduced with the old regulations which will be replaced in March 2016. 'The current punishment for overstaying is a 500 baht fine, the maximum is a 20,000 baht fine and sending them back to their countries,' he said. 'So the next day they can just travel back there as we don't have a blacklist system like other countries.'
The new regime was earlier approved by the Thai Interior minister and sent to the Prime Minister on November 27th to be rubber stamped.
Watershed moment for Thai immigration law and enforcement
The October parade of detainees at the Thai Immigration Police headquarters is seen by many as a watershed moment in Thailand's campaign to crack down on illegal immigration into the country. It was revealed by police that they arrested of 9,265 people in all. This was the result of seven day operation throughout the Kingdom. Although there are no official figures, some estimates suggest that there are up to 1,000,000 people living in Thailand illegally although police at the press conference suggested a figure of 800,000.
Of The 9,000 people arrested, Thai authorities revealed that nearly 98% of them faced charges under the 1979 Immigration Act while 80 others were found to be in breach of Thailand's criminal code and 209 were accused of other offences.
Media coverage of human trafficking abuses spurs Thai government
The media frenzy generated by the human trafficking of Rohingya refugees and the 2014 disappearance of a Malaysian airline has highlighted Thailand as a hub of human trafficking and associated criminality in media outlets throughout the world.  'This is not so surprising as Thailand is at the cross roads if you will, of South eastern Asia, this has been part of the attraction of the country unfortunately it also attracts the wrong kind of people,'  says James Morris, an internet commentator in Bangkok. Improving Thailand's image and relationships internationally is one of the reasons for the new government campaign as well as the security of the country and the junta government's stated aim of rooting out corruption in Thailand. To highlight the nature of the problem, it is a common occurrence during crackdowns by the Thai Immigration authorities that criminals being sought by other police forces throughout the world, are often pulled in. In October, Thai police announced that in addition to the arrests they had also detained six foreigners including two Russians convicted of fraud and sought by interpol as well as other nationalities involved in forging documents, illegal online gambling and in one instance, a Burmese man convicted of using a fake immigration stamp.
Reader Feedback – Report or let us know if you have any issues or additional information to do with this news report. Our mission is to provide honest, balanced and accurate reporting at all times.