The arrest by the Royal Thai police some weeks ago of one of the world's leading passport forgers was a major boost to efforts by EU authorities to combat human trafficking and bring the migrant crisis under control.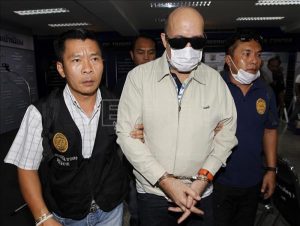 While most of the international media focus on boatloads of migrants arriving in Greece from countries all over the Middle East and Africa many overlook the fact that, with a high grade false passport from a European country, many seeking a new life in Europe, simply book a flight to any EU capital or airport. The existence of such master forgers has been known to EU security agencies. This is why for six years the Thai Police had been searching for one of the most accomplished players known only as Dr. Passport.
Dramatic end to the search for Dr. Passport in Thailand
Last month that search came to a dramatic and successful conclusion as Thai police made a stunning breakthrough when they arrested one of the top international passport forgers in Chachoengsao province, east of Bangkok. The significance of the arrest can be attested to by the fact that senior police from all over the world visited Bangkok to see for themselves the work of the master forger known as Dr Passport. The significance of Dr. Passports operation is that, it is believed, many of the passports used during the 2015 migrant crisis by migrants from Syria, Afghanistan, Iran and Iraq to enter Europe originated from his passport forging den in Thailand.
Pizza tip off leads police to the door of Iranian kingpin
It has emerged that a tip to Thai police indicated that the infamous Dr. Passport liked takeaway pizza. This tip led to the downfall of the international criminal when his forging den was raided by a police team that had been searching for the international passport forger for nearly six years. The significance of Thailand as a hub for forgery and in particular passports was highlighted to the Thai authorities in 2010 when Thai police took part with their international counterparts in another raid which saw the arrest of two Pakistani nationals who had been working in conjunction with a Thai woman in the supply of passports to extremists groups linked to terror activity.
Passport forger living low key in a housing estate outside Bangkok
It is also reported that Thai police received another tip off indicating that the passport forger known as Dr. Passport was living in a housing estate in Chachoengsao province located east of Bangkok. In February 2015, the international forger was introduced to the media following the arrests as a press conference attended by Police General Srivara Rangseepromnakul, Deputy National Police Chief for Security and Police Lieutenant Colonel Natthathorn Prohsunthorn, the new Commissioner of the Immigration Bureau. Police Lieutenant Colonel Natthathorn described the arrest of Iranian kingpin Hamid Reza Jafary 48 years of age, also known as Dr. Passport as 'the largest passport forgery ring to have been arrested in the country in the past few years.'
Iranian arrested by Thai police with five Pakistanis as forgery den is raided
Mr. Hamid Reza Jafary was arrested along with five Pakistanis who police believe assisted him in his passport forgery operation. Staff assigned to Police Lieutenant Colonel Natthathorn revealed that Mr. Jafary was the target of a police search for many years. The elaborate efforts that Mr Jafary undertook to disguise his identity is shown from the fact that when police raided his premises, he was found to be operating a humble computer repair shop on the ground floor of a shop house and is reputed to have been living also in a very low key fashion. On the upper floor of the building police found a sophisticated and advanced passport forging operation which was supplying thousands of high quality forged passports to customers all over the world but particularly middle eastern migrants fleeing to Europe.
Customers from around the world placed orders for any passport they wanted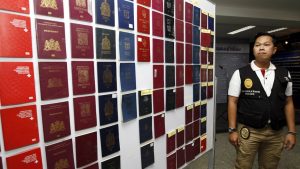 In the course of the raid it is reported that police found nearly two hundred high quality false passports. Customers placed orders for passports on the internet specifying which country they wanted. It is understood that European countries were preferred by most customers as these passports afforded more credibility and allowed their bearers access to Europe's border free Shengen zone. It is also reported that some stolen passports were found which would have been doctored by the international forger before being passed on to customers. The quality of the passports was so high that the 'doctor' guaranteed all his customers that they could not be detected by border authorities at the countries where they were used to gain entry.
Forged passports of such a high quality that they fooled experts
Security officials indicated that the quality of the passports was so high that they were capable of being mistaken by experts from foreign countries as bona fide and real. The anonymous tip to police that Dr. Passport liked eating take away pizza allowed them to swoop on his hiding place in Chachoengsao province where they found him living under an assumed name that of Eliseu Leite Moraes, a Brazilian national and one of the identities assumed by Mr. Jafary with one of his superior grade fake passports. As well as the Brazilian identity, the Doctor also held a passport from Peru, Portugal, New Zealand and two additional passports from Brazil.
Iranian was sought by security services in the EU and Japan
The Thai Immigration commander also indicated that the Dr. Passport or Mr Jafary was also being sought by security authorities in the EU and Japan. Before the raid on a housing estate in Chachoengsao province, Thai police knew only that the man known as the Dr. passport was between 40-50 years of age and was plump. Following the issue of a search warrant by a provincial court in Thailand, Thai police moved in on the targeted location.
On the upper floor of the premises, above the modest computer repair shop, police found machines used for laser engraving, leather for passport covers and metal stamps for several countries. It is reported that customers for the high quality fake passports were willing to pay between $2,300 and $2,700 and once the order was placed on the internet, the money was wired to accounts controlled by the gang operating the forgery scheme. The completed forged passports would then be delivered by mail or by international courier.
International forgery underpins a lot of criminal activity
The Thai government and security authorities have been cracking down on passport forgery for the last ten years in conjunction with foreign security services. A number of incidents over the last ten years indicate how easy it might be to underestimate both the extent of the international forgery trade and its links to all sorts of criminal activity. In February 2008 police in Vietnam arrested four women for luring younger women into work in Malaysia which turned out to be a front for prostitution.The arrest of the human trafficking gang in Vietnam was due to local informants but it transpired that they were able to conduct their human trafficking operations with superior forged passports.
Previous 2012 raid in Pattaya show huge profits of passport forgers in Thailand
Immigration police authorities eventually linked those passports to another Iranian, Seyed Ramin Paknejad, who was not arrested until June 2012, in another forgery den, this time located in Pattaya. In the course that arrest and raid, Thai police found 100 fake passports and travel documents as well as Thai bank deposit books showing running balances of 90 million baht. The amounts of money that was in Mr Jafary's bank account can only be surmised from comments from the immigration chief at the press conference where he indicated that the master forger was conducting a very brisk business but also living a very low key and frugal lifestyle.
Doomed Malaysian Flight MH370 highlighted Thai passport forgers
The Iranian arrested in 2012 Seyed Ramin Paknejad was granted bail by the Pattaya Provincial court in accordance with Thai law, three days after his arrest. He later escaped the Thai jurisdiction by fleeing to Malaysia. He was again arrested late in 2014 when police tracked two forged passports used by illegal immigrants from Iran, on board the doomed flight Malaysia Airlines MH 370. This event caused a brief media sensation when it was discovered that the two passports were in fact those of foreigners visiting Thailand who had either reported them lost or had been robbed. It is reported that thousands of foreign passports are reported missing in Thailand on an annual basis.
Breakthrough for Thai government's crime and abuses crackdown
The arrest of Mr Jafari and his five Pakistani assistants or helpers is indeed a major breakthrough for the Thai government indeed European authorities dealing with a growing migrant and terrorism crisis in Europe. The determination of the Thai government to root out the passport forgery industry in Thailand and help repair negative reputation of the country in this respect, can also be seen in the context of efforts to eliminate human trafficking which the Thai government has also committed itself to. New laws came into force in March 2016 and there is already a noticeable increase in Immigration police activity where illegal foreigners throughout Thailand are being rounded up and scrutinised. The stated aim of the Thai government is to reduce illegal immigration in the country by 80% in short order. It can also be summed up by the Immigration Bureau Chief's new immigration policy for foreigners which has grabbed the imagination of the public and immigrants alike: 'good guys in, bad guys out'.