A bizarre and shameful incident in Phuket last week may cause Thai police and authorities to be a little more suspicious of foreigners in peril or seeking assistance in Thailand.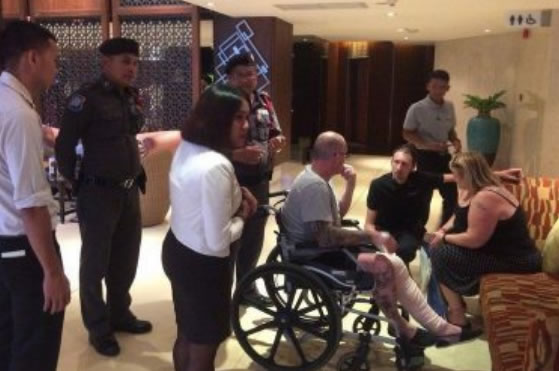 Anyone who has visited Thailand for a time or lived in Thailand will be aware of the large number of incidences of foreigners having unfortunate accidents falling off the balconies of Thai high rise buildings.
Phuket and of course Bangkok are often cited in such reports.
UK man deliberately throws himself off hotel balcony
In Thailand last week this phenomenon was taken to another level when it emerged that a UK man apparently deliberately threw himself from a hotel balcony in Phuket and later presented himself to Thai police as at the victim of assault.
His initial claims were treated seriously as the man broke both his legs as the result of the 20ft fall.
Mick Laverty had reportedly travelled to Phuket with his wife to celebrate his 50th birthday. Mr Laverty from Durham in the UK was found screaming at the bottom of the balcony of the Phuket hotel by hotel staff who called the emergency services.
Later after recovering in hospital Mr Leverty claimed that he was mugged at gunpoint at a marketplace in Phuket while his wife had wandered off to use the toilet facilities. The couple immediately launched a fundraising exercise online seeking to raise Stg 10,000 in order to pay for medical expenses and to get them home to the U.K. The pair had raised Stg 1,000 in 24 hours when Thai police smelled a rate.
Thai police expose UK man's amazing scam in Phuket
It appears that Thai police became suspicious of Mr. Laverty's story after an initial interview at the hospital. The UK man asked for a hospital  report for insurances purposes.
The Thai police unearthed CCTV footage from a hotel in Patpong on the morning before the incident occurred. In it Mick Laverty can be seen walking along a hotel corridor checking doors to see if they would open. He was seen on the footage entering one room from where Thai police say he threw himself to the ground 20 feet below.
After these revelations were unearthed the police returned to interview Mr Laverty again only to find out that he had taken a flight out of Thailand for Dubai.
The story is particularly damaging as there are increased incidents of foreigners requiring hospital care in Thailand and fundraising online has become a popular solution. Ultimately however the answer is to have travel insurance before visiting Thailand or health and accident insurance policies for foreigners living in Thailand.