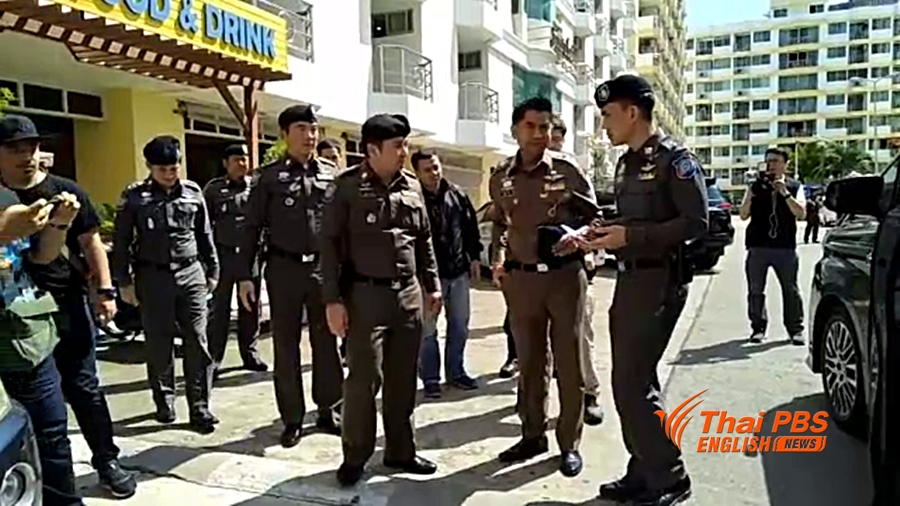 Thai Police are in the midst of a vigorous crackdown that is targeting scam operators within the Kingdom as efforts to tighten immigration security are stepped up. Thailand's Deputy Prime Minister Prawit Wongsuwan has expressed concern that lax immigration enforcement and the increasing threat of Islamic terrorism may result in Islamic State fighters entering the country and finding refuge.
There have been intensified calls in Thailand in recent weeks for a crackdown on crime committed by foreigners in the country and a tightening up of the immigration regime. This is a common theme of the government put in place by the National Council for Peace and Order lead by Prime Minister Prayuth Chan ocha since 2014. The current crackdown is focusing on 100,000 foreigners who, despite waves of arrests and a tightening of immigration loopholes and procedures, it is believed, may still be living in Thailand, having overstayed their visas.
Royal Thai police arrest two Malaysians members of scam gang
The need for such a policy can be seen in just one example last week where Thai police arrested two men named Saw Chooi Hock and Seow Wei Jack, 41 and 35 respectively, as they attempted to withdraw cash from an ATM in Bangkok's Prawet district. Royal Thai Police said that the two Malaysians were believed to be part of a call centre racket designed to trick people into paying them money.
The Acting Head of the Crime Suppression Division Police Col Maitree Chimcherd told the press that Royal Thai Police officers seized 60,000 baht in cash, four mobile phones and seven credit cards from the men.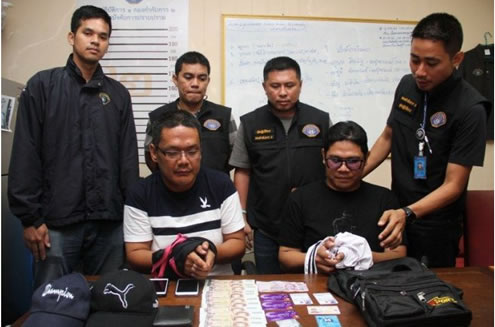 Man was duped into transferring 2.7 million baht from his bank account
The arrest of the two Malaysians resulted from an investigation into the case of a man in Rayong who had been duped into transferring money to the account of one of the members of the gang. The victim was frightened into transferring 2.7 million in cash when he was contacted by individuals purporting to be Thai law enforcement officials. They told him that he was suspected of being involved in drug trafficking and that they need to examine his affairs. The gang had up to 10 members including Thais, Malaysians and Taiwanese nationals.
Policy of Thai government is to make the country safer for 'good' foreigners
The policy of the Thai government is to strengthen security in Thailand for Thai nationals and 'good' foreigners including tourists and expats by properly enforcing immigration laws, rooting out corruption and tackling an increasing epidemic of crime committed by unscrupulous foreigners who disrespect the Kingdom's hospitality.
Fears that elements of foreign terrorist groups may be in Thailand
The Deputy Prime Minister told the media that the government fears that there are 'probably' now elements of foreign terrorist groups in Thailand. The Deputy Prime Minister specifically denied that it was possible for foreigners to stay in Thailand beyond expired visa dates by bribing officials.
Appeal to whistleblowers among the public and Thai officials
The Deputy Prime Minister made an appeal to whistleblowers among the public or officials to step forward with information on any malpractice or corruption. He emphasised that action was being taken with over 100 people with expired visas being arrested in the south of Thailand in a short period. Police Gen Itthiphol Itthisanronnachai, Deputy Chief of the Immigration Bureau, told a reporter from the Bangkok Post that over 100 people were arrested for similar offences in Phuket alone. The immigration bureau boss acknowledged that there was scope for abuse by dishonest officers in dealing with visa offenders.
Tourist hotspots being targeted for immigration abuses
The Immigration authorities revealed that they were now targeting their activities on tourist hotspots such as Phuket and Pattaya. The authorities were also requesting hotels and tourist venues to assist them and to report any suspicious activity. They particularly asked the public to report to the authorities foreigners who were living in Thailand for a long time with no obvious means of financial support or legitimate income.
The crackdown by Thai authorities and the police force is designed to improve security in Thailand for legitimate visa holders and tourists to the country, the police officers emphasised.
Immigration crackdown being fed by tip offs from the Thai public
Lt Gen Kongcheep told the media that the crackdowns and raids currently underway were the result of investigations and tip offs from the public. The included raids in Bangkok's Nana area as well as Phra Khanong, On Nut and Ramkhamhaeng in the capital city.
He pointed out that police were looking for scam artists and those who have overstayed their visas in particular Africans. The police officer pointed out that individuals often posed as footballers, language teachers and priests. These individuals do not have proper jobs yet have amounts of 500,000 baht or 1 million baht wired into their accounts regularly.
The Thai policeman said he believed that such individuals may be involved with drug trafficking or scams.