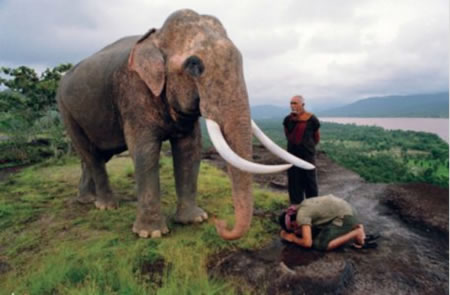 The elephant is the most revered animal in Thailand. It is also a symbol of prestige and good fortune intertwined in Thailand's history for hundreds of years. A tragedy in Chiang Mai where a violent Thai elephant violently killed its trainer puts the relationship between Thai people and elephants in the spotlight.
Last week a celebrity Thai elephant killed his 'mahout' or trainer at Chiang Mai Zoo. The elephant hit out at his trainer with his trunk killing him on the spot. The elephant has starred in many famous Thai moves including 'OngBak', a Thai action movie as well as international features.
The elephant's trainer Somsak Riangngern, 55 years of age had worked with the animal for over 10 years and was feeding him with a banana tree while coxing him to take a bath. It is reported that the elephant suddenly became violent and hit his trainer violently over and over with his trukk The incident happened in front of the man's wife.
Thailand may have been in a 'rut' with increased testosterone levels
It was initially suggested that the 32 years old elephant may have been in a rut meaning that it had higher than normal levels of testosterone for mating purposes. However officials at the zoo in Chiang Mai zoo did not confirm this and launched an investigation to determine the cause of the outburst.
Domesticated Thai elephants now work in tourism and entertainment industries
Most visitors to Thailand will have visited a show where elephants performed eats like playing football, painting with their trunks or posing for tourist snaps. Thailand has large population of elephants which had hitherto being used as domesticated animals in the logging industry but are today involved in the tourism and entertainment sectors.
The population of elephants in Thailand has declined dramatically over the last hundred years as domesticated elephants were no longer needed for industry and the population of wild elephants was decimated due to deforestation.
Thai government conservation policies means wild elephant population is growing
Policies introduced by the Thai government over the last thirty years has brought about a situation where the population of wild elephants is increasing by 7-10% per annum with over 3,000 wild elephants now in the Thai wilderness. This is a major success. Meanwhile the population of domesticated Thai elephants is on the decline. It is estimated to be 4,000 animals. The costs of keeping the domesticated Thai elephant is exacerbated by the quantities of food that the elephants need to consume. Therefore many domesticated Thai elephants are involved in entertainment operations for tourists to Thailand. Under Thai law the domesticated Thai elephant is regarded as private property. There are provisions protecting wild  elephants which were designated an endangered species before the current upward population trend began.
Violent rampages by Thai elephants a regular occurrence
There are regular stories in Thailand of violent incidents and deaths involving Thai wild elephants a s well as domesticated animals. An AFP report from 2014 detailed how a wild elephant killed two people in two separate attacks in Chanthaburi province. Both men, rubber tappers in their forties were  the path of the wild elephant as it made its way on a 3km stretch in Kaeng Hang Maew district. The elephant used its trunk to throw the eman t the ground where it gored them with his tusks and stomped upon them. A third rubber tapper, a woman wa also attack by the elephant and had her two legs broken.
Viral videos of enraged elephants popular on the internet
These incidents are not uncommon and there are many viral videos online showing  irate Thai elephants chasing motorbikes and even challenging and sitting upon cars on some Thai highways. There have also been incidents of domesticated elephants turning on their mahouts and even running off with tourists on board.
Elephants are revered in Thailand
The Thai elephant is revered by Thai people and is an essential part of Thai culture. In particular the Thai white elephant, an unusual dusky pink coloured elephant is seen as a symbol of wealth,  royalty and good  fortune in Thailand. This is due to the unique position of elephants in the annals of Thai history. The elephant was a valuable war animal and many famous Thai kings revealed the namima., each having its favourite. Many Thai elephants have become legends and part of legends in Thailand.
In 1917 the flag of Siam was a white elephant on a red background while still today the highest  Thai order of chivalry id the Order of the White elephant.