New political party formed on a policy platform similar to now defunct PDRC movement
Suthep Thaugsuban, ex-leader of the former People's Democratic Reform Committee, has announced that he will re-enter the arena of Thai politics not to contest elections or seek political office but as a 'servant of the people'. He is a co-founder of the newly launched Action Coalition for Thailand Party (ACT), a new Thai political movement.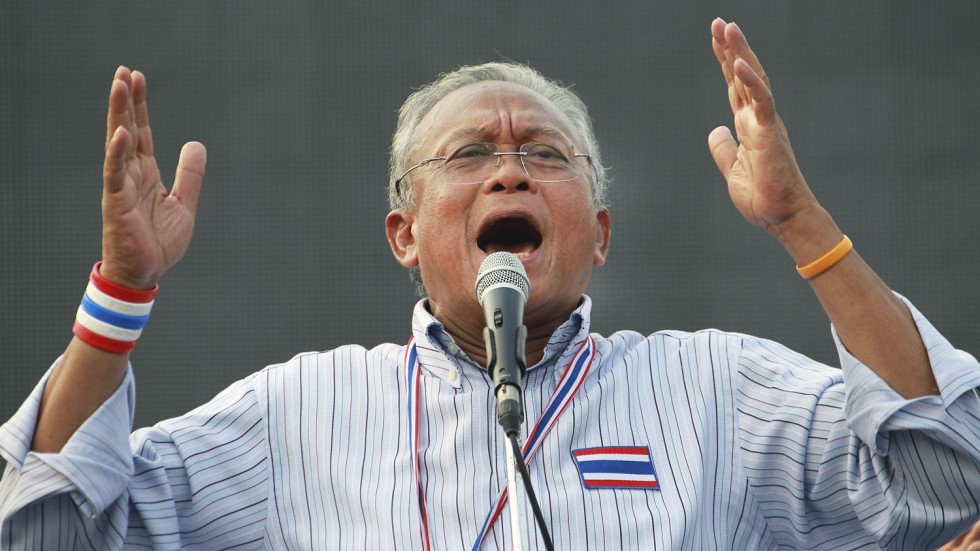 It was 2014 and Bangkok was in total chaos. Countless demonstrators took to the streets to protest against the Pheu Thai Party government, then led by former Thai Prime Minister Yingluck Shinawatra. At the forefront of the massive anti-government movement was the People's Democratic Reform Committee (PDRC), supported by Bangkok urbanites, and lead by veteran Democratic party politician and former government minister, Suthep Thaugsuban. Turmoil had reigned for months but the street protesters were determined to press on until the government was ousted.
The day the military stepped in to stop the unrest
Finally, the Thai military stepped in and overthrew the Yingluck Shinawatra led government in a sudden, non violent coup that brought in a junta or military government. It ended perhaps the longest period of unrest in Thailand's history and brought peace back to the country. Having achieved what some in its ranks saw as the removal of the Pheu Thai government, the PDRC was disbanded soon after. An emotional Suthep Thaugsuban famously vowed that he would never be involved in political activities again. He did return to the normal life of a scholar and stayed politically quiet. Until now.
Suthep offers to be a 'servant of the people' but will not take political office
Moves to establish a new party were made prior to a public meeting recently. Prior to this, a lawyer for Suthep sought permission to register a new political party. The party is to be called the Action Coalition for Thailand Party (ACT) or Ruamphalang Prachachartthai Party. It was reported that the new party is being established early this month by former PDRC leaders, among them Suriyasai Katasila, a deputy dean of Rangsit University, Prasan Marukapitak a former member of the National Reform Assembly and of course Suthep Thaugsuban. At the first public meeting where committees were formed, Mr. Thaugsuban spoke about the efforts being made to establish the new political movement. Speaking in tears at that meeting, the veteran of the 2014 historic street protests cited his desire to serve the masses as well his inspiration from Thai people who had made sacrifices during the turbulent protest period, as reasons for his comeback. He promised to be 'servant of the people', and he, in fact, holds no senior position in the ACT Party. It was also been suggested that he will not be contesting elections or taking up political office in the future.
New party has hefty upfront membership fees to secure funding
But his presence alone is enough for the party to be called 'Suthep's party', according to Anek Laothamatas, one of the party founders and a key driver of the new movement. Mr. Laothamatas has pointed out that Suthep Thaugsuban is not taking up an executive position with the new political party or political positions in the future. Mr. Laothamatas was a member of key committees and an assembly member appointed by the military junta to oversee national reform. He is reported to have resigned these positions in order to become an active member of the new political party. The party has yet to elect its leader and other executives. It is waiting to have the required 500 founding members as required by Thai law. In sharp contrast to political practice in the western countries, the new party will rely initially on hefty upfront party fees rather than on donations from the wealthy and influential. Founding members and ordinary members will be required to to pay 50,000 baht and 3,650 baht each respectively for lifetime membership fees. The annual fee is 365 baht for every member. It is hoped that this will raise enough funding to allow the party to play an independent role without being influenced by external donors. Mr Laothamatas is tipped as a possible leader of the new party although he has said that he would not consider such a position until a full meeting of the party was called and he was elected.
Suthep drawn to new Thai political movement because it is a 'people's party'
Speaking to the Bangkok Post prior to this month's meeting, Suthep confirmed that he would be joining the new party as a co-founding member. Describing the new party as a 'people's party', Suthep explained that the new party would be driven by the ordinary people and policies would be developed  by them as well as decisions about forming the part's executive. He referred to a merit based system for filling executive positions within the party. He said that he had been drawn to the party by this approach. 'Most importantly, they said that this party is determined to reform the country according to the people's wish, meaning reform of politics, the system as well as agencies to fight corruption as well as reform of the state administration including decentralisation of power and solving the problem of social disparity,' he said.
Former political leader adamant that new party is not the PDRC
The former Democrat Party Secretary-General and leader of the  PDRC (People's Democratic Reform Committee) was adamant that the new political movement was not a reincarnation of the PRDC. 'May I tell you here that this is not the PDRC party as the PDRC had been defunct since May 22, 2014 when the NCPO took control of the country.'
Public meeting of new ACT party hears that it opposes 'bad capitalists'
Among the ACT Party policy paltform that was introduced at a public meeting approved in advance by the military junta are loyalty to the monarchy, self-sufficiency, intolerance of corruption, and a determination to maintain peace and stability. These core values resonate with the the former goals of the PDRC movement. The leaders' deep respect for the Thai monarchy was underscored during the meeting as each speaker bowed before a large portrait of King Rama X before commencing their respective speeches. High and upfront party membership fees are seen as a means for ACT Party to prevent the influence of affluent donors so that it can freely fight 'bad capitalists', which is thought may be reference to the Shinawatra family. The former Thai Prime Minister, Thaksin Shinawatra, is reported to have alienated many among Thailand's elite and middle class in Bangkok before being toppled by a coup in 2006 due to his populist policies. A subsequent government lead by his sister, Yingluck Shinawatra, launched a rice pledging scheme which has come to be viewed as a disastrous economic failure while her term in office was plagued by a growing protest movement.
Suthep is seen as a supporter of the Thai PM and military junta
Suthep Thaugsuban is long reported to be supportive of Thai PM General Prayut Chan-o-cha and his military government. He firmly endorses the new Constitution that grants the military more power and authority. The military now plays a more prominent role in the government, parliament and the Privy Council that advises Thailand's new and already revered monarch. It is thought that more than half the posts in each institution is filled by a general or officer. The junta has used its substantial powers to tackle many long-standing issues. Their initiatives to enforce law and order spans many aspects of life in Thailand at all levels, from making back seat belts mandatory for car passengers to dealing with ill-behaved Buddhist monks and cracking down on sex tourism. The results of those campaigns are varied but the Thai public, in general, seems to welcome the return of stability that was absent from the moment of the 2006 coup or even before it.
Thai PM and former army leader to clarify his political plans in September
The influence of the army and the military junta can now be found even in popular culture in Thailand as PM Prayuth Chan-o cha stars in a prime-time TV program called 'Sustainable Development from a Royal Philosophy'.  This is a weekly TV talk show covering current affairs topics where the audience can have a dialogue with the country's Prime Minister. In one of the Thai PM's famous outbursts Prayuth once said that he had scheduled the show on a Friday so that the Thai public would not just be watch TV soap operas or 'lakorns' and warned that if people got bored with it that he would put a loudspeaker in very village. The Thai people seem to have a sneaking fondness for the mercurial leader who is prone to speaking his mind off script at times to the media. There is also tacit acceptance and even support for the government among many Thai people who grew weary of the incessant protests of  2014. There is even a grudging respect among those who oppose the military regime for Prayuth. The Prime Minister also recently lent his support to a historical TV series set in Thailand in the 17th century which galvanised many Thai to take a renewed interest in Thai history and to wear traditional Thai costumes. The Thai PM has told Bloomberg that the military government is committed to holding election early in 2019 and that he himself will clarify his position in September this year.